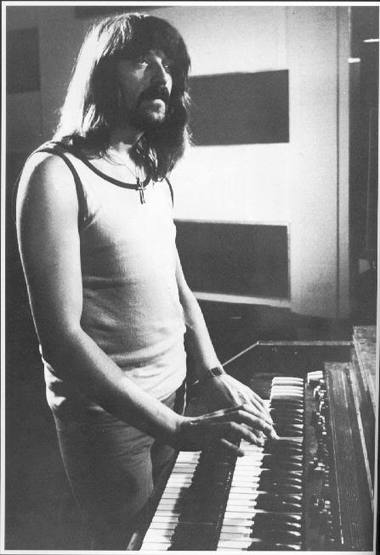 Jon Lord made the organ gnarly. A Bach fugue on a cathedral pipe organ? Huge, and obviously an influence on Lord. But before the late 1960s, when Lord plugged into big amps through distortion boxes with Deep Purple, rock/pop organ was Booker T. or Ray Manzarek or Iron Butterfly or the Mysterians -- a soul cushion or a kooky whine.
When Lord's Hammond was roaring, half the time you couldn't tell whether the big riff on "Smoke on the Water," "Speed King" or "Highway Star" was belching from the keys or from Ritchie Blackmore's guitar (usually both). And although Keith Emerson and Rick Wakeman got more attention for their '70s progressive contributions, the classically trained Lord possessed at least equal chops, not to mention an authentic blues feel and a superior ability to improvise or just plain freak out.
Lord was the real Hendrix of the organ. He got heavy sounds by physically rocking/tilting it to the verge of crash, by sticking a drumstick into the back of it while manipulating the keys over the top, by switching it off/on to produce sudden dips and rushes, by driving it through rotating Leslie speakers. When synthesizers entered the pop picture in the mid-'70s, Lord had already manipulated air currents to trump what mere electronic oscillators could ever achieve, but that didn't stop him from pulling a whole range of sounds, both noisy and subtle, from the new technology.
And Lord was an honest-ter-gawd neoclassical composer. Listen to his "Gemini Suite" or especially "Concerto for Group and Orchestra" (the latter available on a great-sounding 2003 DVD of the original 1969 show with the Royal Philharmonic Orchestra conducted by Malcolm Arnold), and if you aren't thrilled I'll eat the thing sans ketchup.
The keyboard sounds on the Modern Lovers' "She Cracked" (recorded 1972), Suicide's "Ghost Rider" (1977) and the Screamers' late-'70s minimalist punk music sure dripped with distorted power, didn't they? While stirring up their own revolutions, the upstarts were smart enough to tap the legacy of the kings.
Thank you, Lord.