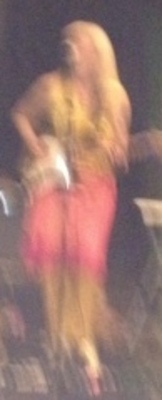 Saw three shows in one week, so I'm just gonna sketch 'em out. Who's got time for extended ponderations? Not you.
"Tuff Gong Worldwide & Ziggy Marley Salute Legends of Reggae" at the Hollywood Bowl 7/15 was a generous way to dredge up some lesser-known singers from the '60s to the '80s. Too bad Maxi Priest was stymied by London visa issues, but graybeards Bob Andy and Freddie McGregor set up a cheery vibe with their early sets, each backed by the same mechanical but rock-steady band vamping on those two chords like there was no tomorrow. Ziggy sounded and looked a lot like Bob, of course, but he played his own fine tunes, and everybody agreed that "Love Is My Religion" was a sentiment worth spreading. His flexible ensemble (featuring classic Jah drummer Santa Davis) got a chance to jam, too, with guitarist Takeshi Akimoto hunching over a Strat to tease out airy psychedelic lines that truly tranced the dance. When The Maytals took over, though, what a change -- Toots Hibbert stumbled out, so high he could hardly stand, and woofed his hits from "Pressure Drop" to "Funky Kingston" to "Take Me Home, Country Roads," bashing an acoustic guitar while bassist Hopeton Hibbert and drummer Paul Douglas slopped a butt-blasting troglodyte beat (barely reggae at all) and guitarist Carl Harvey clanged primitive leads that reminded me of Johnny Cash's Luther Perkins. The sold-out 18,000 swayed in one-love accord, and my wife got her jacket stolen for added authenticity. Super night.
CalArts' Academy of Creative Education (ACE) likes to throw veterans, journeymen and students together and see what happens, and often it works, as with this here 10-piece ACE Jazz Collective, which crammed the Blue Whale under the 7/19 new moon. Walkin' & talkin' bassist Ivan Johnson (of Empty Cage Quartet) led the music mob, whose sound fell generally within the none-dare-call-it-Third-Stream territory of early-'60s George Russell and Eric Dolphy. Rhythms bounced back and forth; an unglum experimental piece oozed to a pleasant collapse; Brian Walsh's bass clarinet gurgled darkly; Cathleen Pineda's piano stabbed and sprayed; Chris Kallmyer's trumpet pulled lengths of knotted intestine out of a single note. Beth Schenck (lyrical, slow-vibrato alto sax) and Matt Wrobel (richly biting guitar) took over the middle 20 minutes for a suite of sad & pretty duets often laced with tight/quick unison runs. And young vibraphonist Jodie Landau closed with his own ethereally intellectual composition, clonking spare chords, rambling mallets over the plates and singing eerie sustains as drummer Tina Raymond silently cursed the peculiarity of his accents. I like it when musicians start their own traditions.
I also like it when musicians surrender to the emotion of the moment, the way guitarist-singer Leni Stern did at the Blue Whale 7/22. She told me she'd been jamming with Leo Genovese, Esperanza Spalding's sometime pianist, and she used the harmonic disruption she downloaded from that experience to spice her usually more fluid playing with aggro scales and suspended 4th chords like McCoy Tyner used with Coltrane, but they sounded way nastier on distorted Stratocaster. Combine that with the thoroughly African flavor of her songwriting the last five years, and the fact that the turmoil in her adoptive home of Mali must be scraping the back of her brain, and we got something extra-extraordinary, and maybe we could guess why her delicate singing rasped with extra passion. Stern also enjoyed the wide-open interaction with her Senegalese trio mates -- superb hand drummer Alioune Faye (first time I've seen him slam those djembes) and longtime electric bassist Mamadou Ba. Perched on a stool in a white shirt, the 7-foot Ba pulled out a different technique for every song: slap-tapping, squeeze-strumming, tight fingerpicking on his five-stringer. The dude's a technical monster, but sensitive enough to wring both joy and apprehensive responsibility out of an instrumental he wrote when his son (now 9) was born. The rhythms perked like crazy, the moods ranged from pensive to wild, and a shaggy Stern looked festive in layers of pink and yellow silk pajamas and metallic sneakers. Too bad I couldn't stay for the second set, cuz she didn't play any ngoni in the first, but I'll gratefully grab whatever stringbuzz the spirits of air and water toss at my unworthy head.


PHOTOS BY DEBBIE DUZ AND FUZZY BORK.