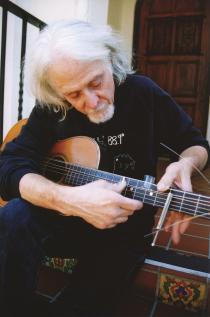 SPECIAL SEMIPRIVATE NOTICE. Fri. Aug. 10 -- Veteran local outsider Jim McAuley, who can draw more quiet nuances and original abstract notions out of an acoustic guitar than just about anybody, celebrates the release of his new Gongfarmer album with an intimate home concert. He starts with a 9pm solo set, then gathers Scott Fraser (electric guitar), Steuart Liebig (bass) and Alan Cook (the most appropriate drummer he could have found) for a 10:30 quartet session. A wonderful opportunity. Read my review of a McAuley record here. At a private home in Echo Park; RSVP with your name and email address at info@cafemode.com to obtain the location; the list will be closed when capacity is reached; free but donations accepted; light refreshments.
Sat. Aug. 11 -- Sierra Leone Refugee All Stars, it says here, started a band while living as refugees in the Republic of Guinea. Why should we skip Netflix Night to check 'em out? Because their music is an attractive upbeat reggae thing (YouTube here), and hey, the price is right. At Levitt Pavilion, 30 N. Raymond Ave., Pasadena 91103; 8pm; FREE; (626) 683-3230; www.levittpavilionpasadena.org.
Sat. Aug. 11 -- Well, Power of the Riff Fest goes all day/night, so you gotta dig something. And why not, with the rumble drone of Sunn O))), the punk revival of Circle Jerks' Keith Morris and Redd Kross' Steve McDonald in Off!, the psychedelic power sludge of Ancestors, the return of Oxnard "nardcore" originators Dr. Know and about a dozen more. At the EchoPlex, 1154 Glendale Blvd., Echo Park 90026 (and upstairs in the Echo); noon until bovine repatriation; $30-$38; food truck; www.attheecho.com; full lineup and tix here.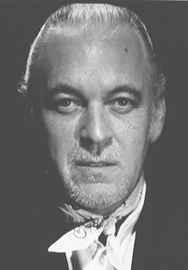 Wed. Aug. 15 -- Decades after an '80s pop interlude, '70s Brit progsters Yes find themselves returning as unlikely progenitors of everything progressively heavier, from Meshuggah to Intronaut to Animals As Leaders, most of whom would never admit it. Yes' twiddle and Jon Anderson's helium vox have always tended to shrink my testicles, but I will own my long-gone geekdom in the form of the manly poetics, classical swellings and downhard rockage of billmates Procol Harum, still potent even though all the founding musicians except singer-pianist Gary Brooker (pictured) have mutinied. At Gibson Amphitheater, 100 Universal City Plaza, Universal City 91608; 7:45pm; $47-$148; www.livenation.com.
Wed.-Sat. Aug. 15-18 -- If Dad's in town needing a jazz fix, you can't go wrong with the intelligent mainstream trumpet of Grammy hog Terence Blanchard. At Catalina Bar & Grill, 6725 Sunset Blvd., Hollywood 90028; 8:30 & 10:30pm; $22-$35; (323) 466-2210; www.catalinajazzclub.com.
Thurs. Aug. 16 -- The Strip echoes once again with the clang of '80s pop-metal and reeks with the smell of hairspray as Jack Russell's Great White, some version of Faster Pussycat and a current incarnation of Bullet Boys head up a bill with a few more bands as a warm-up for the Sunset Strip Music Festival. At the Whisky, 8901 Sunset Blvd., West Hollywood 90069; doors 6pm; $30; www.whiskyagogo.com; (310) 652-4202.
* * *
Read Don Heckman's jazz picks here and MoshKing's metal listings here. Read John Payne's plutonic Bluefat.com here.