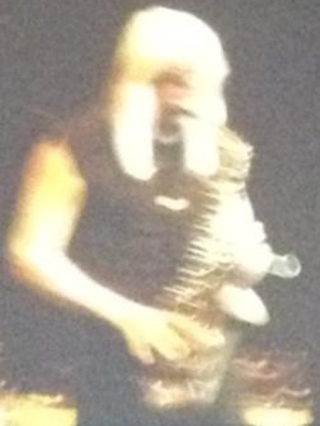 We sat at our tables gnawing the rubber chicken, blabbing about classic shows the way old rockers do. Forty years younger would have found us out on the floor (no floor available tonight), getting our toes stomped and eyeballing somebody's squeeze and getting snarled at and getting punched out and barfing in the parking lot for an encore. Youth is overrated.
Leslie West didn't show, which delighted no one. Looked like he made every other stop on the tour, so we figured somebody would explain the absence -- nope. But the Mountain man got his leg sawed off last year; let him slack.
First arrived Kim Simmonds, the little Brit with the big Flying V, which he plucked with the same ol' precision and taste. Having run through about a dozen Savoy Brown singers over the years, he figured why bother, since he could warble some of the hits ("Louisiana Blues," "Poor Girl," "Tell Mama") halfway creditably himself, and the backline band for the first three stars came with a bassist and drummer who beefed things up with soulful harmonies. Simmonds whipped off his skullcap, shook out his long thick hair and . . . he was not bald! Rollin' start, dude.
Remind me to write the great article on rock halfpints someday: Steve Marriott, Jimmy Page, Marc Bolan, Iggy Pop, Randy Rhoads, the list of huge talents in tiny bodies stretches long. Not least Rick Derringer, who often gets slighted but showed he's got the stuff. The still boyish string slinger didn't wanna let the poppish smashes he wrote for the now blues-purist Johnny Winter lie fallow, so he barked out "Rock 'n' Roll Hoochie Koo" and "Still Alive and Well," recasting the latter's lyrics to reference his divine pal J.H. Christ. (If you rock that funky, Rick, you can sing about macrame.) Derringer further undermined any antipathy for church & state with a scary guitar reharmonization of "The Star Spangled Banner," afflicting virtually every note with a bizarre and often dissonant jazz chord -- Jimi woulda dug it. When he grabbed his solo spotlight, well, shred was hardly the word; now we knew how that little jean jacket got so distressed. And did you think Derringer would omit his 1965 McCoys sing-along monster "Hang On, Sloopy"? He did not.
Give Edgar Winter (pictured) extra credit for lighting up no less than three burners from his excellent 2008 album, "Rebel Road" (read my review here). Although we might have wished he'd kept his jacket on, and his face looked mummylike, and his lank albino hair swung like a cobweb in a crypt draft, he sure did entertain. His intricate vox-ax call-responses with guitarist Doug Rappoport (who slayed on behalf of the first three acts) boggled the brain; he blew a bagful of funky alto; and he strapped on his keyboard to zoom and tankle up a storm, hardly seeming to notice when the dang thing crapped out on his showstoppin' "Frankenstein" solo. Momentum maintained, no mean trick.
Then they led a frail Johnny Winter out and settled him on a chair, alive but not too damn well. He and his solid band (guitarist Paul Nelson, bassist Scott Spray, drummer Vito Luizzi) were there to represent the blues part of the Rock 'n' Blues Fest, and they served it up, not without a period of adjustment for Johnny. First they hung this headstockless sissy guitar around his neck, and he couldn't find the frets, hitting a beachful of clams. When he switched to his worn plank of a Firebird and stuck a slide on his pinkie, though, the crawfish started to boil -- zip-zip-zip, howl & wail, boogie till the break of dawn, or at least 10:45. First time I've seen this particular blues legend; glad I warn't too late.
Fun stuff, no lie. Wonder why, all the way home, again and again, I kept hearing seven clonks of a cowbell in my head.
PHOTOS BY FUZZY BEERQ.