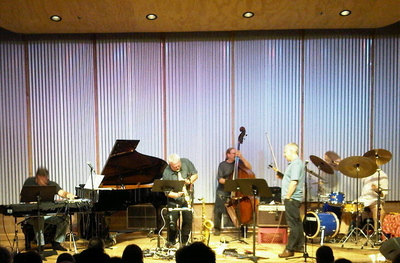 Jeff Gauthier Goatette at Boston Court, 8/18. We sat right where we could get the best view of the musicians' feet. David Witham had his sandals off so he could feel the pedals of his acoustic & electric pianos real good; he did not use his toes to squeeze the accordion, but still pulled some odiferous sounds out of it. Andrew Pask sported his best designer sneakers to support his astringent electronified tenor and soprano sax. I don't remember bassist Scott Walton's footgear, but I do remember some of those rubbery low slides he pulled off. Alex Cline opted to keep the sandals on, or he sure woulda made his soles bleed with all the punishment he inflicted on that bass drum. Although I dug the layered multibrown weirdness of Jeff Gauthier's brogues on his jacaranda violin's FX boxes, Deb said Maggie should not have let him out of the house thus shod. The Goatette kicked more ass than ever, with intense drones, broken beauty, balls-out groove and an Ornette breakdown, all drawn from their four records. The hard surfaces of this little modern Pasadena space worked to increase the noise level, spurring the dudes to punch it up -- especially Witham (spinning and clanging like a cranked octopod) and Cline (a mallet torrent who even got up to wail on the corrugated-metal wall, most musically of course). Gauthier smiled throughout, with good reason, and peppy MC Ruth Price declared it art. No dissent.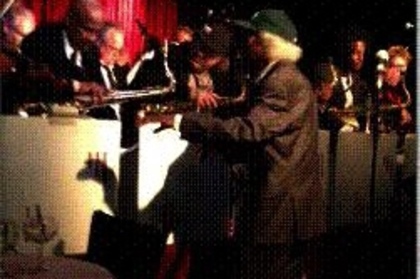 Gerald Wilson Orchestra at Catalina's, 8/19. Gerald Wilson's teeth will outlive the human race. A tiny 93-year-old in a suit and a Dodgers cap, Wilson used his beaming choppers to amp up his 17-piece orchestra, then he'd turn around and dazzle the Sunday-evening full house, who knew they were gonna get two hours of history and blistory from an honest-ter-gawd legend. Wilson showed himself not too modest to hype his associations with Ellington, Basie, Lunceford et al., and to brag on Miles Davis coming down multiple times just to dig his jabbing arrangement of "Milestones" -- when we heard it we could tell why. Odd to say, Wilson's one of the few bandleaders who know where the blues is at, a fact he demonstrated on Fats Waller's "Jitterbug Waltz" and a blaster called "Sax Change," not to mention throwing some serious swing into Stravinsky and Puccini, if you please. Yeah, we got the obligatory bullfight processional (dedicated to Mexican matador Carlos Arruza), and it was grand. Wilson's current "Legacy" CD lacks the digital resources to contain the full impact, and he even had to pull back the gutwallop a tad in a swank club like this, but we got a righteous taste of his method anyway: three trombones and a bari filling the lo-mids with creamy harmonic complexity like a Parisian éclair, Brian O'Rourke flying around the piano keys with omniscient inspiration, and a wall of saxes (including slickfast Scott Mayo, Borneo wildman Kamasi Washington and glowering culturato Carl Randall) getting traditional or freaky from moment to moment. Violinist Yvette Devereaux locked eyes with Wilson in glowing rapport and delivered sweet spiels à la Ray Nance. "This is not a pickup band," said Wilson, as if we guessed otherwise. The man's almost blind, and he had trouble finding his microphone now and then. After he grabbed it, though, he required no assistance.
On Saturday 8/18 I stopped by the Glendale Moose Lodge (a swell old-line spot with dining and full bar) prior to Will Salmon's postmodern operatic adaptation of Sophocles' "Philoctetes." Wish I could have made the performance that night or the next, but circumstances forbade. Yesterday I talked to Kio Griffith, who manipulated three computers' worth of live video imagination for the event, and he said it came off great, with Salmon and his singer friends tearing it up, and Vinny Golia's quintet improvising to serious effect. Hope Salmon manages to repeat the experience down the line.




PHOTOS BY DEBI DUZ (GOATETTE) AND FUZZY BARK (WILSON).