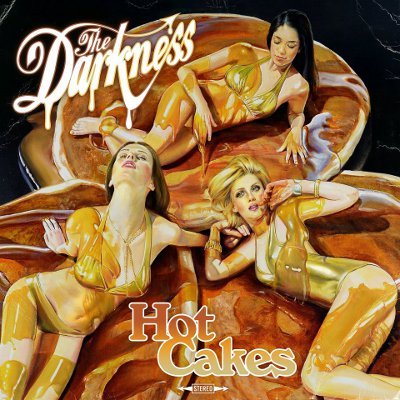 The Darkness have belched up a studio album with a hit in every slot -- a feat no previous gang of pop-mad, helium-headed hard rockers with limp wrists on Spandexed hips has ever accomplished. No, not the Sweet, the Cult or the Raspberries; not Slade, the Move or Queen; not even the Darkness themselves, who veered close with their 2003 debut, "Permission To Land."
Oh, the breakups. Oh, the rehabs. Oh, the false hopes raised prior to the Darkness' inconsistent late-2005 record, "One Way Ticket to Hell . . . and Back." As they spied the veterinary-college re-enrollment window sliding shut, the Brit quartet must have stared into the crepuscular shadows and decided to shelve their brotherly hatreds so they could amass the perfect stack o' trax that their ridiculous talents demanded. So now, original bassist Frankie Poullain has embraced singer Justin Hawkins, guitarist Dan Hawkins and drummer Ed Graham to revive the Darkness lineup that first rocked the world.
Every man-jack is essential, but incorporating a vocal acrobat like Justin Hawkins amounts to cheating. Most rock singers can't cut more than an octave and a half; J.H.'s spot-on falsetto invades three octaves in every song, permitting the band's songwriters (the bro's plus Poullain) exponential options. His layered Mercurialities in "Nothing's Gonna Stop Us," his jet-whine refrain in "She's Just a Girl, Eddie" and his wild-eyed lust-shriek in "Concrete" represent only the peaks of his Himalayan range, and the leaps aren't gratuitous; he serves the stompers with exquisite flair, while injecting a touch of weary grandeur into the heavy ballads "Livin' Each Day Blind" and "Love Is Not the Answer."
Although Justin rakes some ax, brother Dan Hawkins best demonstrates how guitar riffs ought to be riffed: simple, punchy, tuff but not stiff. (The Cult's Billy Duffy may here take a sideline bow.) D. Hawkins solos infrequently, but when he does it tells a story, and his tones blast with appropriate nonspecific '70s-itis. Study his joyous pseudo-slop on "Keep Me Hangin' On"; prepare for the exam by chugging three pints.
The album's dense power derives from the bass-drums drive of Poullain and Graham, who pound down the beat like a spike through a railroad tie. No ego, dude, just making the profligately hook-stuffed tunes WORK. Most rockers dream of corralling a rhythm section like this, and wake up in tears of bereavement.
It had to sound good. After a technically solid if somewhat sterile outing with Queen producer Roy Thomas Baker on "Ticket," the Hawkins brothers aspired to grab their own knobs here, and Justin's brilliant manipulations on Foxy Shazam's recent "The Church of Rock and Roll" boded well for the notion. You say "Hot Cakes" lacks the sonic depth of Aerosmith's 1976 "Rocks" (Jack Douglas), or AC/DC's 1980 "Back in Black" (Mutt Lange), or Motley Crue's 1989 "Dr. Feelgood" (Bob Rock), all of which could have served as examples? You say everything bounces off a kind of high-impact plastic surface? Well, it's ideal for ear buds, which is how kidz listen now, yet it still kicks teeth on speakers. And you surely can't fault the mix by a certain Bob Ezrin (who produced Alice Cooper's "Killer" and Kiss' "Destroyer," for infallible hard-rock instance).
The ironically named Darkness intend no decadent monstrosities on the level of Alice or AC/DC or even Crue. Popp is no four-letter word to them. When they exhort everybody to have a good time, for tonight may be our last, they're pretty damn sure we're gonna wake up in the morning. With a hangover, but no ugly memories.
"Hot Cakes" hits stores Tuesday, August 21.
MAIN PAGE PHOTO BY SCARLET PAGE.
The Darkness, currently on tour with Lady Gaga, will visit Los Angeles in October.