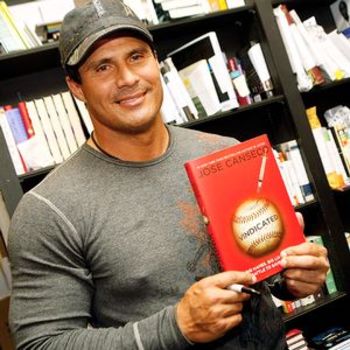 WEATHER: Shirtsleeve all evening. This be L.A.
SEATS: Field boxes with a close view of first base. Thanx for the tix, Mike and Colleen.
CELEBRITY: Eight rows in front of us, former Oakland slugger, gun toter, crazy driver, brawler and martial-arts competitor José Canseco looked more handsome than ever in a black T-shirt that read SORRY FOR EVERYTHING MARK. In his tell-all autobio, Canseco admitted to enhancing his career home-run output (462, 34th of all time) with jump juice; he also fingered dinger king Mark McGwire. That was 2005, so Thursday night's apology seemed a bit tardy -- hey, Mark had probably forgotten all about it. A beaming Canseco strolled toward the exit in the seventh inning as nearby fans cheered him hesitantly or muttered darkly.
ART: Several gentlemen near us sported multiple photorealist arm tattoos of departed friends and family, including a baby.
HONORED: The serviceman of the evening was a black dude in a white cap who served three stretches in Iraq and Afghanistan. The P.A. announcer thanked him and thanked his buddies who did not return from combat. In these situations, I never know whether to clap or cry.
FOOD: California roll, cheeselike. Sixth-inning soft pretzel, not soft. Dodger Dogs, eschewed rather than chewed -- I'm a vegetarian now, bitch.
BEER: Shock Top draft, bland. Corona bomber, crisp. I meant to try the now heavily advertised Korean beer Hite, pronounced like the last name of Bob the Bear from Canned Heat. Soon.
BATHROOM LINES: Manageable on Field Level. The rich piss better.
BEACH BALLS: Plentifully represented. We watched a stadium usher crush one with his bare hands. When Deb asked him about it, he said he used to stab the ball with a pen, but had developed this effective thumb technique. He added that the ushers were formerly instructed to chase down beach balls; now they only had to confiscate balls that bounced right to them.
FANS: As usual, everybody was relaxed to the point of torpor except the Wave-ing, chanting, screaming families in the packed bleachers. The close score of the nearly sold-out, playoff-crucial game did not prevent the stands from emptying by three-quarters before the eighth inning, a perennial tribute to the awfulness of Dodger Stadium traffic and parking. The Dodgers would win several more games a year if humans remained to cheer them on in the late innings, a little situation other teams enjoy called "home field advantage." The Dodgers are 38-34 at home this year; the equally mediocre Milwaukee Brewers are 44-28.
MUSIC: It was fun to hear Muddy Waters' "Mannish Boy" at least three times, coinciding, I think, with each trip to the plate by Dodgers catcher A.J. Ellis, or maybe it was second baseman Mark Ellis, I can never keep them straight. Sorry I don't know what the song cue means, except that either Ellis qualifies as "a man." I also don't know why they had to play that crappy remix of Queen's weary "We Will Rock You." The Dodgers, by the way, did not rock them.
OH, THE GAME: I laughed bitterly when Dodgers pitcher Josh Beckett, batting in about the fourth inning, whipped a line drive to right field, shambled carelessly toward first base and got thrown out by alert veteran Carlos Beltran before he reached it. Beckett (who pitched well) later told reporters that everybody knows he can't run fast. I run faster than that, and I'm old. With the top of the Dodgers order coming up next, it was a major out.
Center fielder Matt Kemp, the Dodgers' best player, made a terrific catch of a ball hit over his head, running flat-out toward the wall despite memories of a long injury layoff this season. Yikes.
Kemp also got thrown out trying to steal second; he looked safe to me, but he didn't complain. The Dodgers' most exciting youth, skinny speedster Dee Gordon (recently returned from the 60-day disabled list after a thumb injury), got thrown out too. Those two arm bullets by star Cards catcher Yadier Molina might have won the game for his team.
Except for Molina and four sharp pitching performances by Lance Lynn and the St. Louis bullpen, the Cardinals -- now leading the Dodgers by two games for the last N.L. wild-card slot -- looked non-great, stranding 11 runners. Their 2-1 victory should have been 6-1. The Dodgers' recently purchased lineup of sluggers (Adrian Gonzalez, Hanley Ramirez, Shane Victorino) folded in the clutch except for Gonzalez's first-inning RBI. As Bill Plaschke noted in the LA Times, this is not yet a team.
So. Get me another Corona, would ya?