ANGEL CITY JAZZ FESTIVAL EVENTS ARE MARKED WITH ***.
Fri. Oct. 5 -- This version of The Michael Schenker Group unites the Scorpions template for melodic hard-rock guitar with guitarist Wayne Findlay, bassist Elliott Rubinson, drummer Pete Holmes, and singer David Van Landing filling in for the ailing Robin McAuley. With four more bands. At the Key Club, 9039 Sunset Blvd., West Hollywood 90069; 7pm (Schenker probably around midnight); $20; 18+; www.keyclub.com; (310) 274-5800.
*** Fri. Oct. 5 -- Detroiter Phil Ranelin, an important veteran of L.A. music and the ear-friendliest trombonist around, leads a multi-age septet featuring pianist Mahesh Balasooriya and young saxist Randal Fisher. At 6pm, please welcome the winner of Angel City's Young Artist Competition, The Anthony Lucca Quintet, staffed by pianist Lucca plus tenor man Rob Sheppard, trumpeter Daniel Fox, bassist Aneesa Al-Musawwir and drummer Ryan McDiarmid. Jazz generations! At LACMA, 5905 Wilshire Blvd., LA 90036; 6-8pm; FREE; Friday summer jazz schedule here.
Sat. Oct. 6 -- Mr. Ranelin numbers among the musicians in the all-star Luckman Jazz Orchestra, conducted by mastermind saxist Charles Owens and this time featuring special guest Barbara Morrison, a deeply experienced singer who feels the blues. The occasion is a tribute to the music of generous-toned Texas-born trumpeter-composer Kenny Dorham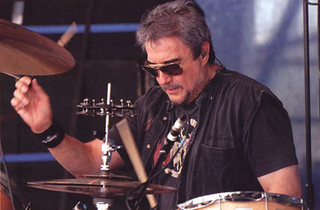 *** Sat. Oct. 6 -- Here's a mighty example of the guitar-organ-drums format: The Anthony Wilson-Larry Goldings-Jim Keltner Trio. Guitarist Wilson can swing from high-concept abstractions to traditional cool-outs; Goldings has soaked up the whole tradition of the Hammond B-3 organ. Those dudes have become full-fledged L.A. institutions, but it'll be a special treat to hear Jim Keltner, mainly known as a legendary rock drummer with everybody from Lennon to Dylan to Clapton, tapping the jazz vibe that has always been implicit in his playing. Keltner's greatest genius has been the ability to lend motion and sensuality to those difficult slow grooves; for instance, his perfectly elemental drumming is one of the main reasons why Harry Nilsson's version of "Without You" surpasses the Badfinger original. Up first is a symposium on "Honoring and Breaking With Lineage," featuring Ornette Coleman cornetist Bobby Bradford, Jazz Bakery founder and singer Ruth Price, music historian Steven Isoardi, and younger trumpeter-to-watch Ambrose Akinmusire (who'll be performing at the Ford Amphitheater tomorrow with both his own ensemble and Archie Shepp's). The panel is moderated by yours truly, Greg Burk; I'll make you consider what Freud has to do with the festival's mentor-disciple theme. At REDCAT, 631 W. Second St., downtown 90012; the symposium at 7:30pm is FREE; then the hall will be cleared and the trio starts at 8:30pm; $20; www.redcat.org; www.angelcityjazz.com.
Sat. Oct. 6 -- Whenerver Ben Wendel picks up a sax it's worth hearing, and here he's in free-blowing trio format with bassist Harish Raghavan and drummer Justin Brown. At the Blue Whale on the third level of Weller Court Plaza, south of East First Street between South Los Angeles Street and South San Pedro Street, Little Tokyo 90012; 9pm-midnight; $15; parking $5 underneath off Second Street at the sign of the P in a circle; (213) 620-0908; www.bluewhalemusic.com.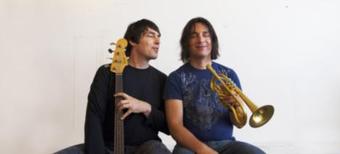 Sat. Oct. 6 -- With their new "The Gift," Maetar prove once again that they know where the groove lies and, like snake charmers, they know how to tease it out. I'm listening to Itai's bass trance and Hagai's smoky trumpet FX on the record's 28-minute concluding track right now, and I wanna tell you, it makes me glad I don't have an office job. The Israeli idealists are celebrating the release with two late-night sets, marking another transition by playing the first set with vet soul drummer James Gadson (with them for the last few years) and the second set with incoming drummer Richard Fultineer. And violinist Lili Haydn is onboard as special guest! DJ Jacques the Ripper, a boutique, cush atmosphere, good stuff to drink -- hey, trip on over there after the REDCAT gig. At Syrup Loft, 939 Maple Ave. #301, downtown 90015; doors 9pm; $10 at the door, or $20 is a great round-trip deal for Westsiders, who can take a shuttle from the Venice Smart & Final (604 Lincoln Blvd.) and score the transportation, entry and a cocktail (leaves 9 & 10pm, returns 1 & 3am, RSVP at syruploft@gmail.com). More at www.maetar.com. A World Music Days Daniel Pearl memory event.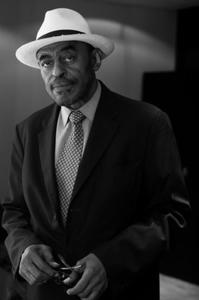 *** Sun. Oct. 7 -- HERE'S THE BIGGIE: Angel City's outdoor blowout. I don't think that founding avant tenor man Archie Shepp has been in L.A. since I saw him at Catalina's in the '80s, and I'm hugely stoked to get a load of the writhing inchoate underground sound that was able to stand next to Cecil Taylor and John Coltrane; my head has never been the same since I heard his 1965 "Fire Music" as a youth, and when he does Ellington or whatever from the Tradition, he brings something personal & new. A revolutionary giant. Trumpeter Ambrose Akinmusire jams with Shepp's quintet and also leads his own unit, which echoes the early reefer avantitude of Shepp's work with Bill Dixon while also essaying an attractive approach to modern melody. Ornette cornetist Bobby Bradford hooks up with the all-star sextet (featuring edge-pushing NYC saxist Marty Ehrlich) of mad-genius bassist Mark Dresser to revive memories of their time together in Stanley Crouch's '70s avant unit. And the world's subtlest drummer, former Weather Reporter Peter Erskine, conceives a trio with his bassist nephew and classically ambitious pianist Vardan Ovsepian. See 'em all; it'll go by like a dream. At the John Anson Ford Amphitheater, 2180 Cahuenga Blvd. East, Hollywood 90068; 5-10pm; $40 (students $17, kids $12); more at www.angelcityjazz.com.
Tues. Oct. 9 -- Singer (and something more) Dwight Trible wails his soulful tribue to his mentor Oscar Brown Jr. And he always has a cooking band, this time including pianist John Beasley, bassist Trevor Ware, drummer Paul Legaspi and percussionist Breeze Smith. At the Blue Whale on the third level of Weller Court Plaza, south of East First Street between South Los Angeles Street and South San Pedro Street, Little Tokyo 90012; 9pm-midnight; $15; parking $5 underneath off Second Street at the sign of the P in a circle; (213) 620-0908; www.bluewhalemusic.com.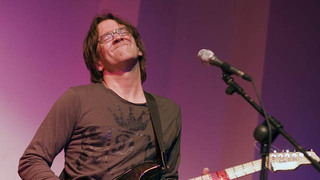 Tues.-Wed. Oct. 9-10 -- Freaky & funky New York guitarist Wayne Krantz, a high-profile force in the '90s, makes one of his infrequent L.A. trips in a slammin' trio with drummer Keith Carlock and bassist Nate Wood. At Catalina Bar & Grill, 6725 Sunset Blvd., Hollywood 90028; 8:30pm; $20; (323) 466-2210; www.catalinajazzclub.com.
Wed. Oct. 10 -- Vintage SST doomsters St. Vitus return with a classic lineup featuring Dave Chandler, Mark Adams and, yes, the recently ubiquitous Wino Weinrich. Good sludgy bill with Weedeater, Sourvein, Spilth. At Bootleg Theater, 2220 Beverly Blvd. near Alvarado, L.A. 90057; 9pm; $25; tickets here.
Thurs. Oct. 11 -- Pianist Alan Broadbent's Movable Feast show at Steinway Piano Gallery is SOLD OUT.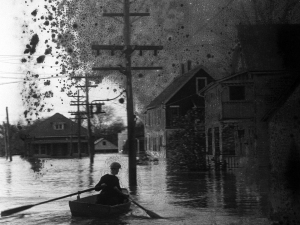 Weasels will rip your flesh unless you make plans to attend the next and final weekend of the Angel City Jazz Festival. Get details and tickets here. The lineup:
Fri. Oct. 12 at REDCAT -- Myra Melford & Snowy Egret, Marilyn Crispell.
Sat. Oct. 13 at Royce Hall -- Bill Frisell with a Bill Morrison film, "The Great Flood" (pictured).
Sun. Oct. 14 at Royce Hall -- Vijay Iyer with Steve Coleman.
* * *
Read Don Heckman's jazz picks here and MoshKing's metal listings here. Read John Payne's plutonic Bluefat.com here.