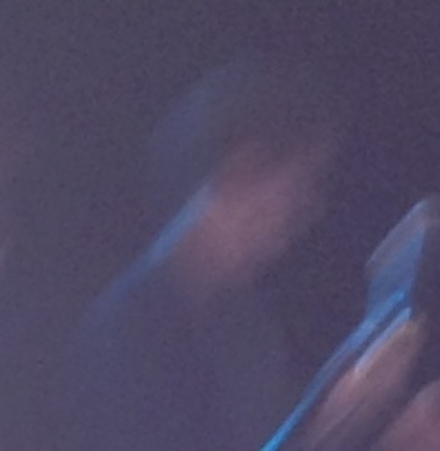 Here's the musical argument I have with my wife; I call it the Talking Heads Argument.
She liked it in '77 when David Byrne and the gang played anxious music that sounded the way she felt. I said if that's the case, what do you need music for? Don't you want sounds that make you STOP feeling that way? Gimme gimme shock treatment.
Of course, music always balances things in one direction or the other. In the Heads' case, they balanced the jitters with dance grooves -- just not enough for me. Myra Melford & Snowy Egret also had moments of transcendence -- enough for the wife, not for me.
Now, we've been listening to Melford play piano for three-four years. We loved her live with Be Bread, the quintet version featuring Ben Goldberg, Cuong Vu, Stomu Takeishi and Matt Wilson; in a sextet with Nels Cline, Jefff Gauthier, Yuka Honda, Mark Dresser and Alex Cline; and in Trio M with Dresser and Wilson.
Comparing 'em, I found Melford's Snowy Egret quintet too fragmented. I wanted more of Melford's tempestuous attack, more swells and valleys, more development. Instead, the music bounced around like a five-way ping-pong game, focusing on little duos, solos and counterpoints (the interactive mode of our time) instead of united expression. Sure, that's the way we actually live -- in isolation. But it's not a model for the way we want to live -- in communion. You know, with shared values and stuff. Chords.
The way Oguri danced his butoh said a lot about the frag. I've seen him complement music many times (including with Melford), and his usual method is to find an emotional center and focus it, freeze it, draw all the energy into it and maintain the intensity, moving with impossible slowness most of the time. On this occasion, he jerked around like an autistic god's puppet, picking up jolts of pain and anxiety, swelling and collapsing like a party balloon that never got knotted. I often forgot to watch him, because he couldn't find a center.
Which is not to say that the individual musicians weren't great in this acoustic format. Takeishi, who normally pops around the high end of an electric bass, was plucking softer sounds on a big Mexican-style hollow-body bass guitar while retaining a flavor of funk. Liberty Ellman (who plays in Henry Threadgill's band with Takeishi) brought a tart combination of traditional jazz flow and modern classical precision to his meaty acoustic guitar. Beardo Kirk Knuffke made neat mini-statements on cornet, his tone a brightly polished glow. And big Tyshawn Sorey kept turning my head with his percussive interjections and unusual timbres -- you don't often see a drummer knock around with a stick in one hand and a fuzzy mallet in the other, for instance.
My favorite Egret piece was the last one, a sprung calypso where the rhythms tightened up into something resembling a dance or a passionate heartbeat, and Melford went all Augustus Pablo on melodica. Fiesta!
Before Snowy Egret, Melford sat next to her mentor Marilyn Crispell on the grand-piano bench for a four-handed duet. Melford took the low end and Crispell the high, and they hit a joint mood of busy Hungarian jaggedness, with a lot of unisons and an Ornette-like bucking close. You could tell they were friends.
You could also tell where Melford got some of her bag when Crispell opened with a solo piano performance. I dug Crispell's flow -- Beethoven-like swelling melodies broken up by turbulence, back to rhapsody, stabs giving way to rumbling drones, notes stated and implied, her hands chasing each other across the keyboard like two finches in springtime (sorry). What Crispell showed, and what I've seen from Melford in the past, was a personal wholeness, an ability to pull every wild variation of her life together and make it triumphantly universal. She closed a 45-minute continuous improvisation (too long but very true) by sliding into a couple of standards -- Cole Porter's "Every Time We Say Goodbye" and another one I couldn't quite place. Standards can get overemployed, but Crispell used them sparingly for what they are. Signposts. Invitations. Communions.
PHOTO BY FUZZY BIRD.