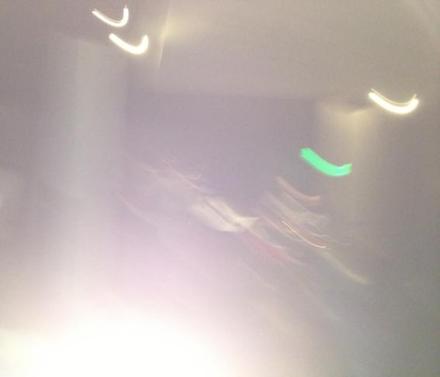 It was their first gig, immediately following their first rehearsal. Shades of CSN at Woodstock, to the extent that this band stood out as a new supergroup in its field. Somewhat sparser attendance here. Less mud.
I have been glad to get audio bulletins from Harris Eisenstadt for a decade-plus. Back in the drummer-composer's CalArts days, his modern-classical flutterings, enhanced with the open breath of Art Ensemble of Chicago jazz, felt like furry bat wings welcome against my ears. He's wandered quite a bit since then, including a stint in Africa picking up beat knowledge, and in the last few years he's reaped substantial critical plaudits (Down Beat, Jazz Journalists Association, etc.). Eisenstadt's wife, Sara Schoenbeck, has often rocked bassoon with him, but I remember her more for spots with Adam Rudolph, Tom McNalley and everybody -- when that brown tower gets dragged onto a stage, you notice it, and she has always backed up the image with imagination and fluidity. Mark Dresser first floored me with his solo upright-bass comprovisations at the Alligator Lounge sometime in the '90s, and since then his extended techniques have consistently scrambled my brains with Trio M, Jen Shyu, his own group and more and more (he's up on my bass totem pole with William Parker, no lie). Eisenstadt has always demanded flute, so when he got a chance to work with modern-AACM beacon Nicole Mitchell, a much-laureled composer-bandleader who moved out to SoCal for a teaching gig a year ago, he obviously grabbed it.
So here they were: Mitchell, Schoenbeck and Dresser set up to the left with Eisenstadt's sheet music, turned so they could get cues from the drummer -- good idea, since this sh*t ain't exactly 4-on-the-floor. And here I was, with percussionist Brad Dutz (who's played with H.E.) and his wife, vocalist Kaoru, seated on one side of me, and my old L.A. Weekly colleague John Payne, editor of Bluefat.com, on the other. Buttressed, yeah. Eisenstadt knocked around his kit alone for a minute, as if to clear the cobwebs from the corners, and off they went.
I won't get too specific about the compositions, which started with "What Is a Straw Horse, Anyways?" and finished with the three-part suite "It Is Never Safe To Be / Dogmatic in Any Case / Unless All the Evidence Is In." But some recurring impressions.
1) No predictable pulse, of course. When I later told my wife that this dude who studied African drums preferred the no-groove mode, she asked how that worked, and I said, well, he kind of fragmented the sources -- offering up a pattern, then instantly extrapolating from it; his tom tones had an Afro component, and he wrote some absolutely Congo-fied bass parts for Dresser that almost rose to the level of cycling riffs. What time signatures Eisenstadt postulated I couldn't guess, but I looked down and saw my foot tapping anyway.
2) The wind parts. The flute and bassoon often played steeply undulating figures in unison, in harmony, or an echoing half-beat apart. If I hadn't heard them, I wouldn't have guessed intonated instruments could execute so many swoops together -- seamless slides of maybe half an octave. Impressive.
3) The compositional qualities. Segments ended with questions rather than summations. I heard hints of the tone poems Eric Dolphy sometimes stroked out between 1963 and his 1964 death, with loose beats and strange, watercolory harmonies. And my memory kept churning up some stalking, halting rhythms of Prokofiev -- "Peter and the Wolf," even. Maybe that was just because of the bassoon and flute rang so vocalic.
Schoenbeck and Mitchell did sound like excited old friends gabbing, their improvisations stepping-stone defined (Schoenbeck) and ingeniously woven (Mitchell). They also gulped into the backs of their throats to bring forth fun effects like dog woofs, elephant trumpeting (bassoon) and enraged grandma (flute).
Dresser hung more in the background than usual, but his lurching, pinging solo condensed his unlimited bass arsenal into just a minute, and his flexy lines subliminally thickened the wind figures. Eisenstadt snapped his wrists restlessly, releasing loud-quiet textures from cymbal and snare, always off balance yet moving forward, hitting a peak of railroad momentum two-thirds of the way through as the band focused into its fastest counterpoint. I'm gonna kick it, he seemed to say, whether you're dancing or not.
From a lap in the audience, a baby yelped, like, sure, I'm dancing.
PHOTO BY FUZZY BROK