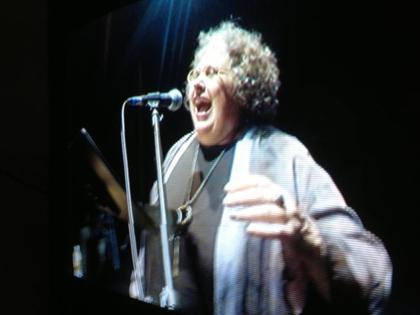 I had to beg out on seeing this live, so Bonnie Barnett sent me a DVD. It was as good as being there -- maybe better, cuz I could hit the can anytime nature called.
This event presented poetry with music, which, we tend to forget, was the standard method in ancient tymes: lyre = lyric. The poet Dottie Grossman, who died early this year, knew all about that, and she was present in letter and spirit.
Poet Elaine Terranova opened, reading her fellow Philadelphian's work in call-and-response interaction with Grossman's most frequent musical collaborators, trombonist Michael Vlatkovich, guitarist Tom McNalley and drummer Rich West. An actual translator of Euripides, the fragile-looking Terranova has a handle on this whole rhythm-music-verse thing, and her measured switch-offs with the improvisers laid a steady platform for Dottie's words. I was hit again with the Grossman talent for verbal scene-setting (the loud scarf, the eucalyptus, the hummingbird), for emotion (wearing her late husband's watch) and for funny stuff ("I have all the doctors and cops I need on TV"). The trio shambled, plonked and warbled responses with their usual skilled sympathy and (they couldn't help it) a solemn sense of loss. A damn fine tribute.
Bonnie Barnett has a way of making you think about what words are and aren't. A substantial figure in the spotlight, she lent her clear, decisive delivery to some vivid words -- Gary Snyder's "Night Song of the Los Angeles Basin," Federico Garcia Lorca's "City That Does Not Sleep" and Gertrude Stein's "Love Story" -- and intercut them with the abstract syllables, timbres and tones that constitute her peculiar vocal specialty. It was like the way Archie Shepp improvises on a standard: respect for the original combined with a lot of personal interpretation. So, following Snyder's images of seed flung to river fowl, his bird calls were reflected in Barnett's human calls carrying a similar level of nonspecific urgency and natural life expression. Barnett's sleepwalker moans, like holograms of doom, echoed Lorca's graveyard moods and gave voice to his mute snakes and iguanas. Stein remains a repertory favorite (check out Barnett's current "In Between Dreams" CD), because that writer clicks so directly with Barnett's universal-sound philosophy: Simple phrases are rearranged and repeated until they convey every meaning and no meaning. The Stein selection made a special connection with unit members Anders Nilsson (electric guitar) and Ken Filiano (standup bass), who conceived a groove with Barnett's rhythmic chant that built into a deep trance, equal parts muezzin, rain dance and "The End."
The unconscious. Species memory. Rebirth.