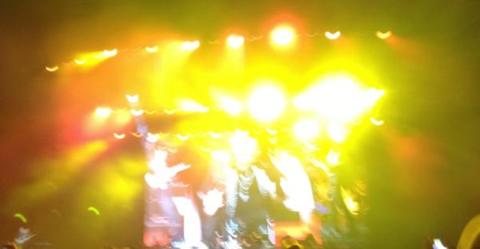 Okay, it was an oldies night. But a glamtacular one, and bands with this kind of depth, chemistry and history make it fresh. That's what real bands are for: They don't pay tribute to themselves, they just play.
Cheap Trick are the world's most successful musical cartoon if you don't count Cher -- sorry, Dethklok. Supersinger Robin Zander in his big white Dream Police admiral cap. Guitarist Rick Nielsen in his bowtie and nerdbill hat. Bassist Tom Petersson being handsome. No Bun E. Carlos or comparable mustache behind the drums, and we missed him, but it wasn't crucial. Thump, riff, wail and crank: from "Hello There" to "Big Eyes," "I Want You To Want Me" and "Surrender," the guys lined up the Midwestern hard-pop masterpieces of the late 1970s bang bang bang for us to marvel at. Cheap Trick saved us from Kansas, remember, and we should be grateful. Plus, who else could rock the Beatles' "You Never Give Me Your Money" medley this perfectly? Not even the Beatles.
The Fabs were stuck to Aerosmith's brain pans, too, as they dug up their grungy cover of "Come Together" and made us sing along and mean it. I neglected to send 'Smith my requests, but they slotted half my favorite album, "Rocks," anyway, guitarist Joe Perry shooting from the hip and other-guitarist Brad Whitford getting a rare but well-deserved shreddin' spotlight. Cancer survivor Tom Hamilton looked thin but glad as hell to be pluckin' that bass, and Joey Kramer thudded and thundered like a gawdamn hero. And how can Steven Tyler, rock's most potent voice and most magnetic front man, still squeeze my lachrymal ducts with "Dream On," fer f*ck's sake? Same five dudes who hooked up 42 years ago, raging like teens (but better) and remembering their Boston bean-can roots with a darkly determined "Movin' Out." The set ran light on the ballads, which did not break my heart, and "Jaded" and "What It Takes" filled out the heartsore quotient jus' fine, thankers. Joe ripped on "Oh Yeah" and "Lover Alot," improving wholesale on the versions from the new "Music From Another Dimension." By the end, I practically forgot we were in the Staples Center getting treated like paper clips. A good trick, o ye fine musicians, if none too cheap.
P.S.: Oh yeah, Johnny Depp and Izzy Stradlin jammed with Aerosmith, too. Guess I forgot.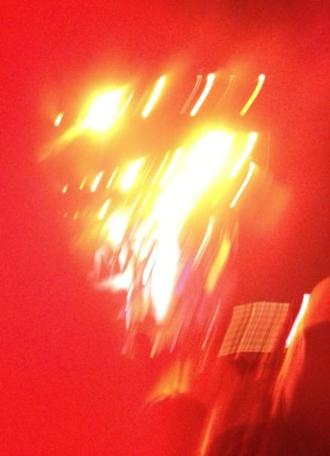 PHOTOS BY FUZZY BARUCH.