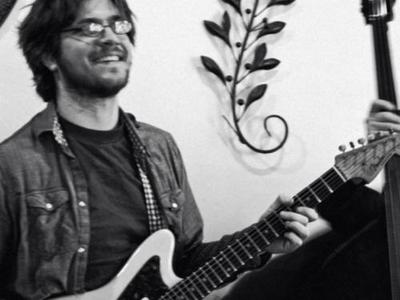 Falling in love with what some people call noise can be a perverse trip to a lonely mental attic. Or if you're guitarist Tom McNalley, it can be a signpost to very personal paths of bedrock communication. Since 2004, when McNalley moved from Portland to L.A., it's been fun to hear him develop from inspired tyro to self-challenging, ever-changing voyager.
McNalley plays in a quartet with trombonist-composer Michael Vlatkovich, bassist Scott Walton and drummer Garth Powell at the Eagle Rock Cultural Center this Sunday, January 6. (The show starts at 7pm with Apophenia, the superb trio of Steuart Liebig, Alex Cline and Wayne Peet.)
I asked McNalley to name one significant thing he's learned from a number of the fine outfolk with whom he's acquainted himself.
* * *
Rob Blakeslee (Portland trumpeter and my most important teacher): Your melody is your story.
John Gross (Portland tenor saxophonist): Rhythm, phrasing . . . rhythm, phrasing (big beautiful sound!!)
Nels Cline (L.A. guitarist): Total disregard for limitations, coupled with musicality and a visceral delivery.
Alex Cline (L.A. drummer): Every night is an "on" night with Alex!
Ornette Coleman (sax legend): His validation, especially in my understanding of his "harmolodics," made me very happy.
Billy Mintz (drummer): A simple idea can become the only thing in the universe.
Joe McNalley (bassist and my uncle): After Joe and Billy and I played with Ornette one night, Ornette kissed Billy's hands and asked Joe, "Is there ANYTHING you can't do?"
Sonny Sharrock (guitar groundbreaker): When Rob Blakeslee introduced me to Sharrock's "Ask The Ages," that strong delivery and great sound changed the way I played right away.
Jeff Kaiser (L.A. trumpeter and electronics manipulator): The importance of injecting the perfect energy.
Richard Meltzer (legendary wordguy): The whole point is to embody the spirit of what you're doing, not fit in some box.
Rony Ambroise (guitarist in the great Haitian band Les Gypsies de Petion-Ville): Rony taught me Haitian rhythms on congas so I could understand what he had done on guitar (which he then taught me as well!).
Matty Alger (drummer) and Aniela Perry (cellist): My peers, they've got that rare combination of ferocity and musicality.
Hagar Harpak (yoga teacher). Intensity and knowledge make for a transcendent practice.
Kelvin DeWolfe (Qi Gong and martial-arts teacher): How to make esoteric benefits tangible.
TiGeorges Laguerre (of TiGeorges' Chicken). A very Haitian thing -- whenever a friend walks in your door, celebrate them!
Michael Vlatkovich (L.A. trombonist): A true genius -- he can make a memorable tune out of anything.
Dottie Grossman (L.A. poet): A dear friend, frequent collaborator and walking history book, she used to joke that "Musicians should pay me just for the fact that I used to hang out with Coltrane and Monk." She also gave my wife, Frannie, two hideous rhinestone brooches -- one that says "JAZZ" and the other "BITCH." (Frannie often wears them together at my gigs.) Our music scene misses Dottie greatly.
Frannie: How to share talents (chef, painter, dancer, thought-provoker, nunchuck-wielder) to make the world a happier place. I love her!