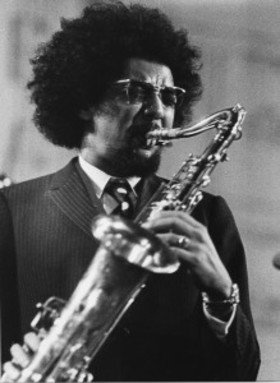 Major jazz figures -- even players who've logged over half a century on the stage -- are not guaranteed a full-length, professional documentary retrospective. Dizzy Gillespie? Cecil Taylor? Herbie Hancock? Lucky for us that Dorothy Darr, the closest human to Charles Lloyd for 40 years, is handy with a camera. Along with producer-editor Jeffery Morse, Darr has assembled a sensitive, comprehensive portrait of a saxophonist whose reclusiveness has obscured his historic influence. It's a great gift for Lloyd's 75th birthday, which rolls around next month.
Few remember that Lloyd, who played at Monterey and gigged regularly at both Fillmores, was the only jazz preacher whose sound enraptured millions of rock-minded hippies in the late 1960s -- before Miles Davis (who appropriated Lloyd's band) went electric with similar ambitions. Robbie Robertson of the Band remembers, though, and he talks about it here.
Few can imagine that Lloyd's 1967 tour of the USSR made such a revolutionary impact that the saxophone was literally banned in its wake, and that the tour's promoters got sent to Siberia as punishment.
Few know that Lloyd, mainly reputed for his peaceful, lilting strains, used to rock the bandstand with the likes of Howlin' Wolf. Ornette Coleman, a saxist with similar blues roots, knows, though, and his casual billiards-parlor hang with Lloyd makes one of the film's most lasting impressions.
Along with many a scene in painterly settings, Darr has collected numerous rare live performance gems, including jams with Gabor Szabo, Cannonball Adderley, Michel Petrucciani and Billy Higgins. ECM producer Manfred Eicher, jazz contemporary Hancock, and band members Jason Moran and Geri Allen rank among the many who pull together pieces of the Lloyd mosaic.
But the most revealing moments arrive when Lloyd himself walks and talks. Like many a magus, he seems to change physiognomy from decade to decade, the lone constant being his sad, soulful eyes, which amplify his multiple racial backgrounds even to the extent that they contain rings of both brown and blue.
As distinctive as his tenor's sound -- a more feathered and ethereal combination of Lester Young and John Coltrane -- is Lloyd's speech, which resonates with color and poetry (describing the evolution from "covered-wagon" jazz), but also truth. When he says music "changes the molecules," we know from our own experience how right that is.



"Charles Lloyd: Arrows Into Infinity" screens Friday, February 15, as part of the Pan African Film Festival at the Rave Cinemas Baldwin Hills 15 in the Baldwin Hills Crenshaw Plaza, 4020 Marlton Ave. (off Martin Luther King Jr. Blvd. west of Crenshaw Blvd.), Baldwin Hills 90008; 9:30pm; $11.50; www.paff.org.