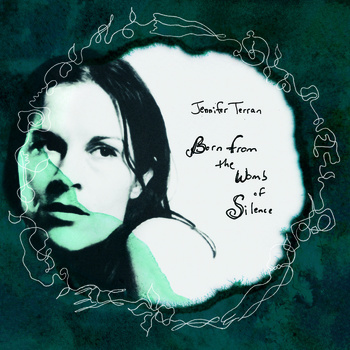 Jennifer Terran has become an instrument so fine that it may cut you. All the Santa Barbara songwriter's albums have been honed to her exacting specifications of sensitivity and truth; now she has gestated a suite about motherhood, a subject than which no deeper exists. It goes right to the heart, and that hurts (good). It's real art, her best. Maybe the world can stand it.
You want pop repetitions? Sorry. After changing skins a couple of times, a theme may snake back into the room when you've almost forgotten it; Terran even jokes about chord progressions. Still, her structures maintain integrity, continuity. Her melodies look for beauty, and her silver scalpel of a voice finds it.
"Womb" reminds me a little of the Beach Boys/Brian Wilson project "Smile," which ran too deep for the '60s and got revived later because it had to be. Similarities: The unindebted quality of the tunes. The intuitive way the songs follow one another. The honest, loving focus on family. The textures of mountain, leaf, frog, fog, desert wind. California.
Whirling with electronic mist, the opening overture melds the first of several magical sound collages. Well, maybe the whole album is a collage. But listen to the detail -- Terran's precisely simple piano, a skeletal rhythm indicated by trashcan bashes, occasional enormous low thuds, vocal choirs of the seventh heaven, ephemeral infant dialogue.
Each song is different, while keeping a central identity. "Once" splays out the pretty Wilsonian grandeur. In "Railia," Terran shrieks with wordless joy or despair (and they're the same). "Between These Doors": tick-tick-tick GROAN.
Terran writes about birth, breath, fear and alienation with a wisely naïve directness and a second-nature spirituality that her voice turns into arrows. As in previous years, she identifies with a three-legged creature, struggles with acceptance, weathers conflict. But now she has a complementary purpose. Art and life both benefit.
With Terran's hands on the controls, "Womb" sounds panoramically marvelous. And the sidefolk shine by doing just enough. A sensual cymbal ringing out at the end of a song -- oh, it's Danny Frankel. Guitar distortion rich as borscht -- oh, it's Tim Young. Subliminally perfect bass parts -- oh, it's Todd Sickafoose. Musicians with jazz cred and full résumés like to play with Jennifer Terran.
At the end, we drift down to the sea in an eddy of peace, and the last track is literally "Silence." Which, Terran convinces us, can be more beautiful than anything.
* * *

Jennifer Terran is popular in Europe, but rather unknown in Los Angeles. (Ain't that the way.) I don't know if she'll play here to promote "Womb"; I'll tell you if she does. Meanwhile, she's doing an intimate release event at her own studio, the Barn, in the region of Santa Barbara this Saturday, February 9. If it's not sold out and you can get there, buy tickets and receive directions here.
You can get the new record here.