Fri. Feb. 15 -- Filmmaker-photographer-artist Dorothy Darr and co-director Jeffery Morse have made a beautiful, deep study of sax master Charles Lloyd's career, "Charles Lloyd: Arrows Into Infinity"; read my review here. Q&A with Lloyd, Darr and Morse afterward! This is the film's last screening in the Pan African Film Festival at the Rave Cinemas Baldwin Hills 15 in the Baldwin Hills Crenshaw Plaza, 4020 Marlton Ave. (really off Martin Luther King Jr. Blvd. west of Crenshaw Blvd.), Baldwin Hills 90008; 9:30pm; $11.50; www.paff.org.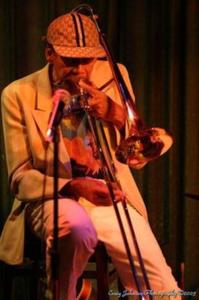 Fri.-Sat. Feb. 15-16 -- The driving quartet of saxist Azar Lawrence with drummer Alphonse Mouzon, bassist Henry Franklin and pianist Theo Saunders has a special guest Saturday night: party-friendly local trombonist (and co-founder of Detroit's Tribe Records back around 1970) Phil Ranelin (pictured). At the RG Club, 2536 Lincoln Blvd., Venice 90291; 9 & 11pm; $15; (310) 822-1715; www.rgclubvenice.com.
Sat. Feb. 16 -- You wanna get your head spun, check out the circular breathing and cyclical imagination of master saxist Phillip Greenlief, here in duo with his Oakland pal Sam Ospovat on drums. At The Battery Books & Music, 1005B Mission St., South Pasadena 91030; 8pm; free I'm guessing; (626) 376-9913.
Sat. Feb. 16 -- How many bands does ex-Sepultura roarguy Max Cavalera have, anyway? Regardless of lineup changes, Soulfly continues to be my favorite slice of his indigenous-inflected Brazilian monster thud; its current album has a classic theme -- "Enslaved." With L.A. death journeymen Detriment and probably a bunch more. At the Key Club, 9039 Sunset Blvd., West Hollywood 90069; doors 7pm; $20; 18+; www.keyclub.com; (310) 274-5800.
Sun. Feb. 17 -- With their current "Lights Out" (wonder where they got that title?), Sweden's Graveyard continue to draw youth attention with their elemental post-Sabbathisms. The band's riffs can really trance you out, drummer Axel Sjöberg bashes wide open, and Joakim Nilsson's distinctive voice ranges from sandpaper declamation to truly beautiful delicacy, no kidding. No jazz, though. L.A.'s highly complementary slack-haired scruffsters The Shrine offer support (on Tee Pee Records, 'nuff said). And once again, more openers are likely, though they're not advertised. At El Rey Theater, 5515 Wilshire Blvd., L.A.; 7:30pm; $20; www.ticketmaster.com.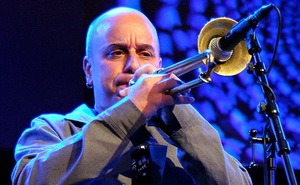 Tues. Feb. 19 -- Trumpeter Steven Bernstein's Sexmob ranks as one of the more intriguing instrumental developments of the last decade or so. Huge beats, gooey atmospheres, attractive melodies, vintage pop references -- it's appropriate that the Mob's imminent next release is "Sexmob Plays Fellini: The Music of Nino Rota" (which is also tonight's theme). I've been drawn to Bernstein's work with Millennial Territory Orchestra, Bobby Previte and Carla Bley, but he's played with everyone from Lou Reed to Tricky, and his L.A. shows are infrequent, so this is an event. Cheap, too. At the Mint, 6010 Pico Blvd., LA 90035; 10pm; $12; (323) 954-9400; www.themintla.com.
Tues. Feb. 19 -- Ex-Faith No More voxman Mike Patton likes his rock big, textural, strange and not too fast, which is why he does this Tomahawk thing. (And generally, he's best live.) At the Mayan Theater, 1038 S. Hill St., downtown 90015; 8pm; $39; www.ticketmaster.com.
Wed. Feb. 20 -- After selling out two nights at the Blue Whale last month, celebrated pianist John Beasley takes his 16-member classic-to-modern Afro-Cuban Hackensackian-Aleutian Monk'estra to new frontiers, so tighten up your cincture. The saxists include Bob Sheppard and Justo Almario, by the way. At Vitello's Restaurant, 4349 Tujunga Ave., Studio City 91604; 8 & 9:30pm; $20; (818) 769-0905; www.vitellosjazz.com.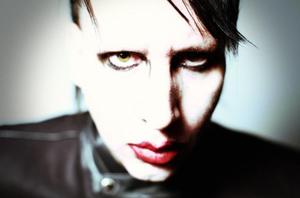 Thurs. Feb. 21 -- I guess it's good that I can't always figure Marilyn Manson out. He loves the downtrodden, yet he's contemptuous of all humanity. He's a sonic mastermind, but he often doesn't seem to care much for music, does he? He's hugely intelligent, but then he might go on "That Metal Show" and just be a dumb drunk. With the aid of frequent foils Twiggy Ramirez and Chris Vrenna, Manson's current "Born Villain" hits a druggy mantra groove (or you could say it's repetitive), while his bloodily mythic lyrics and twisted wordplay are at their sharpest. Whatever, he always puts on a great theatrical show. With heavy chix & dix showmanship from Butcher Babies, featuring Amen guitarist Henry Flury. At Club Nokia, 800 W. Olympic Blvd., downtown 90015; 8pm; $36-$66; www.ticketmaster.com; looks like it's SOLD OUT.
Thurs. Feb. 21 -- Pianist Richard Sears, who made one of my favorite local albums a couple of years ago, taps the classic piano-trio genre with his new one, which reminds me of everything from showtune balladry to Bud Powell to James Carney, with a softly focused personal vibe and a subtle harmonic approach. Tonight his trio mates are bassist Garret Lang and drummer Tootie Heath -- yeah, the brother of Jimmy & Percy, a ubiquitous sideman of majors from Monk to Trane, and a keen listener who often chooses to play with the best younger jazzers, so take a cue. At the Blue Whale on the third level of Weller Court Plaza, south of East First Street between South Los Angeles Street and South San Pedro Street, Little Tokyo 90012; 9pm-midnight; $10; parking $5 underneath off Second Street at the sign of the P in a circle; (213) 620-0908; www.bluewhalemusic.com.
By now you must know Wadada Leo Smith, always at the forefront of challenging and meaningful music (like the epic "Ten Freedom Summers" last year). So maybe you'll want to donate toward his new project here before March 11.

* * *
Read Don Heckman's jazz picks here and MoshKing's metal listings here. Read John Payne's plutonic Bluefat.com here.