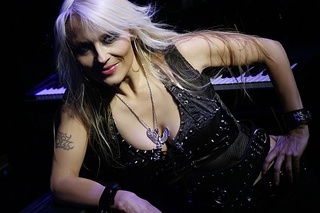 Fri. Feb. 22 -- I can't tell ya how much I'm digging Doro's current "Raise Your Fist." The German ex-Warlock always rocks the melodic metal anthems, but she outstripped herself this time -- shredding her throat with more passion than ever, breaking yer heart in a ballad (!) with Lemmy ("It Still Hurts"), dialing in the richest production and the stylinest guitar sounds. Most crucial factor: She has settled into an extremely satisfying partnership with former Sisters of Mercy guitarist Andreas Kuhn, who co-wrote most of this album, half of her last one ("Fear No Evil") and maybe her all-time best song, "Fuel" from 2000. The result is hit after hit, with raging rockers like "Little Headbanger," major sobbers like "Free My Heart," and the self-explanatory "Raise Your Fist," with which she should obviously open. Doro closes with "Hero," a soul-torn tribute to the late Ronnie James Dio; the record also features a guest spot from Firewind/Ozzy guitarist Gus G., who's playing right down the street on the same night, so . . .? We are hounds of the fire. Sister Sin opens. At House of Blues, 8430 Sunset Blvd., West Hollywood 90069; 8:30pm; $18.50; (323) 848-5100; www.livenation.com.
Fri. Feb. 22 -- Greek power-metal semitraditionalists Firewind have a new singer to complement guitar techmaster Gus G. I never liked the last one's bloated sentimentality, so American replacement Kelly Sundown Carpenter (Outworld) makes for a welcome replacement with his raspier operatics. Knitbrowed Finnish dramatic bawlers Turisas headline, and what the hell, they did cover Boney M.'s "Rasputin." The Dead Crew of Oddwood, Sirion, Helsott and Mordor support. At the Key Club, 9039 Sunset Blvd., West Hollywood 90069; doors 7:30pm; $15; 18+; www.keyclub.com; (310) 274-5800.
Fri. Feb. 22 -- Guitarist Kurt Rosenwinkel (Paul Motian, Mark Turner, Brian Blade) has got something for swinging, classical and edgy ears, so if you don't dig one song, take a bathroom break. A presentation of the Jazz Bakery's Movable Feasts at the Kirk Douglas Theater, 9820 Washington Blvd., Culver City 90232; 8pm; $25 ($20 students); www.jazzbakery.org.
Fri. Feb. 22 -- SASSAS jampacks a lineup of distinguished national/international outside improvisers/conceptualists: Rangda, Blues Control, Crooked Cowboy, Freshwater Indians. At Center for the Arts, 2225 Colorado Blvd., Eagle Rock 90041; 8pm; $14 advance; full details here.
Sat. Feb. 23 -- Stockhausen. Cage. Joyce. Those three words are enough to get me out for an evening of brain-scrubbing modernistic abstraction. A Southwest Chamber Music presentation at the Colburn School's Zipper Hall, 200 S. Grand Ave., downtown 90012; 8pm (pre-performance talk 7pm); $38, seniors $28, students $10; www.swmusic.org.
Sat. Feb. 23 -- Avantorian composer/saxist Ulrich Krieger seems to be making this venue a regular stop. It won't be ordinary. At Beyond Baroque, 681 Venice Blvd., Venice 90291; 8:30pm; $20; (310) 822-3006; www.beyondbaroque.org.
Sun. Feb. 24 -- Leni Stern's new "Smoke, No Fire" sprays an exotic bouquet of textures and modes, stimulated by the air of apprehension she experienced while temporarily flightless in her adopted home of Mali during last year's near-coup in Bamako. She plucks her ngoni with pensive skill, burns on aching electric guitar (with husband Mike Stern shredding wildly on one track), sings of love, nature and fear from several different viewpoints that all sound like the voice of your conscience. The chants, thumps and wails of her African friends prove adaptable to everything from universal folkisms to fusionistic challenge to quiet Elizabethan reflection; the music speaks. Transition is the best creative spur, and transition is where Leni Stern lives. Tonight she's accompanied by old friends Mamadou Ba (astounding bass) and Alioune Faye (hand drums etc.). At Alva's Show Room, 1417 W. Eighth St., San Pedro 90732; 7pm; $20; www.alvasshowroom.com; (800) 403-3447, reservations suggested.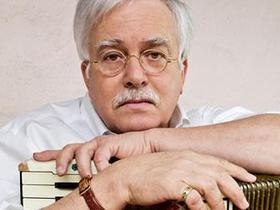 Wed. Feb. 27 -- Act early if you want a shot at experiencing a rare local appearance by Van Dyke Parks, lyricist on some of the Beach Boys' best songs ("Heroes and Villains," "Surf's Up") and a comprehensively brilliant composer/arranger/player in his own right. The program also embraces singer Inara George (The Bird and the Bee), songwriter& triple Grammy-winning producer Joe Henry, and guitarist David Plenn; VDP's ensemble includes harpist Amy Shulman, cellist Cameron Stone, bassist Dave Stone and classic soul & folk drummer Don Heffington. Those who still harbor some affection for that artifact called "print" should know that this is a benefit for the library. On the not-very-large Community Room's Carnegie Stage at South Pasadena Public Library, 1100 Oxley St., South Pasadena 91030; 7pm; $20; free parking across the way at 1020 El Centro St.;(626) 403-7340; tickets here.
Wed. Feb. 27 -- Fear Factory guitarist Dino Cazares summons demons with his masked all-star metal project Brujeria. With Piñata Protest, Black Mackerel, Sangre. At House of Blues, 8430 Sunset Blvd., West Hollywood 90069; 9pm; $22.50; (323) 848-5100; www.livenation.com.
Thurs. Feb. 28 -- I was blown away by the imagination, tonal shading and intensity of Chris Potter's tenor wranglings when I saw him with Dave Holland several years ago, but he'd already established a substantial career as a leader by then, and now he's pushing his deep new ECM release, "The Sirens." Super, super band tonight: pianist Craig Taborn (I last saw him lilt with Michael Formanek), bassist Larry Grenadier (Brad Mehldau) and drummer Eric Harland (Charles Lloyd). Focus on any of them, and all of them together. A presentation of the Jazz Bakery's Movable Feast at the Musicians Institute, 1655 N. McCadden Place, Hollywood 90028; 8pm; $25 (students $20); www.jazzbakery.org.
* * *
PUBLIC SERVICE ANNOUNCEMENT: For those who ain't finished larnin', History of Jazz in Los Angeles sounds like a great class: "Taught by Dr. Ray Briggs—musician, ethnomusicologist, teacher, and Pasadena Conservatory of Music's jazz department chair—this course will uncover the fascinating story of jazz in the City of Angels, by charting the regional development of the music with an emphasis on the significant styles, venues, and individuals who shaped its evolution, including legendary musicians such as Jelly Roll Morton, Kid Ory, Lionel Hampton, Duke Ellington, Benny Goodman, Charles Mingus, Buddy Collette, Eric Dolphy, Chico Hamilton, Art Pepper, Chet Baker, Gerry Mulligan, Gerald Wilson, and Ray Brown. Students will explore the early contributions of New Orleans migrants, the emergence of a thriving jazz scene in the heart of the African American community along Central Avenue in the 1920s, the halcyon era of cool jazz at the Lighthouse Café in Hermosa Beach in the 1950s, and the avant-garde period of the 1960s and beyond. In addition to a survey of the music and the people who made it, this course will consider the ways in which jazz history interweaves with the social and political history of the city, through lectures and discussions, guided listening activities, literature, and a guest performance from an L.A. jazz icon." At Pasadena Conservatory of Music, Tuesdays, March 19-May 21, 7-9 p.m., or Fridays, March 15-May 17, 10 a.m.-12:15 p.m.; $275; registration deadline Fri. March 8; (626) 683-3355; pasadenaconservatory.org.
* * *

By now you must know Wadada Leo Smith, always at the forefront of challenging and meaningful music (like the epic "Ten Freedom Summers" last year). So maybe you'll want to donate toward his new project here before March 11.
* * *
Read Don Heckman's jazz picks here and MoshKing's metal listings here. Read John Payne's plutonic Bluefat.com here.