Fri. March 1 – Dig the trippy lyricism and honed musicianship of country-rock kings I See Hawks in L.A. Buy their new all-acoustic "New Kind of Lonely," too. At Cinema Bar, 3967 Sepulveda Blvd., Culver City 90036; 10pm; no cover but the chapeau will travel; (310) 390-1328; thecinemabar.com.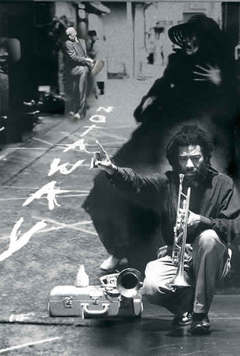 Fri.-Sun. March 1-3 – It's always worth droppin' your shoppin' when Wadada Leo Smith has a new presentation. This time it's a dance & jazz thing called "Notaway: Quest for Freedom," with a stellar cast as always: the trumpeter's Golden Quartet (featuring senior AACM magus Anthony Davis on piano, John Lindberg on bass and Pheeroan akLaff on drums) and dancers Yasunari Tamai (Japan) and Oguri (electrifying butoh chameleon). And donate toward Smith's new project here before March 11. At Electric Lodge, 1416 Electric Ave., Venice 90291; Fri. 8pm, Sat. 5 & 8pm, Sun. 3pm; $25; cheaper advance tickets here.
Fri. March 1 – Czech deathmen Master rip as scary as other Euros, fronted by voxster Paul Speckmann's distinctive gurgle; they headline the underground metal fest "Age ov the Gods" tonight; it continues Sat.-Sun. elsewhere (see below). At the Joint, 8771 W. Pico Blvd., L.A. 90035; 6pm; $15; 18+; (310) 275-2619; www.thejointlive.com.
Sat.-Sun. March 2-3 – The "Age ov the Gods" metal fest continues, headlined by Shawn Whitaker (Sat.) and Despise the Sun (Sun.). Many bands. At the American Legion, 4725 N. Maine Ave., Baldwin Park 91706; noon till late; $17.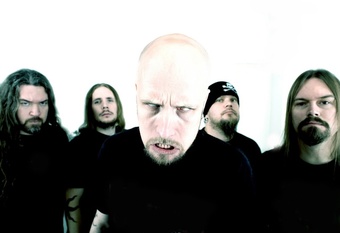 Sat. March 2 – Hell of a progressive-metal lineup: Sweden's Meshuggah (pictured; read my L.A.Times review here); exciting instrumental adventurers Animals As Leaders (read my L.A.Times interview here) and local textural intellects Intronaut (read my 2010 review here, though they're about to drop a new record, song preview here.). At the Wiltern, 3790 Wilshire Blvd., LA 90010; 6:30pm; $32-$40; (213) 388-1400; www.livenation.com.
Sat. March 2 – Rudresh Mahanthappa has done more than anyone else in the last decade to expand the vocabulary of the saxophone through scales, tones and Eastern derivations, and he's got a lot of awards to show for it. Tonight he plays with two different ensembles: Indo-Pak Coalition (featuring Rez Abbasi and Dan Weiss, both stars) and Gamak (with Weiss plus guitarist David Fiuczynski and bassist Francois Moutin). A CAP presentation at UCLA's Royce Hall; 8pm; $19-$41; www.cap.ucla.edu.
Sat. March 2 – A microtonal pioneer and all-around musical innovator gets documented in "Lou Harrison: A World of Music." The late Harrison's "Suite for Violin and American Gamelan" is played by Mark Menzies and ensemble beforehand, and filmmaker Eva Soltes is on hand too. This event opens this year's Microfest; check the festival's full program for the next three months here. At REDCAT, 631 W. Second St., downtown 90012; 8:30pm; $20 (students $16); www.redcat.org.
Sat. March 3 -- Heavy alterno-cellist Helen Money churns up a wall of smoke at this in-store performance. At Permanent Records, 1583 Colorado Blvd., Eagle Rock 90041; 6pm; FREE.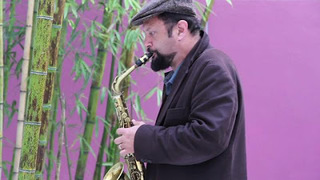 Sun. March 3 – Open Gate Theater's always reliable Sunday Evening Concerts series presents a superspecial event. Persian-derived saxist Hafez Modirzadeh (who made a terrific album with Amir El Saffar a few years back and is getting big plaudits for his own work) fronts an all-star ensemble featuring cornetist Bobby Bradford, bassist Mark Dresser and drummer Alex Cline. To make it an all-timer, the whirlwind sax-drums duo of Phillip Greenlief & Nick Tamburro, who've been logging considerable road miles lately, opens. At Center for the Arts, 2225 Colorado Blvd., Eagle Rock 90041; 7pm; $10; (626) 795-4989.
Sun. March 3 – Berklee grad Brendon Small, mastermind and songwriter of the hilariously violent animated Adult Swim series "Metalocalypse," throws a benefit bash featuring his own group, Galaktikon, which gathers vets from the bands of Frank Zappa, Morbid Angel, Peter Frampton and of course Dethklok. Other Berklee associates on the bill include Derek Frank, Joe Travers, Janet Robin, Ali Handal, Colin Keenan, and Danny Mo & the Exciters (featuring the winner of Berklee's Wehmiller Scholarship, which the evening endows). At the Roxy, 9009 Sunset Blvd., West Hollywood; 7pm; $20; (310) 278-9457; get tix here.
Thurs.-Sun. March 7-10 – Rachelle Ferrell is one singer I'll sit still for, cuz she's got the soul, not just the pipes. At Catalina Bar & Grill, 6725 Sunset Blvd., Hollywood 90028; 8:30 & 10:30pm; $25-$35; (323) 466-2210; www.catalinajazzclub.com.

* * *

PUBLIC SERVICE ANNOUNCEMENT: For those who ain't finished larnin', History of Jazz in Los Angeles sounds like a great class: "Taught by Dr. Ray Briggs—musician, ethnomusicologist, teacher, and Pasadena Conservatory of Music's jazz department chair—this course will uncover the fascinating story of jazz in the City of Angels, by charting the regional development of the music with an emphasis on the significant styles, venues, and individuals who shaped its evolution, including legendary musicians such as Jelly Roll Morton, Kid Ory, Lionel Hampton, Duke Ellington, Benny Goodman, Charles Mingus, Buddy Collette, Eric Dolphy, Chico Hamilton, Art Pepper, Chet Baker, Gerry Mulligan, Gerald Wilson, and Ray Brown. Students will explore the early contributions of New Orleans migrants, the emergence of a thriving jazz scene in the heart of the African American community along Central Avenue in the 1920s, the halcyon era of cool jazz at the Lighthouse Café in Hermosa Beach in the 1950s, and the avant-garde period of the 1960s and beyond. In addition to a survey of the music and the people who made it, this course will consider the ways in which jazz history interweaves with the social and political history of the city, through lectures and discussions, guided listening activities, literature, and a guest performance from an L.A. jazz icon." At Pasadena Conservatory of Music, Tuesdays, March 19-May 21, 7-9 p.m., or Fridays, March 15-May 17, 10 a.m.-12:15 p.m.; $275; registration deadline Fri. March 8; (626) 683-3355; pasadenaconservatory.org.
* * *
Read Don Heckman's jazz picks here and MoshKing's metal listings here. Read John Payne's plutonic Bluefat.com here.