Sexmob at the Mint, 2/19/13. Steven Bernstein sometimes goes for a bronto-beat electro thing, but this time his NYC-based Sexmob (Grammy-nommed several years back!) came off as an almost trad jazz quartet, even if they were playing Nino Rota. Shoved by the scattery drumming of Kenny Wollesen and sorta reading from actual sheet music, the combo achieved a natural meld of reeling clown, raga mystic and Chicago barfly. The Fellini takeoffs -- "Juliet of the Spirits," "Amarcord," "I Vitelloni" -- slid by in oblique parade as bowling-shirted Tony Scherr grooved on tiny electric bass and skullcapped Bernstein locked into melodic tandem with lanky tenor man Briggan Krauss. In the midst of great group swells and ebbs, Bernstein's unusual slide trumpet enabled some ear-catching circus tricks, such as rapid wrist action that generated a heady blur uncannily recalling Yngwie Malmsteen's Stratocaster distorto-shred. All Bernstein's L.A. friends came up to jam at the end -- I recognized Danny Frankel on bongos, but don't ask me the rest. Bernstein quipped casually throughout. My favorite: He refuses to raise recording money on Kickstarter; he just stiffs the studio instead. That's pride.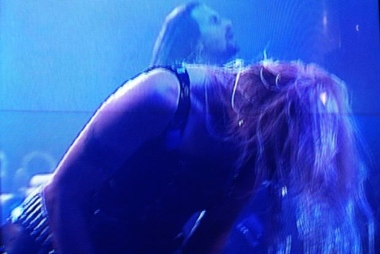 Doro at House of Blues, 2/22/13. After 30 years in the biz, Dusseldorf metal queen Doro still doesn't feel she's delivered full value unless she's sweated out at least four well deserved encores. A darkstuff anomaly, Doro contrasts her grim bondagewear against a warmly smiling visage that beams blond love to her loyal devotees, who love her right back despite the fact that she will never whip them. She will, however, always rock them with a straight-ahead onslaught custom-machined for the concert stage. Doro started at the beginning with "Burning the Witches," the title ritual of her 1984 debut with Warlock. Funny I never grasped how the midtempto slug of "East Meets West" derives from Motley Crue. The galloping "Out of Control," the united-in-metal anthem "We Are All" -- gotta have 'em. Even though they're new, three selections from the spectacular "Raise Your Fist" album made electric connections: the title cut (who says obvious is bad?), "Revenge" (yankin' diddle dandy) and especially the Ronnie James Dio tribute "Hero" (whose grieving accelerando scored big in the late RJD's adoptive hometown). With the credibility of long experience, Doro ruled as hurtin' balladeer in the passionate meditation "Fur Immer" (two keyboards!), the weighty "Do You Love Me in Black?" and the last encore's closing waltz request, Warlock's "Without You." The long-running bass-drums team of insane headbanger Nick Douglas and righteously fermented Joey Dee punched with hard-time criminality; the twin guitars of Luca Princiotta and the bare-chested Hun warrior Bas Maas rang with theatrical skill. We hardly minded that they didn't play "White Wedding," since as covers go, Judas Priest's "Breaking the Law" served smashingly. Doro stuck around afterward at stage right to shake everybody's hand, and I believe she's telling the truth when she says, just like Ronnie, that's her favorite part.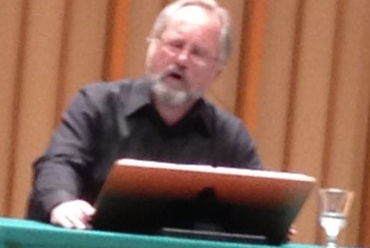 Southwest Chamber Music performs Cage and Stockhausen at Zipper Hall, 2/23/13. Do I like synth loops? Sure, as long as 24 of 'em overlap, and they're in 8-track surround sound. Do I like French horn? Definitely, and if you can get the player to mute with hand and cone, and to rotate in position now and then, that would be swell. I just don't know if I liked them both at the same time, the way they were presented when bespectacled Andrew Pelletier horned in on Karlheinz Stockhausen's "Nebadon aus KLANG." Although Pelletier's resonant notes were spare and chosen to complement the '80s-sounding electronic chirble, they didn't mesh. Maybe if the synthesizers were deafeningly loud . . .
Stop me if I've said this before, but John Cage and everybody else knows that conceptual art & music often thrive better on paper than in execution. So if Cage left "Muoyce II: A Reading Through 'Ulysses'" unfinished at the end of his life, maybe there was a reason. The idea was to condense James Joyce's already hyperabstract 700-page "Ulysses" into 40 minutes of semi-random snippets, and read the intelligibility-resistant result against traffic sounds gathered from around the world, voyager-hero-style. Thus randomness met randomness, the opposite of Joyce in fact. So in spite of a well-cadenced reading by Southwest Chamber director Jeff von der Schmidt, the piece was squirm-inducing (if you stayed awake) or ignorable (if you went the other way). The pre-concert talk by JVDS and spousal/professional partner Jan Karlin, on the other hand, was fascinating. Did you know Stockhausen said modern composers should be influenced by photos from the Hubble space telescope? Now, there's a good concept.