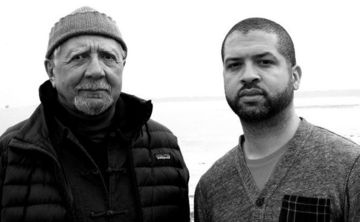 Fri. March 15 -- Today, Charles Lloyd, his New Quartet and friends celebrate his 75th birthday with a performance at New York's Metropolitan Museum. California residents can see him June 8 at the Healdsburg Jazz Festival, where he'll play in duo with quartet mate and international star pianist Jason Moran. Which also happens to be the format for Lloyd's sensitive new ECM recording, "Hagar's Song," where Lloyd and Moran plumb their several years of partnership to achieve one singular, limitlessly intuitive voice. Any Lloyd offering hardly needs to beg our attention. And next month's boxed reissue of his first five ECM recordings provides a welcome opportunity to revisit his inspiring late-'80s re-emergence. AND "Song" itself raises heart-stirring signposts from Lloyd's long career: Duke & Strayhorn, Billie & Fatha, Charles & Ornette, The Band & Brian. But now, when inroads against the 1965 Voting Rights Act are being pursued, seems an especially appropriate time to revisit, as Lloyd does here, the subject of slavery. Lloyd introduces the concern with a nuanced reading of the "Porgy and Bess" standard "Bess, You Is My Woman Now," and amplifies it on four wind instruments with his own "Hagar Suite," a slave's journey from family severance to fearful isolation to meditative transcendence. Hagar was Lloyd's great-grandmother; her name means "stranger"; her biblical namesake was a slave who bore Abraham a son -- Ishmael, progenitor of a parallel exiled race. We need to remember.
Fri.-Sun. March 15-17 -- Young Ambrose Akinmusire is shaping up as the softly probing trumpet voice of his generation. Having worked with many established leaders (Steve Coleman, Stefon Harris, Wayne Shorter and many more, including, yup, Jason Moran) and made a highly praised debut record, Akinmusire was featured prominently in last year's Angel City Jazz Festival, and these three nights mark a whale of a showcase for his melodic yet intellectually rigorous music. Reserve early. At the Blue Whale on the third level of Weller Court Plaza, south of East First Street between South Los Angeles Street and South San Pedro Street, Little Tokyo 90012; 9pm-midnight; $15; parking $5 underneath off Second Street at the sign of the P in a circle; (213) 620-0908; www.bluewhalemusic.com.
Thurs. March 21 -- It's '70s retro night with bluesy crunch & Hammond from Clutch, classic drone & moan from Orange Goblin, soulful reggae from Lionize and raging guitar smash-up from Scorpion Child. Good bill, top to bottom. At House of Blues, 8430 Sunset Blvd., West Hollywood 90069; 7:30pm; $25; all ages; (323) 848-5100; www.livenation.com.

* * *
Read Don Heckman's jazz picks here and MoshKing's metal listings here. Read John Payne's plutonic Bluefat.com here.