Fri. March 8 -- Celebrated keyboardist-composer Billy Childs celebrates his birthday with a hot combo: bassist Jimmy Johnson, drummer Joey Heredia and windman Katisse Buckingham. At the Baked Potato, 3787 Cahuenga Blvd. West, Studio City 91604; 9:30 & 11:30pm; $25; (818) 980-1615; www.thebakedpotato.com.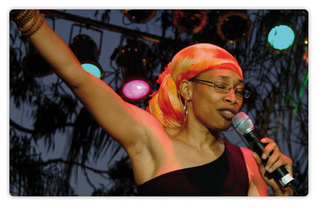 Fri.-Sun. March 8-10 -- Rachelle Ferrell is one singer I'll sit still for, cuz she's got the soul, not just the pipes (which are incredible). At Catalina Bar & Grill, 6725 Sunset Blvd., Hollywood 90028; 8:30 & 10:30pm; $25-$35; (323) 466-2210; www.catalinajazzclub.com.
Sat. March 9 -- Guitarist Jeff Kollman, master of soup & nuts, cooks the heavy fusion of Cosmosquad, with gut-pounding drummer Shane Gaalaas and bassist Pete Griffin. At the Baked Potato, 3787 Cahuenga Blvd. West, Studio City 91604; 9:30 & 11:30pm; $20; (818) 980-1615; www.thebakedpotato.com.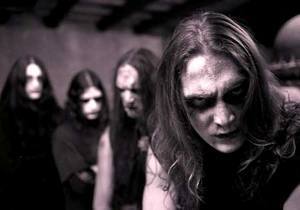 Sat. March 9 -- Black metal gets no darker than veteran Swedish mythologists Marduk. With a modern take on melodic metal from Portugal's Moonspell, plus Inquisition, The Foreshadowing, Danzig-influenced Marduk spinoff Death Wolf, Icon of Phobos, Insentient. At Vex Art & Culltural Center, 5240 Alhambra Ave., East L.A. 90032; 7pm; $30; (800) 660-9015; www.8thdaytix.com.
Sun. March 10 -- KMFDM is still around to deliver all the Teutonic dance-tech punishment you can stand, and then some. With Legion Within and Chant. At the Henry Fonda Music Box Theater, 6122 Hollywood Blvd., Hollywood 90028; 8pm; $38; (323) 464-0808; www.ticketmaster.com.
Tues. March 12 -- Two entirely different approaches to the World tonight. Quarteto Nuevo does it quiet, rootsy, Central American and Indian/Asian; Industrial Jazz Group does it more urban, more edgy, more Central European and whatever inspires sinister mastermind Andrew Durkin. Don't know which plays first, but both are real good. At Grand Star Jazz Club, 943 N. Broadway, Chinatown 90012; 9pm; (213) 626-2285.
Tues. March 12 -- Veering from the saxman's usual wild postmodern jazz, Skerik's Bandalabra reveals the Fela Kuti/James Brown connection; opener Shovelman slides the blues with a guitar made out of some gardening implement, can't remember which one. At the Mint, 6010 Pico Blvd., LA 90035; 9pm; $12; (323) 954-9400; www.themintla.com.
Thurs. March 12 -- Coupla Bay Area electronic circuit busters: synth pioneer John Bischoff and multimediator Antimatter (Xopher Davidson). Any residual radio reception in your fillings is non-actionable. A SASSAS presentation at Center for the Arts, 2225 Colorado Blvd., Eagle Rock 90041; 8pm; $10; www.sassas.org.


Alvin Lee, RIP. Think about it: Alvin Lee was gigging hard in 1962 -- an early contemporary of THE BEATLES. He probably decided on the red Gibson semi-hollowbody in '63 because of B.B. King, but in terms of white English dudes playing the blues, he doesn't get much credit for influencing others with the same ax, like Ritchie Blackmore (pre-1970 Strat conversion), Peter Green and even '60s Eric Clapton (all of whom were born a bit later). Lee wrote some ace tunes for Ten Years After: "Love Like a Man," "One of These Days," "I'd Love To Change the World," "Rock & Roll Music to the World," "Choo Choo Mama." He had one of those voices that just had a stamp on it. And though he was fast, what I really notice now is his rhythmic precision -- quick as he ripped, he hit every note like a metronome. Just because "I'm Going Home" is the most famous moment in "Woodstock" doesn't mean it wasn't the most exciting; I sure thought it was. I feel lucky to have seen him in Seattle in '71.
* * *

PUBLIC SERVICE ANNOUNCEMENT: For those who ain't finished larnin', History of Jazz in Los Angeles sounds like a great class: "Taught by Dr. Ray Briggs—musician, ethnomusicologist, teacher, and Pasadena Conservatory of Music's jazz department chair—this course will uncover the fascinating story of jazz in the City of Angels, by charting the regional development of the music with an emphasis on the significant styles, venues, and individuals who shaped its evolution, including legendary musicians such as Jelly Roll Morton, Kid Ory, Lionel Hampton, Duke Ellington, Benny Goodman, Charles Mingus, Buddy Collette, Eric Dolphy, Chico Hamilton, Art Pepper, Chet Baker, Gerry Mulligan, Gerald Wilson, and Ray Brown. Students will explore the early contributions of New Orleans migrants, the emergence of a thriving jazz scene in the heart of the African American community along Central Avenue in the 1920s, the halcyon era of cool jazz at the Lighthouse Café in Hermosa Beach in the 1950s, and the avant-garde period of the 1960s and beyond. In addition to a survey of the music and the people who made it, this course will consider the ways in which jazz history interweaves with the social and political history of the city, through lectures and discussions, guided listening activities, literature, and a guest performance from an L.A. jazz icon." At Pasadena Conservatory of Music, Tuesdays, March 19-May 21, 7-9 p.m., or Fridays, March 15-May 17, 10 a.m.-12:15 p.m.; $275; registration deadline Fri. March 8, though I wouldn't be surprised if they'd fudge that a bit for you; (626) 683-3355; pasadenaconservatory.org.

By now you must know Wadada Leo Smith, always at the forefront of challenging and meaningful music (like the epic "Ten Freedom Summers" last year). So maybe you'll want to donate toward his new project here before March 11.

* * *
Read Don Heckman's jazz picks here and MoshKing's metal listings here. Read John Payne's plutonic Bluefat.com here.