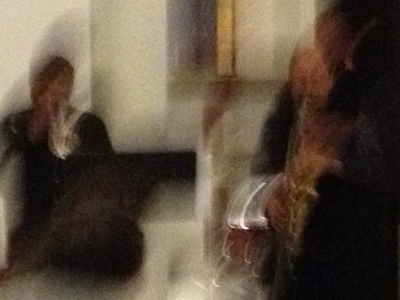 I'm talking with the musicians after the show, and Bay Area alto saxist Hafez Modirzadeh clues me about how he gathered his star quartet with drummer Alex Cline, bassist Mark Dresser and cornetist Bobby Bradford. A cheerful gent in scientist specs, Modirzadeh (accent on the second syllable) explains that his well-received 2010 Pi Records album with trumpeter Amir ElSaffar featured Cline and Dresser; they also played live together in 2009. The extrapolations on Iraqi and Persian roots that unfolded therefrom made Modirzadeh eager for more. So when Cline offered him a gig at his Sunday Evening Concerts series, rehooked Dresser, and helped draw cornetist Bradford into the picture, well, that was sure gonna work.
Bradford, understand, partnered way back with Ornette Coleman, whom Modirzadeh has long admired; Hafez even got to hang quite a bit with the Shah of Harmolodics at a time when Coleman was "opening a window." When was that? Oh, says H.M., around 2006, just before Ornette won a Grammy and grabbed a Pulitzer. Hey, says guitarist Tom McNalley, who's also talking to everybody tonight, that's when I was playing with him too. And I say, double-hey, I visited Coleman in New York for an L.A. Times interview in early 2007. Indeed, that sun circuit marked a window.
All this reinforces a truth about Ornette Coleman: Beyond his revolutionary music, he has served as a magnet who unites certain kinds of people. A week earlier, I was talking to Leni Stern about how Ornette played straight Charlie Parker bebop with Paul Bley in 1958, laying a precise bridge to the future. A couple of weeks before that, I was watching footage of Coleman shooting pool with Charles Lloyd in a Lloyd documentrary. For as long as jazz has been dancing in my head, the O-word has been cropping up.
It's no shock, then, that shades of Ornette often color the Modirzadeh quartet's performance in Los Angeles, nostalgic locus of Coleman's formative rejections.
Ornette & Hafez, for instance, blow alto with a similar tone -- soft yet penetrating. As Cline and Dresser set up an Arabic-sounding vamp on Cline's "Fade to Green"/"Steadfast," Modirzadeh and Bradford launch into quick call-and-response, Cline splashing slowly against the tide and Modirzadeh hitting a couple of sustained notes that can't be found in the Western scale (must be a page from his dastgah catalog). On a number from Modirzadeh's "Facets" series, they accelerate into an Afro-Cuban groove spiced with easy counterpoint reminiscent of various Coleman ensembles; Bradford improvises concisely with that smoky, bluesy sound of his.
Dresser absolutely torches my brain on his own "For Bradford." Many times I've seen the tall scholar execute solos that give me hallucinations, but here, the buzzing overtones, the slides, the two-hand tapping, the left-hand hammering while he leisurely TURNS THE PAGE WITH HIS RIGHT -- I creep out from behind a pillar and scrutinize the stage to see who's accompanying him, but all three mates sit idle, listening. Then he strikes up a teenage walking-blues pattern. Hilarious.
They close with Bradford's classic "Song for the Unsung" (dating from a 1969 session with John Carter), the cornet and sax exhaling lowdown soulful moans while Cline caresses cymbals in the most natural rhythm/counterrhythm and brings down a final cleansing rain. Four leaders melding like a band. Rapturous.
The opening duo of Bay Area tenor saxist Phillip Greenlief with drummer Nick Tamburro is a blast. Inexhaustible and often employing circular breathing, Greenlief whips through his repertoire of war whoops, bird calls, bent blues and dino-bee vibrations as young Tamburro slambangs with robust affinity. The ever-changing ride rocks like a storm-tossed frigate, and audience heads are nodding hard into the wind. Truly, these celebrants raise ancestral spirits. Did Greenlief say it's his birthday? Playing this way, he gets reborn every day.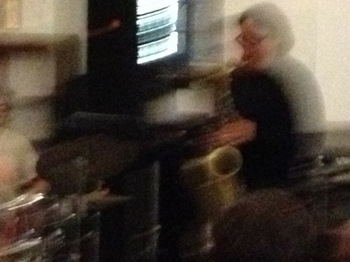 PHOTOS BY FUZZY BORK.