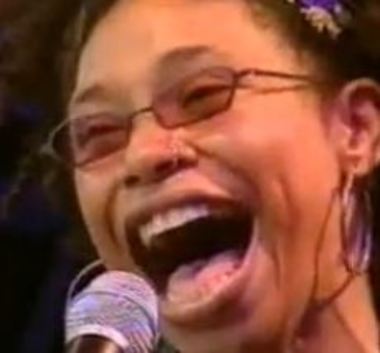 For a change I didn't want to splash gin on papyrus whilst clubbing, so I wasn't gonna write about this. But Rachelle Ferrell did it so wild that a few words seem mandatory.
Ferrell (accent on syl 2) got in my tardy face a decade after her recorded debut; the occasion was her George Duke-produced 2000 Capitol slab, "Individuality (Can I Be Me?)," which sported so much rhythmic juju that it nearly backseated the ear-wringing marvel of her voice. Since then, she's issued no studio material, while always saying more's imminent. Meanwhile, you could YouTube her: pouring out the gospel, painting Sistines on the standards, vocally grieving at Bernie Mac's funeral -- generally demonstrating that the distinctions among pop, soul, jazz and everything else don't mean a damn thing to her.
Ferrell just sings, sings with more range and flex than any guitar or sax can manage, and judging by the full house this night, and the packed patio waiting 1.5 hours for the second show, folks know it. She reached out to the highly diverse audience, and she got us.
The persistent sexual context of Ferrell's presentation demands what many artists neglect: relaxation. Wish I could name her keys-guitar-bass-drums urban-soul quartet, who supplied the social lubrication with slow-breathing grooves that recalled some of Miles' more laid-back electric vamps.
Ferrell did plenty of breathing herself. Some grunting, too, and moaning, almost unconscious. To start, she employed three or four of the jazzier songs from "Individuality," reinforcing the impression that they were constructed as springboards for spontaneity, and reeling them out at leisure until she was ready to change, which could take a while. Coiffed in fuzzy devil horns, her wide mouth writhing all over her face, Ferrell teased her syllables beyond their literal meaning and took off in all kinds of directions -- flutters, ultrahigh whines, percussive effects, endless power sustains. In another singer, the variety could have seemed like an exercise, but with Ferrell, everything simply poured out, as if we had invited her to speak her heart, which we had. In communion, audience members clucked, laughed and testified throughout -- a two-way conversation.
The transparent soprano span of Ferrell's voice reminded me of Dionne Warwick and even Laura Nyro, maybe with a taste of Chaka Khan. But she could also stray way above those women into the upper Minnie Riperton ionosphere, as well as down into the Delta mud of Mavis Staples, while staying always her warm and straightforward self. There were two or three covers toward the end, but I don't remember which, because they sounded too much like Ferrell. When she hunched at the piano to play the audience favorite "I Can Explain" (from "Individuality"), she took us right into the choir loft of the Black & Blues Church, an edifice that also occupies a permanent space around her solar plexus.
As the band strolled off, I asked one of them if this was a typical Saturday set. (Ferrell did four two-set nights at Catalina's.) He shrugged and said it was different every time. So me, I'm calling it jazz.