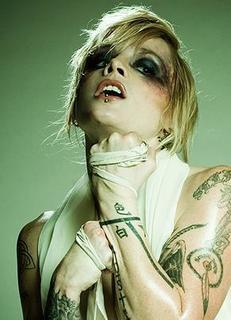 Fri. April 19 -- The current "Hydra" has been announced as Otep's final album. One can imagine how inconsistency of lineups and directions must have strained Ms. Otep Shamaya's nerves, so the semiretirement's understandable. Hard to keep a wordsmith and eye magnet like her off the stage, though, so you'll probably get an energetic combination of her more simpleminded raps ("Smash the Control Machine"), her atmospheric damaged poetry ("Adrenochrome Dreams"), and the Mansonesque nu-metal rage ("Buried Alive") that broke her a decade ago. With One-Eyed Doll, Picture Me Broken, Blackbox 13, Save Our Souls, Fall of Man, Kauze, Crime Field. At the Whisky, 8901 Sunset Blvd., West Hollywood 90069; 6:30pm; $16; www.whiskyagogo.com; (310) 652-4202.
Fri. April 19 -- Barry Markowitz passes the word that Max Markowitz and Lewis Keller will be presenting concepts in electronix with performers including John Wood, April Guthrie, Heather Lockie and Jason Golday. At the Wulf, 1026 S. Santa Fe Ave. #203, downtown 90021; 8pm; free but donations accepted I'm guessing; www.thewulf.org.
Sat. April 20 -- Prairieful singer Julie Christensen, long a resident of Ojai, says she plans to move her roots & soul to Nashville soon, to which we can only respond by holding our breath until we turn blue. Before she packs, she'll be kicking off Sharyl Holtzman's new multivenue Sublime series, backed by multi-instrumentalist Dan Wilson and surrounded by the sculpture of John Diehl. At the studio of Joshua Elias in the Brewery Arts Complex, 600 Moulton Ave. #204, downtown 90031; 1:30pm (EARLY!); dunno the cost but it won't be much.
Sat. April 20 -- Sonny Rollins' doctor said no touring for now at age 82, so he had to cancel tonight's show. Ticketholders shouldn't be too disappointed by the replacement, though: actual Miles Davis drummer Jimmy Cobb's So What Band, playing the 1959 classic "Kind of Blue" in its entirety. The lineup's a little different from the one I reviewed last year in LA Times here, but equal: tenor man Dave Liebman, alto man Vincent Herring, trumpeter Christian Scott, pianist Larry Willis and bassist Buster Williams. At the Valley Performing Arts Center, 18111 Nordhoff St., Northridge 91330; 8pm; $55-$85; www.valleyperformingartscenter.com.
Sun. April 21 -- John Clayton, king of the mainstream bass, presents Jazz Vespers with a unit including notable spiffy guitarist Anthony Wilson. At All Saints Church, 132 N. Euclid Ave., Pasadena 91101; 5pm; FREE.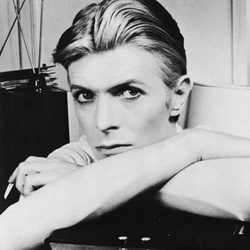 Tues. April 23 -- Intriguing idea: to interpret the music of David Bowie's Berlin period ("Low," "Heroes"), when DayBo was kicking blow, croaking like a frog and investigating dark, foggy grooves. I wanna hear "Breaking Glass," "Always Crashing in the Same Car," and howbout some of the contemporaneous Iggy collaborations, like "Tiny Girl" and "The Passenger." Or maybe they'll be going for the more atmospheric extended churners, like "Warszawa" and "Mass Production." Various singers join a terrific band: prodlucer-guitarist Scrote, galactic guitarist Tim Young along with keysmen Jeff Babko & Peter Adams, saxist Ron Dziubla, bassist Tim Lefebvre, percussionist Danny Frankel, and drummer Greg Errico (who actually played with Bowie). At the Blue Whale on the third level of Weller Court Plaza, south of East First Street between South Los Angeles Street and South San Pedro Street, Little Tokyo 90012; 9pm-midnight; $20; parking $5 underneath off Second Street at the sign of the P in a circle; (213) 620-0908; www.bluewhalemusic.com.
Wed. April 24 -- David Ellefsen (Megadeth), Troy McLahorn (Evanescence), Sal G (Staind) and Pete Murray & Neil Godfrey (Lo-Pro) form an ad hoc band to play heavy tunes from the soundtrack of "Battlefield of the Mind," a documentary about the fokked-up life that confronts returning military vets. Eye Empire closes. Filmmaker Fran Strine and key participants show clips and answer questions at 7pm; doors reopen for performances at 8:30pm. At the Whisky, 8901 Sunset Blvd., West Hollywood 90069; www.whiskyagogo.com; $20 (full access) & $15 (performance only); tickets here, where it says $7, so does that mean advance tix are way cheaper? You'll find out.

* * *
Read Don Heckman's jazz picks here and MoshKing's metal listings here. Read John Payne's plutonic Bluefat.com here.