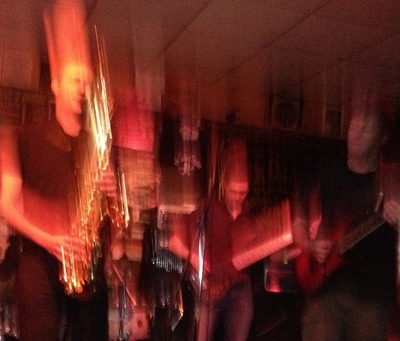 Let's say you're Albert Einstein. How do you get attention? You're a genius, but that hurts the cause. So you cultivate photogenic hair. You take controversial stands against fascism and racism. Maybe you hang out with Marilyn Monroe.
Seven-string guitarist Jan Zehrfeld, leader of the German-Austrian band Panzerballett, faces a similar genius issue: He imagines impossible combinations of notes and rhythms, and he wants to get them heard. So he tricks you into thinking you're gonna hear something comfortable, and then he hijacks you into his alternate galaxy.
It's like the way Charlie Parker mutated "I've Got Rhythm," or the way Ornette Coleman refracted "Embraceable You," or even the way Pablo Picasso reperceived, y'know, the form of a guitar. But more totally. More aggressively.
Not that the shy Zehrfeld comes off as a menace. And he doesn't load his populist probes with Olympian contempt, as Frank Zappa preferred. He loves the baser materials he works with.
Like funk. On their current album, "Tank Goodness," Panzerballett enlisted the trumpet of fusion icon Randy Brecker while versionizing the Brecker Brothers' "Some Skunk Funk," and at a recent NYC show, Brecker stopped by to nod approval. Tonight, PB showcased the same arrangement via the twin guitars of Zehrfeld and Joe Doblhofer, duelling with harsh incandescence in an unprecedented five-units-to-the-beat display. "That shit," Zehrfeld deadpanned, "is HARD."
Or reggae. After a stunning stereophonic workout -- the two axmen alternating rapid single notes in a complex skank riff -- Doblhofer took the lead on "Zehrfunk," moving from Leni Stern melodic slow burn to blazing overdrive, his wah pedal cocked in low-mid position the way Michael Schenker favors.
Or metal. Zehrfeld said "The Sax Dictator" was inspired by a metal band hurling cow blood, but the intense waves of layered anti-rhythms behind Alexander Von Hagke's fluidly gutty tenor were hardly so random. Zehrfeld offered between-song explanations for what the quintet was about to accomplish, useful because unless your brain had a couple of extra hemispheres, sorting out the mathematics would be futile. (One recent web commentator complained that Panzerballett were out of sync sometimes -- ha. But here in the Home of Fusion, one knowledgeable observer yelled, after the fractured alien yanks that concluded the Arabic Jah polyrhythms of "Mustafari Like Di Carnival," "Your timing is off the page!" Off as in ON, that is.)
Or . . . jazz. Panzerballet's explosion of "Giant Steps" bore some relation to John Coltrane's original -- which used to be considered a difficult tune -- but it sounded more like five runaway trains tearing through Grand Central in opposite directions.
These dudes know true heft. When Zehrfeld's noggin twitched during his tribute to the big riffs of Pantera, and when Doblhofer took a gleeful rip from the high-string arpeggios of AC/DC's "Thunderstruck," we could tell that the headbanging side of Panzerballett was no put-on. But Von Hagke's observant posture, Doblhofer's occasional Spanish lyricism and the effortless bass-&-drums finesse of Heiko Jung and Sebastian Lanser almost made us forget the consistent level of superskilled intensity we were experiencing. Almost.
Throughout the set, Zehrfeld (resplendent in Allan Holdsworth T-shirt) kept advising us to sit back and relax. The first time, we thought he meant it.
* * *

I also reviewed Panzerballett a year and a half ago here.
PHOTOS BY FUZZY BURG.