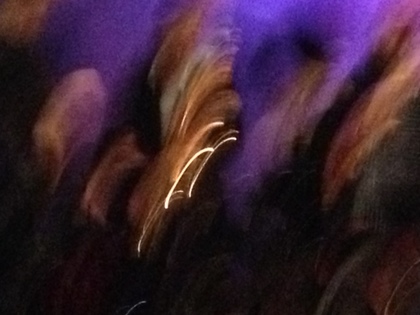 David Bowie called his 1977 album "Low" because he was trying to avoid being high on cocaine all the time. That made drug-soaked Berlin an odd choice of refuge, but it accounts for the raw, disjointed character of the three albums that gestated there: "Low," "Heroes" and "Lodger." Eno was around to provide textural inspiration; Iggy was around to provide bent energy and a creative outlet for Pop side projects ("The Idiot," "Lust for Life").
The music marked another major change from the rock and soul Bowie had been mining for the previous several years -- it was born just as punk was breaking, and darkly colored by previous industrial instigators such as Pere Ubu, Devo and Joy Division, with a touch of Krautrock. Berlin Bowie puzzled the public but riveted avantists. I ran into local out-drummer Rich West at this Blue Whale gig, and he said this was his favorite Bowie period.
Another fan is well-traveled session guitarist and producer Scrote, who conceived this revisitation, played some ax and sang most of Bowie's parts. He gathered quite a few excellent musicians, some of whom I've heard in other contexts. Squeezing their names into this little blurb would choke the flow, so I'm just listing them at the bottom. Probably there were more.
Starting with some jagged guitar squonks that led into the big slapbeat of "Speed of Life," the cover cavalcade came off as garagey, but true and fun. Scrote settled on hookier selections -- "Breaking Glass," "Sound and Vision," "Beauty and the Beast," "Yassassin" -- and represented the substantial Berlin quotient of atmospheric instrumentals with short between-song jams. Good idea.
This live thing differed from the records mainly in density. Where the studio versions ran spare, this group doubled a lot of melodic lines (guitar & sax, synth & guitar, guitar & guitar), which churned up a loose, reverb-like feel. Although the drummers nailed the mechanistically human attack of Bowie skinsman Dennis Davis, there was no way they could have duplicated the technical trickery -- noise gating, I think -- that made every beat sound like a muffled gunshot.
One ear-grabber: Tonight's acoustic piano dragged the bizarre Mike Garson chromatic fantasias of "Aladdin Sane"-era Bowie a few years forward into smokestack Berlin. And we got a special jolt when the group slammed into the insistent beat and "heroic" Robert Fripp guitar sustain of "Heroes," the biggest hit from that period. That tune used to depress me, but this take made me want to punch a Congressman.
The nearly full house bobbed their heads; some even danced a little. Most everybody was into the spirit. Not exactly Berlin? No problem.
Scrote - guitar
Tim Young - guitar
Jeff Babko - piano, synthesizers
Peter Adams - keys, synthesizers
Ron Dziubla - saxes
Celia Chavez, Marcus Blake - backing vocals
Tim Lefebvre - bass
Danny Frankel - percussion
Greg Errico - drums
David Poe, John Gold, and others - singers and guests
PHOTOS BY FUZZY BERN.