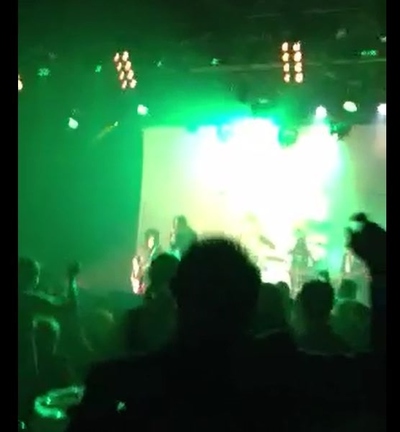 The star performers at the Gay & Lesbian Center's "An Evening With Women" benefit included Ozzy Osbourne and family. Backed by a younger band, a chastened but undiminished Ozz (recently reunited with both wife Sharon and Black Sabbath) yowled a clutch of Ozzy & Sab classics including "Crazy Train," "War Pigs" and "Paranoid."
On the scene, MetalJazz correspondent John Lehr observed, "While one might think the shared LGBT/metalhead demo to be narrow, you wouldn't have guessed it from the headbanging on Saturday. My favorite moment: Ozzy screaming at us, 'Come on you motherfuckers let's rock this fucking place!' Moments later, Ozzy got on his knees and bowed to us motherfuckers because we did indeed rock that fucking place."
Comedic actor John Lehr was the star and co-creator of TBS's "Ten Items or Less" (2006-2009) and Crackle.com's "Jailbait" (2011); his Hulu Western "Quick Draw" premieres August 5. He also portrayed the original Geico Caveman. Lehr is a veteran headbanger and lord of a metal dynasty. His first name is the same as Mr. Osbourne's, and on "Jailbait" he played a prison inmate named Ozzie.
IMAGE OF THE BACK OF JOHN'S BANGING HEAD BY JENNIFER SCHLOSBERG.