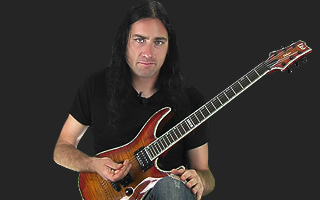 Fri. May 17 -- Really a hot one tonight when top Brazilian death dealers Krisiun (most punishing rhythms, most harmful riffs) meet speedy prog deathsters Arsis (pictured guitarist James Malone has been on a creative bender, including the harsh new "Unwelcome"). With Autumn's End, Nihilitus and maybe more. At Vex Art & Culltural Center, 5240 Alhambra Ave., East L.A. 90032; doors 7pm; $14; (800) 660-9015; www.8thdaytix.com.
Sat. May 18 -- Heavier than the average fusion: Ace session guitarist Michael Landau leads his trio with bassist Travis Carlton and drummer Alan Hertz. At the Baked Potato, 3787 Cahuenga Blvd. West, Studio City 91604; 9:30 & 11:30pm; $25; (818) 980-1615; www.thebakedpotato.com.
Sun. May 19 -- I wouldn't send ya down the coast if it weren't an important occasion like singer Julie Christensen's closest regional gig before she moves to Nashville. Grab the ex-Divine Horsewoman's current "Weeds Like Us," with its for-real soul vibe and magnetic storytelling, and listen to it all the time. (Get it online here or on iTunes, Amazon, whatever.) Sure, visit the Queen Mary while you're in the harbor. At Grace First Presbyterian Church, 3955 N. Studebaker Road, Long Beach 90808; 2pm; $20.
Sun. May 19 -- SASSAS, which brings L.A. the most rarefied and original music from around the world, holds its annual "Blast!" benefit with Dos (Mike Watt & Kira Roessler on duelling basses), Lou Barlow, Dani Tull, Killsonic and the Dublab DJs at somebody's luxurious San Marino home, with food & drink & art auction. Buy tix ($30-$50) here.
Wed. May 22 -- Organist Larry Goldings emphasizes the groove side of his jazz with a quartet featuring Jay Bellerose, David Piltch and Sebastian Aymanns on the third Wednesday of his May residency. At the Blue Whale on the third level of Weller Court Plaza, south of East First Street between South Los Angeles Street and South San Pedro Street, Little Tokyo 90012; 9pm-midnight; $15; parking $5 underneath off Second Street at the sign of the P in a circle; (213) 620-0908; www.bluewhalemusic.com.
Thurs. May 23 -- Jeff Hanneman of Slayer died a couple of weeks back, and now it's time to pay tribute to a Cali axman who helped define metal from the '80s onward. No performers have been announced for the memorial, but it's a fair guess that there will be music. At Hollywood Palladium, 6215 Sunset Blvd., Hollywood 90028; 3:30-7:30pm; FREE (first come, first served, and be prepared for traffic).
Thurs. May 23 -- LATE ADD: Masters of doom The Obsessed (11:30pm) grind it out with a classic early-'90s lineup featuring moaner & guitarist Wino Weinrich, drummer Greg Rogers and, since Guy Pinhas is cowering in Europe these days, bassist Reid Raley. With the perseverant hard rock of Jonathan Hall and Backbiter (10:30), plus Ed Mundell and Ultra Electric Mega Galactic (9:30). At the Redwood Bar & Grill, 316 W. Second St., downtown; 9pm; cheap; (310) 245-0273; www.theredwoodbar.com.



* * *
Read Don Heckman's jazz picks here and MoshKing's metal listings here. Read John Payne's plutonic Bluefat.com here.