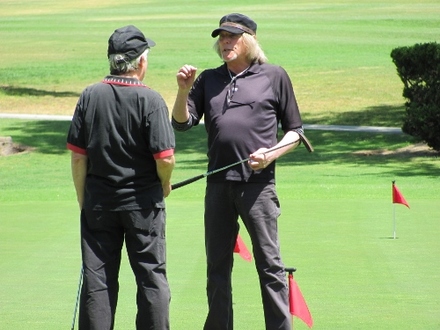 Is the music business fun? Sometimes, but it's an endurathon. Weariness! Frustration! Occasional transcendence! In other words, it's like golf.
Musician and golfer Scott Gorham has had the opportunity to consider the comparison. As an American guitarist and songsmith for Thin Lizzy during the Irish band's mid-1970s hard-rock buzztime ("The Boys Are Back in Town," "Jailbreak"), and in various Lizzy revivals following leader Phil Lynott's 1985 burnout, he has trodden the showbiz trails through rain and shine.
Now, Gorham has settled on a lineup of Thin Lizzy so true, with a high-charting new album ("All Hell Breaks Loose") of such notable original tunes, that he had to call it something else -- Black Star Riders, after a motto painted on a World War II bomber.
BSR's all-star posse rounds up singer Ricky Warwick (the Almighty), guitarist Damon Johnson (Alice Cooper), bassist Marco Mendoza (Whitesnake) and drummer Jimmy DeGrasso (David Lee Roth) at a propitious time. Younger bands such as Glendale's Gypsyhawk and Brooklyn's the Hold Steady have been referencing the classic Lizzy sound. "The Boys Are Back in Town" is partying up a Chase Sapphire credit-card commercial. In 1998, Metallica acknowledged a debt (and soon won a Grammy) by waxing the early Lizzy hit "Whisky in the Jar," and Metallica's most notable twin-guitar spinoff, Megadeth, has updated the obeisance by sticking the 1983 Lizzy stormer "Cold Sweat" into its just-released "Supercollider" album.
At the end of April, Gorham hit Los Angeles to record an installment of Eddie Trunk's VH1 Classic interview hour, "That Metal Show" (airing July 13). And to play golf.
Like other rockers such as Alice Cooper and Megadeth's Dave Mustaine, Gorham undertook golfing as a distraction from addiction. He kicked the heroin decades ago, but not the golf.
"I don't look at golf as a sport," says the tall, black-clad and still slender Gorham, exhaling from the vapor cigarette he calls his digital crack pipe. "It's a learned skill, a discipline." Like playing guitar? "Yeah, actually. But I sweat a lot more when I play guitar."
As a '60s kid, Gorham preferred surfing, skateboarding and music to golf, and definitely to the L.A. construction work his dad got him. Though he's lived in London for 40 years, he was born and raised Californian in Santa Monica and Glendale, where he attended the same high school as Ed King, an axologist who soon joined another guitar-harmony band, Lynyrd Skynyrd.
When Gorham later took a stab at rocking England, Lizzy's Lynott nabbed the easygoing, down-to-earth plucker out of a 1974 audition. "He always had this affinity with America," says Gorham of Lynott. "He'd seen all the movies, read the books and magazines. I came troopin' in with the American accent, and I think he wanted that feel in there."
That version of Lizzy matched three Irishmen with one American. After decades of evolution, though, Black Star Riders corrals four Americans and one Irishman -- singer Warwick, whose delivery makes regular bows to Lynott's gruff throatwork and verbal mannerisms.
Warwick campaigned on the Thin Lizzy tour circuit for a few years before the BSR lineup solidified in its current Yankish proportion. Gorham relates Warwick's reaction: "'This is the first time I've felt outnumbered!'"
In terms of residence, it's adoptive Brit Gorham who's outnumbered. Warwick, Mendoza and DeGrasso have all settled in California, and "All Hell Breaks Loose" was recorded in Malibu by transplanted South African Kevin "Caveman" Shirley, a heavyweight who's produced Aerosmith, Iron Maiden and Black Country Communion.
At first, Gorham wasn't feeling even a Caveman could do it. "The first basic track, I'm going, 'I don't know, man, the headphones are crap, I'm not really hearing things well.' And Kevin says, 'Why don't you guys come on in and have a listen?' He pushes the playback button, and it's exactly what we wanted. And it's not a lucky shot, it's track after track.
"He doesn't like to overproduce," Gorham amplifies. "He likes the punch." Shirley showed the axman that his own seasoned chops could cut the mustard without a load of effects. "So you say to yourself, 'I don't need all that stuff!' Kevin's a big confidence builder." They laid down a shocking 12 songs in 12 days.
The album rocks with a more consistent level of songwriting and sonic crunch than any studio project Thin Lizzy ever logged, from the urgent hookiness of "Bloodshot" to the joyful cynicism of "Hey Judas," from the punky thrust of "Valley of the Stones" to the giddy forget-me-Lynotts of "Bound for Glory." If you don't think it's Irish enough, try the righteous Eire of "Kingdom of the Lost," with its martial jig and pennywhistles.
"I keep telling everybody," says Gorham, "it's the first album that I've played on in years where I can drop the needle on the first track and listen to it all the way to the end."
Easing up to the first tee at Griffith Park's treacherous nine-hole Roosevelt Golf Course, Gorham eyes the "Watch for Rattlesnakes" sign. Well, as local attractions go, snakes ain't as dangerous as his decadent 1970s watering hole, the Rainbow on Sunset Strip.
"Those days are kinda done for me. It's the same with Alice Cooper -- he practically lived down there, and he won't go to places like that either. You don't put yourself back into those kinds of situations anymore."
After struggling past his substance dependency in the '80s with the help of Dr. Meg Patterson's electronic-feedback "black box" treatment (which worked for Jimmy Page, Eric Clapton, Pete Townshend and possibly others who weren't rock guitarists), Gorham prefers sand hazards.
This particular golf course can engender a different kind of withdrawal, though. In the wake of local fires, helicopters beat overhead, generating paranoiac noise. Gorham, stunned by jet lag and hacking with borrowed clubs, hooks one shot into the trees and skulls another over a green and down a hill.
"I used to be down to a 7 handicap," he grouses.
Clouds of small flies buzz around Gorham as he approaches the 7th tee. "Do these things bite?" The answer is yes. For the sake of mood, it's a good thing he sank what he called a 10-foot "redemption putt" on the 6th.
Finishing the last hole, Gorham feels as if he's just toured Borneo via ox cart. A 78-year-old Korean retiree has outscored us both, and Gorham is ready for a lemonade. "Now I can give you a really good answer, instead of 'Whack! %#@&!'"
All right then. Let's explore the way Black Star Riders retain that Irish folk-music feel so natural to the Emerald-rooted Thin Lizzy. How do a bunch of Americans do that?
"That was Ricky and Damon. Damon comes from Alabama. He's grown up with country music, and it was the Irish that brought their music over, which eventually turned into country music."
And of course, Ricky Warwick's actually Irish, though born in the Protestant North rather than Lynott's Dublin. You can hear a hint of countryman Van Morrison in his singing.
"He likes a lot of different kinds of music," says Gorham. "He's a bit of a student. I said, 'I know how talented you are, and the last thing I want to do is be stifling you. If you feel that on certain songs you wanna sound like Phil, go ahead. But on the next song, if you just want to be Ricky Warwick, then you just be Ricky Warwick. And he really appreciated that -- it freed him up."
Black Star Riders work another unusual angle by recording for Nuclear Blast, a German label notable for its roster of extreme modern black-metal and death-metal bands such as Norway's Dimmu Borgir, Poland's Behemoth and South Carolina's Nile.
In recent years, however, Nuclear Blast has embraced acts associated with earlier eras of heaviness -- German plodders Accept and Canadian sci-fi fans Voivod, for instance. BSR represents a still greater widening of the label's scope.
When Roadrunner Records A&R head Monte Conner and a couple of associates partnered with Nuclear Blast last year, they brought an expanded vision. At first, Conner didn't want to consider a Thin Lizzy-related project -- no Phil, no Lizzy.
But, says Gorham, "One of his A&R men was blasting out our demos, and he [Conner] didn't know it was us. He got up out of his office and said, 'Wow, who's that?' 'This is the Thin Lizzy guys you didn't want to know about.' Right then and there, he said, 'We gotta sign these guys.'"
The guys themselves have signed on together with a remarkable camaraderie.
"I've never gotten along with a group as well as this my whole career," says Gorham. "We've been through all the crap, and we've grown out of it. There hasn't been any occasion to argue, anyway, because all of us pretty much think on the same paths."
Gorham is looking backward as well as forward, having recently published "Thin Lizzy: The Boys Are Back in Town," a biography of his old band co-authored with Brit journalist Harry Doherty. They started writing the book a couple of years after Phil Lynott's death, but put it on hold because the interviewees, still affected by his demise, were coming up with too many dark stories.
"I'm going, 'Harry, this was actually a fun band to be in!'" says Gorham. "'We're gonna have to stop this for a while and let everybody get over Phil's death.' And it took 20 years after that to finally finish it."
Gorham feels the perspective helped. "You remember more, because you're off the drugs now, so your brain is actually working!"
Walking back to his car, Gorham reflects on his motivation for continuing to pursue the absurd game he's been playing. Or games, you might say.
"We all know why. Because every once in a while, we'll hit a shot that even a pro can't hit! Y'know?"
PHOTOS BY LOANA dP VALENCIA, COURTESY NUCLEAR BLAST.