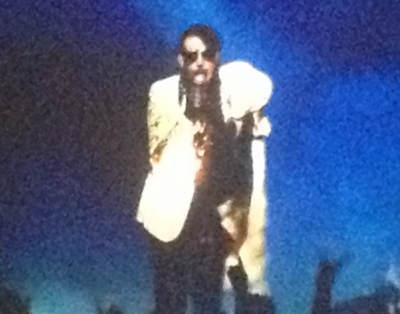 Michael Jackson's 15-year-old daughter Paris reportedly tried to waste herself because she wasn't cut loose to attend Marilyn Manson on a school night. Manson dedicated "Disposable Teens" to her, simulated a wrist slash and lurched onward, looking sloshed and sounding disgusted, thanking/despising his adoptive hometown audience for loving him. Maybe he does get a li'l mushy for L.A. -- there's something about the enervated beauty of "The Dope Show" and "Coma White" that we peculiarly understand. We loved him in his ridiculous shoulder pads, we loved him in his bishop's miter, we loved him in a shower of sparks and ranting from his Nazi podium. I didn't recognize the rather faceless band (sans Twiggy), except some of Pogo's wonderfully weird keyboard sounds, but Pogo couldn't have been playing 'em, since he sued his vindictive boss for back pay. Manson bawled hits like "The Beautiful People," "Sweet Dreams" and "Rock Is Dead," plus a couple of undistinguished rockers unfamiliar to this bigfat fan; an unusual abstract spoken/instro passage made for a useful shift in dynamics. Aspiring arena performers take note of how it's done: big and simple, dudes; big and simple. Thanks, M.M., for croaking "You're So Vain," covered on the current "Born Villain" album. We certainly thought that song was about us.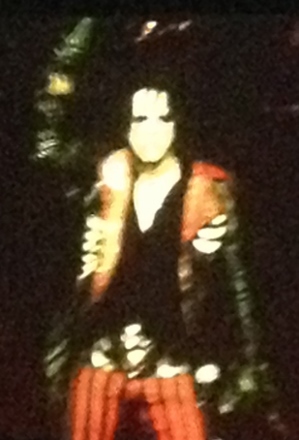 Even if the magic has faded some, it was great to see Alice Cooper crack open his set with the Broadway-ready "Hello, Hurray," just as he did when I saw him 40 years ago. Ancient classics like the Chuck Berry-via-Motor City "Under My Wheels," the darkly philosophical "Is It My Body?" and the mad epic "The Ballad of Dwight Fry" still hold up, and so do somewhat less ancient ones like the enormous ballad "Poison" and the squaresville anthem "Hey Stupid," no matter who plays 'em. Cooper sure didn't need three guitarists for the job, especially when one of them was cute babydoll Orianthi, although she didn't twiddle all the leads or act like a star -- that's Alice's gig, and he commanded the theater with more flair and confidence as an old teetotaler than he did as a young drunk. The closest anybody came to upstaging him was the drummer, whose solo bambooted just fine, despite lacking the total absurdity of yesteryears' Neal Smith. No dancing molars these days, and I hardly noticed the snake cameos. (My iPhone notes read, "Luv fed. Lentil Skills.") But it clipped right along and satisfied our circus cravings. Manson sang along on "I'm Eighteen," and for both performers, that's still true on some level.
Picture Me Broken opened with a kind of metal-Gaga thing. We enjoyed svelte Layla Brooklyn Allman's often soaring, sometimes deathgargled vocals, and especially her midriff. The twin-guitar band was tight and okay, with the bassist and the mainstay keyboardist hidden behind the Curtain of Shame for some reason. PMB should not close with Heart's "Crazy on You," both because it's unhep and because it contrasts too glaringly against the band's own busy yet monochromatic songwriting.
The bar stocked Corralejo tequila. I must have had a good time, because I took a picture of a chair. Oh wait, a really big chair. Now I get it.
PHOTOS BY FUZZY BARPH.