Fri. July 5 -- Not omitting the Errol Garnerish hearts & flowers, Larry Nash and the Jazz Symphonics skid vintage jazz with the real feel, cuz the pianist grew up with it. His vet-packed ensemble features saxist Rickey Woodard, trumpeter Steve Huffsteter, drummer Roy McCurdy, bassist James Leary and percussionist Tony Poingsett, and you will sway. At LACMA, 5905 Wilshire Blvd., LA 90036; 6-8pm; FREE; Friday summer jazz schedule here.
Fri.-Sun. July 5-7 -- Ron Carter may have sawed bop cello with Eric Dolphy, but when he pulls on his ol'-standby standup bass, the way he did with Miles Davis and so many others, he's not afraid to make it sound like a bass -- the tone comes from way down in the wood and spreads, penetrating all through your bones, and each note has physical IMPLICATIONS. He's also a conceptualist who'll bring every tradition into his sound, from classical to Latin. A Hall of Famer for sure. Carter's trio features well-traveled guitarist Russell Malone and Nicaraguan pianist Donald Vega. At Catalina Bar & Grill, 6725 Sunset Blvd., Hollywood 90028; 8:30 & 10:30pm; $25-$35; (323) 466-2210; www.catalinajazzclub.com.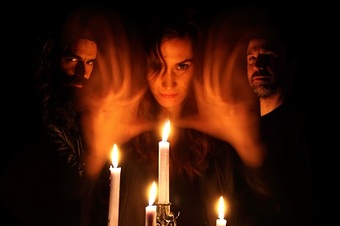 Sat. July 6 -- Here's an amazing bill of diverse modern loudness. Intronaut's new "Habitual Levitations" continues to broaden a palette that includes polyrhythms, washes, arpeggios and increasingly approachable melodic vox; with Isis defunct, these SoCal brainiacs more than take up the slack. On "The Migration," all-instrumental progsters Scale the Summit have tightened up their atmospheric sound to a pinging, tingling T, their persistence (since 2004, like Intronaut) paying off in national attention. For sheer doomy rock power, Castle (pictured) rule the mountaintop, darkened by bassist Elizabeth Blackwell's witchily pthisic vocals. Plus Yevtushenko, Sirion, Arity. At the Roxy, 9009 Sunset Blvd., West Hollywood; doors 7:15pm; $15; (310) 278-9457; www.ticketmaster.com.
Sat. July 6 -- The biggest local heavy event of the year, Homeless One Metal Fest, features touring Texans Abolishment of Flesh plus about 40 homegrown cabals including Decrepit Birth, Warbringer, Bonded by Blood, Ex Mortus and Letum Ascensus. At Moose Lodge, 13305 Imperial Highway, Whittier 90605; $24; (562) 944-8160; slightly cheaper advance tickets here.
Sun. July 7 -- Saxist Charles Sharp and bassist Jeff Schwartz lead the fearlessly intuitive 14-member Decisive Instant, gathering excello stalwarts such as trumpeter Dan Clucas and drummer Alan Cook. And there aren't many electric bassists I'd recommend seeing solo, but gizmo freaker and super string-squeezer Steuart Liebig is definitely one. At Center for the Arts, 2225 Colorado Blvd., Eagle Rock 90041; 7pm; $10; (626) 795-4989.
Tuesday, July 9 -- 1957: The Brothers Gibb, still under age 10, are about to mime to a record in public when, in "the perfect Jungian symbolic moment," leader Barry drops and smashes the record they were to use. "With that 'accident,' Barry frees himself and his brothers from imitation, from false performance, from false ceremony, from living a lie in front of the congregation." They sing themselves instead, and the rest is history in MetalJazz friend David N. Meyer's crisp and hilariously mythic "The Bee Gees: The Biography," published today. You may remember Meyer as the author of a major Gram Parsons biography a few years ago, and even if you're not passionate about the Bee Gees, the writing and the story will grip your ass. Buy it here or wherever.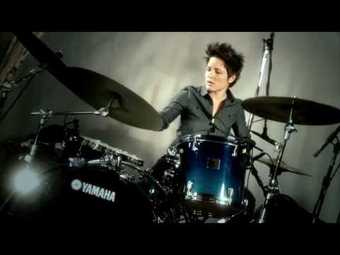 Wed. July 10 -- Former Ani DiFranco drummer Allison Miller gets the nod from ears who prefer their jazz original, clean and groovable. The presence on her 2010 "Boom tic Boom" of pianist Myra Melford and bassist Todd Sickafoose sure didn't hurt; they're also on hand for her current "No Morphine No Lilies," and even here tonight, along with tenor man Donny McCaslin and, for a special twist, soulful clarinetist Ben Goldberg. A very notable event. Miller's been produced by Lenny White and recorded with Steve Wilson, too -- ain't no panflash. At the Blue Whale on the third level of Weller Court Plaza, south of East First Street between South Los Angeles Street and South San Pedro Street, Little Tokyo 90012; 9pm-midnight; $15; parking $5 underneath off Second Street at the sign of the P in a circle; (213) 620-0908; www.bluewhalemusic.com.
Wed. July 10 -- Bad & nationwide night of heavy stoke & toke with Weedeater, ASG and Trapped Within Burning Machinery. At the Whisky, 8901 Sunset Blvd., West Hollywood 90069; call for time (probably around 8:30) and price (probably around $15); www.whiskyagogo.com; (310) 652-4202.
* * *
Read Don Heckman's jazz picks here and MoshKing's metal listings here. Read John Payne's plutonic Bluefat.com here.