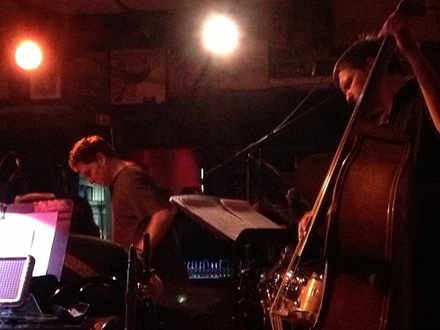 On first meet, you might not peg percussionist-composer Gregg Bendian as an artist. Looks solid, not flaky. Gaze: direct. No skull tats, blue hair or torn togs. Kind of dude who pays his bills (which, it turns out, he's helping to do by interviewing musicians for Yale's oral-history project on the major innovators of American jazz).
So much for looks. On the occasion of his 50th birthday, Bendian doesn't splurge on a steam-table buffet for middle management. He assembles a mess of his old L.A. friends to perform a 4.5-hour career retrospective, and the artistry just explodes all over the place -- disciplined, yes, but wild, original, passionate. You can see why he was tuning into the avantitudes of Cecil Taylor when the other teens were digging ABBA, and why he was recording with Taylor at 25.
Before gearing up, Bendian steps to the mike and acknowledges the awesomeness of L.A.'s avant, a fact we locals know and the world doesn't. He says that more than two decades ago NYC sax twister Tim Berne told him to check out L.A. drummer Alex Cline, a suggestion that led to admiration, encounters, and what Bendian calls a "mind meld" in various collaborations.
Cline and Bendian squash onto the tiny stage behind adjacent kits and hit it as a duo. Cline grooves light and intense; Bendian accents and counters with an array of techniques on little rubber mallets: smearing across the skins, vibrating a cymbal between two sticks, fanning mallet against mallet across the snare. The two whip like a blender, rattle like a junk truck, march like Marilyn Manson. It's more of a wake-up than four cups of coffee. Bendian has already broken a drum head, and his son, age about 14, helps change it.
Bendian brings up curly violin sylph Lauren Baba, violist Miguel Atwood-Ferguson and cellist Artyom Manukyan to perform his music for string trio. They mourn with long tones, slides and overtones in complementary inner dialogue before uniting in solidarity; they surge, glide and condense in jaunty modernity. Here's the Varèse/Webern side of Bendian's brain, scientific and ready for the future.
Bendian then sends a trio featuring G.E. Stinson (eloquent guitar effects) and Doug Lunn (tapping, droning five-string bass) off on a distorted, sensually interwoven quest for ancestral connection in some dark African cityscape, as Bendian power-grooves and thrashes like Mitch Mitchell.
Our wigs are lifting, so Bendian takes a hard turn earthward with the bongos solo "Crosshatching," which he assaults with flexible fiberglass mallets to layer fast beats into a multi-technique impression he intends to substitute for a whole Xenakis percussion ensemble (and succeeds).
Okay, now it's Mahavishnu time. Bendian has dedicated about a decade to maintaining the Mahavishnu Orchestra tradition, so there's probably nobody who guards the early-'70s fusion fury as faithfully, including creator John McLaughlin, whom one can't blame if he opted for satori instead.
Rick Musallam seizes the J. McL guitar role; Baba stands in for Jerry Goodman; Lunn thumps Rick Laird bass; David Witham grabs the coveted Jan Hammer chair; Bendian, white towel around his clavicles like a boxer at the ready, whips the Billy Cobham mules.
You ever read Poe's "A Descent Into the Maelstrom"? We're sucked into a watery whirl, sounds mounting. Witham sprinkles eerie angel dust, then we're off again, violin sawing harsh chords, guitar wah-wah howling. Like, yikes, what a ride.
For transition, why not do a quartet with Witham, romantic electric violinist Jeff Gauthier and, on soulful trumpet, John Fumo (three with a long history of interaction)? They breathe into a Trane-like opening, but Bendian is soon bashing away behind the lyricism before he concludes by washing the sand smooth like an ebb tide.
An expanded edition of Trio Pianissimo shows off Bendian's post-bebop Eric Dolphy predilections, with Witham and Fumo now abetted by bassist Ivan Johnson and vibraphonist David Johnson. A ponderous, clambering ascent explores the complexities of a man-woman relationship. A circus clown gets drunk. The bass takes a crisp walk. Bendian's drumming is making us feel like every damn thing in the world is a musical instrument, especially our head.
Bendian takes over the vibes himself for his Jack Kirby/Marvel Comics music -- spooky, magical spells with a touch of Tchaikovsky, stirred up by the atmospheric shadings of Cline and Musallam. Striking: Bendian's stolid profile amid such fantasy as he stirs the caldron.
It's past 1:30, and there's nothing left to do but muster every soldier still standing and go at it full force. Every group improvisation takes on its own character; this one shoots beyond birthday celebration into realms of abandon and fierce determination. Cline leans into his toms and presses irresistibly forward. Musallam wrenches gutty expostulations from his amp. Stinson channels ghosts of electricity. The whole ensemble seems possessed by devils and saints, who reveal themselves to be the same.
It's after 2 a.m., but I haven't felt tired all night. I am shaking all over. Tears are pouring down my cheeks. In 40 years of listening to this mode of expression, I've experienced a similar elevation maybe two or three times before -- the Pan Afrikan Peoples Arkestra at Horace Tapscott's memorial was one. But this is more personal. I feel very, very privileged to have been sucked into this tide.
Gauthier just told me that Bendian had maybe a day to rehearse this whole event. And of course much of it wasn't rehearsed at all. Well, how about that. It's what these people do.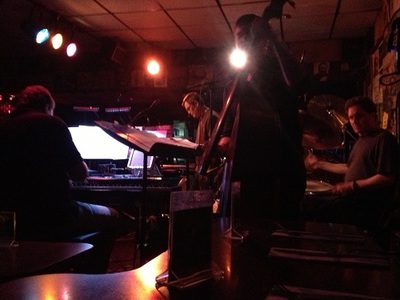 * * *
PHOTOS BY FUZZY BRUSH