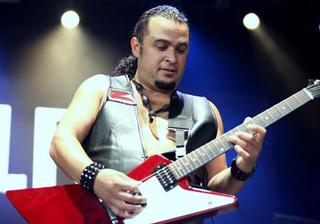 Fri. Aug. 16 -- Supporters of Sound Barrier drummer Dan Brown gang up to stomp cancer in a benefit featuring Friends of Roy Z (pictured; the Judas Priest producer and Rob Halford guitarist shreds with pals), DC4 (with Armored Saint guitarist Jeff Duncan and onetime Dio guitarist Rowan Robertson), a short show by classic Strip metalmen Armored Saint, an all-star jam and more. At Paladino's, 6101 Reseda Blvd., Tarzana 91335; 8pm; $15; (818) 342-1563.
Sat. Aug. 17 -- Heavy thud, falsetto melodications, weird twists -- the new ". . . Like Clockwork" skillfully pulls together Queens of the Stone Age's strengths, despite a midstream change of drummers and the precarious state of leader Josh Homme's health at the time of recording. Who'da thunk that a desert stoner could achieve this kind of universal respect? Rock remains. At Gibson Amphitheater, 100 Universal City Plaza, Universal City 91608; 8pm; $47-$74; www.livenation.com.
Sat. Aug. 17 -- SASSAS presents more idea music: the separately acclaimed electroacoustic duo of Aaron Dilloway & Jason Lescalleet, plus L.A. sound manipulator John Wiese. New venue from artist Laura Owens. At 356 Mission, 356 Mission Road, downtown L.A. 90033; 8pm; $18 (students & seniors $12); www.356mission.com, www.sassas.org.
Sun. Aug. 18 -- Creative Underground presents chamber textures from wind deity Vinny Golia's Music for Strings, Piano & Woodwinds; compositions by L.A. out-composers such as Morton Feldman from Brian Walsh & co's Gnarwhallaby; plus saxist Beth Schenk & guitarist Matt Wrobel as Guthrie Project. Buncha new art, too. All 4 cheap. At the Blue Whale on the third level of Weller Court Plaza, south of East First Street between South Los Angeles Street and South San Pedro Street, Little Tokyo 90012; 9pm-midnight; $10; parking $5 underneath off Second Street at the sign of the P in a circle; (213) 620-0908; www.bluewhalemusic.com.
Sun. Aug. 18 -- The World Stage Performance Gallery pays tribute to the six-decade career of jazz guitar legend Kenny Burrell with Burrell's Los Angeles Jazz Orchestra Unlimited, pianist John Beasley's Monk'estra (with Bob Sheppard and Justo Almario among the saxes), fusion guitar mainman Lee Ritenour, and singers Gretchen Parlato, Georgia Anne Muldrow & (look out) Dwight Trible. Swell event celebrating a most worthy musician and educator, set in L.A.'s most relaxed outdoor space. At the John Anson Ford Amphitheater, 2180 Cahuenga Blvd. East, Hollywood 90068; 6pm; $35-$65; www.fordtheatres.org.
Sun. Aug. 18 -- The Saturday & Sunday Echo Park Rising Festival (www.echoparkrising.com) presents approximately a thousand bands at several different venues, including the rollercoaster instrumental adventures of lap-steel player Paul Lacques and Double Naught Spy Car. At the EchoPlex, 1154 Glendale Blvd., Echo Park 90026; 2pm; FREE; www.attheecho.com.
Sun. Aug. 18 -- Double your Lacques-ity with I See Hawks in L.A., celebrating the release of their new record, "Mystery Drug." Right now I'm listening to Rob Waller singing about memories of meeting her at Gower & Sunset and kissing her by the Truckee River; the man has a voice that gets inside ya, and Paul's pedal steel smears over the recollection like a film of tears over yer eyeballs. Yes, "A decent secondhand heart is hard to find." Quite a band, pard. With The Dave Gleason Trio. At McCabe's, 3101 Pico Blvd., Santa Monica 90405; 8pm; $15; (310) 828-4497; www.mccabes.com.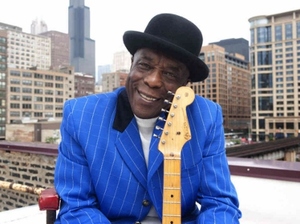 Wed. Aug. 21 -- At 77, Buddy Guy is the youngest (and about the last survivor) of the classic Muddy & Wolf Chicago blues crowd, a terror on guitar and a gritty menace of a singer; 14-year-old guitar phenom Quinn Sullivan is his special guest. Plus Funky Meters, featuring (sez Wiki) original New Orleans Metermen Art Neville and George Porter Jr. At the Hollywood Bowl, 2301 Highland Ave., Hollywood 90068; 8pm; midlevel and nosebleed seats left in the $12-$62 range; (323) 850-2000; www.hollywoodbowl.com.
* * *
Read Don Heckman's jazz picks here and MoshKing's metal listings here. Read John Payne's plutonic Bluefat.com here.