Fri. Aug. 23 -- Though younger, bassist Ryan Cross and drummer Lorca Hart (son o' Billy) bring special authenticity and rootedness to the zesty post-bop of The Cross Hart Jazz Experience. At LACMA, 5905 Wilshire Blvd., LA 90036; 6-8pm; FREE; Friday summer jazz schedule here.
Fri. Aug. 23 -- Wild Don Lewis stirs up the electronic hum as Small Drone Orchestra, while various improvisers "play through" his cloud. He was calling his music persona SDO, by the way, well before everyone realized drones were hanging over every head. At BG Gallery, 1431 Ocean Ave., Santa Monica 90401; 8:30pm; free.
Sat. Aug. 24 -- Few take composition and performance more seriously than vibesman Nick Mancini, a fact easy to discern from his finely wrought and penetrating new record, "Storyteller," which any jazz fan should definitely grab while they last. Tonight he teams with saxist Allen Mezquida for Cool School Quartet, mining lesser-known tunes by the likes of '50s West Coast pioneers such as Gerry Mulligan, Chet Baker and Cal Tjader. At Alva's Show Room, 1417 W. Eighth St., San Pedro 90732; 8pm; $20; www.alvasshowroom.com; (800) 403-3447, reservations suggested.
Sun. Aug. 25 -- One of the more exciting combinations of Miles alumni: saxist Azar Lawrence (who played on the live "Dark Magus") with Alphonse Mouzon (who drummed on "Dingo"); both also swung it with McCoy Tyner, and that's the short list. The excellent pianist Theo Saunders and trippin' bassist Henry Franklin fill out the quartet. Here every Sunday for a while. At the RG Club, 2536 Lincoln Blvd., Venice 90291; 7:30pm; $15; (310) 822-1715; rgclubvenice.com.
Sun. Aug. 25 -- If you're gonna celebrate the 40th anniversary of Pink Floyd's "Dark Side of the Moon," good to have universal songstress Julie Christensen vocalizing it as Omega String Quartet instrumentalizes. At Levitt Pavilion in MacArthur Park, 2230 W. 6th St., downtown 90057; 7pm; FREE.
Mon. Aug. 26 -- Entertainingly mixed-up bill: Finnish folk-metal pagans Wintersun join Fleshgod Apocalypse (Beethoven meets Italian death blast), Arsis (ingenious American melodic tech assault, should be the headliner) and fresh-faced shredders Starkill. At House of Blues, 8430 Sunset Blvd., West Hollywood 90069; 7pm; $27.50; (323) 848-5100; www.livenation.com.
Tues. Aug. 27 -- The Russian composers git to the guts & the drama, like Prokofiev's spiraling Violin Concerto No. 2 (with Jennifer Koh at the bow) and Shostakovich's gloomy Symphony No. 10, for instance. Leon Botstein conducts. At the Hollywood Bowl, 2301 Highland Ave., Hollywood 90068; 8pm; $12-$115; (323) 850-2000; www.hollywoodbowl.com.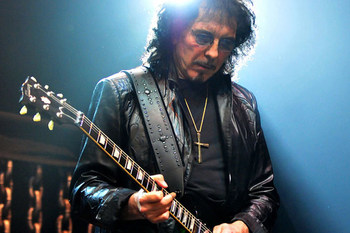 Wed. Aug. 28 -- Even with Ozzy drummer Tommy Clufetos standing in for Bill Ward, a Black Sabbath tour reuniting Ozzy Osbourne, Tony Iommi and Geezer Butler is a huge event. I see from a Virginia review earlier this month that Sab have been grinding out a solid two-hour set, including not only four numbers from the rocking new "13" (read my review here), but some welcome non-obvious selections they also tapped for their great 1998 live album, "Reunion" -- "Dirty Women," "Snowblind," "Behind the Wall of Sleep." I spose it's too much to hope that Ward, who lives nearby, might stroll over. Don't expect to see Ozzy live with Sabbath again. At Verizon Wireless Amphitheater, 8808 Irvine Center Drive, Irvine 92618; 7:30pm; distant tix still available at $40-$78 (but check out Live Nation's Official Platinum feature, which has a few close seats for $200 right now); www.livenation.com.
Wed. Aug. 28 -- Look at the career of saxist Wayne Shorter -- with Miles Davis, with Weather Report and on his own -- and you can't help being knocked out by the imagination and subtlety of his writing and improvisations. When such a major dude hits 80, it behooves us to pay obeisance, and the impetus expands given the crew on hand, featuring Shorter and band (Danilo Perez, John Pattitucci, Brian Blade); special guests Herbie Hancock and Imani Winds; the ACS trio (Geri Allen, Terri Lyne Carrington, Esperanza Spalding); and the Joe Lovano & Dave Douglas Quintet. Like, wow. At the Hollywood Bowl, 2301 Highland Ave., Hollywood 90068; Fri. 8pm, Sat. 7pm; $12-$118; (323) 850-2000; www.ticketmaster.com.
Wed. Aug. 28 -- Ancestor-channeling vocalist Dwight Trible gathers an unusual trio of local stars: Gary Fukushima (piano), Brian Walsh (winds) and Dave Tranchina (bass). At the Blue Whale on the third level of Weller Court Plaza, south of East First Street between South Los Angeles Street and South San Pedro Street, Little Tokyo 90012; 9pm-midnight; $10; parking $5 underneath off Second Street at the sign of the P in a circle; (213) 620-0908; www.bluewhalemusic.com.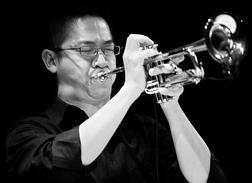 Wed. Aug. 28 -- Been listening to trumpeter Cuong Vu for a long time, and never get tired of the way he mixes spacy FX and trancy beats into an emotional brew. Here's a rare chance to catch him in L.A. with his Burn List quartet, featuring saxist Greg Sinibaldi, keyboardist Aaron Otheim and drummer Chris Icasiano. At the Hammer Museum, 10899 Wilshire Blvd., West L.A. 90024; 8pm; FREE; (310) 443-7000; www.hammer.ucla.edu.
LATE ADD: Wed. Aug. 28 -- Great way to squeeze your molecules through the electronic sieve of the unconscious: Hans Fjellestad & G.E. Stinson on largely analog synths and loopy guitar boxes respectively, plus Devin Sarno opens with waves of wonderful bass brain massage. At Grand Star Jazz Club, 943 N. Broadway, Chinatown 90012; 9:30pm (limited space so arrive early); $10; (213) 626-2285.
* * *
Read Don Heckman's jazz picks here and MoshKing's metal listings here. Read John Payne's plutonic Bluefat.com here.