Fri. Aug. 2 -- Wide-ranging saxist Bob Sheppard (Steely Dan, Chick Corea) shows off his controlled momentum with his ensemble. At LACMA, 5905 Wilshire Blvd., LA 90036; 6-8pm; FREE; Friday summer jazz schedule here.
Fri. Aug. 2 -- Saccharine Trust & Universal Congress guitarist Joe Baiza gets bent & funkjazzy with Mecolodiacs; pals Sweet & Cruel (do I hear more taste refs here?) open. In the bar of Taix Restaurant, 1911 Sunset Blvd., Silver Lake 90026; 10:15pm (S&C), 11:15pm (Meco); free; www.taixfrench.com.
Sat. Aug. 3 -- When singer Dwight Trible testifies, the angels intervene. At Levitt Pavilion, 30 N. Raymond Ave., Pasadena 91103; 8pm (food & vendors starting at 6:30); FREE; (626) 683-3230; www.levittpavilionpasadena.org.
Sat. Aug. 3 -- For their mutual melodic sensibilities, quiet intellectuality and easy flow, the piano-guitar duo of Alan Pasqua & Larry Koonse makes for an ideal pairing. At the Blue Whale on the third level of Weller Court Plaza, south of East First Street between South Los Angeles Street and South San Pedro Street, Little Tokyo 90012; 9pm-midnight; $15; parking $5 underneath off Second Street at the sign of the P in a circle; (213) 620-0908; www.bluewhalemusic.com.
Sat. Aug. 3 -- It's about time somebody (the Reseda Neighborhood Council) celebrated the rock & roll history of Reseda, home of '80s bastions like the Country Club and Bebop Records, the latter showcasing punkers turned poetical folkies; I mean, Greg Burk played there (oh, Los Lobos, Lucinda Williams, Beck et al. too), so what else ya need to know? Bebop curator Richard Bruland will reminisce, Beatle John Turney will read his pomes, Country Club photographer Sal Guitarez will show his snaps, Levi Ponce will paint a mural, and Jodi Bonassi will debut a barbershop painting. At Continental Art Supplies, 7041 Reseda Blvd., Reseda 91335; 6pm; FREE.
Sun. Aug. 4 -- Chicago avant drummer Dylan Ryan has moved west, here presenting a super ensemble called Dylan Ryan SAND, featuring heavy psychedelic guitarist Tim Young and Kneebody bassist Kaveh Rastegar. Opening is the intuitive duo of longtime musical pards Joseph Berardi (percussion & electronix) and Kira Vollman (ethereal/guttural vox), augmented by omni-bassist Steuart Liebig to form Berardi, Vollman & Liebig, by gawd. At Center for the Arts, 2225 Colorado Blvd., Eagle Rock 90041; 7pm; $10; (626) 795-4989.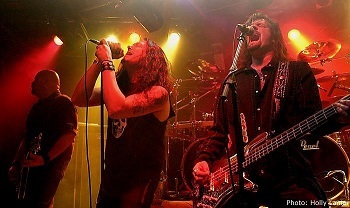 Sun. Aug. 4 -- Seattle heavy traditionalist diehards Metal Church ain't forgot the '80s, and a lot of headbangers improbably ain't forgot either. With a lot of other bands, I'm sure, but the web site is not telling. At the Whisky, 8901 Sunset Blvd., West Hollywood 90069; doors 6pm; $20; www.whiskyagogo.com; (310) 652-4202.
Thurs. Aug. 8 -- Chimaira, who've long ridden the boundaries between death metal and metalcore, are back with a new album, or at least singer Mark Hunter is, along with a raft of recent conscripts from bands like Bleed the Sky, Daath and Dirge Within. With Threat Signal, The Browning, Dark Sermon, Darksun, Our Own Accord, No Visible Means. At the Whisky, 8901 Sunset Blvd., West Hollywood 90069; doors probably 6:30-ish; tix probably around $20; www.whiskyagogo.com; (310) 652-4202.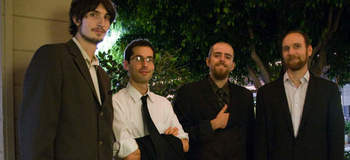 Thurs. Aug. 8 -- Expanded editions of two of L.A.'s most exciting improvisational ensembles, Slumgum (pictured) and Daniel Rosenboom's unit, wail on sliced/diced new compositions grouped around poems about the symbol of the seed. Poetry by Laura Lee Bahr and John Skipp; visual art by Eron Rauch. Fun stuff. At the Hammer Museum, 10899 Wilshire Blvd., West L.A. 90024; 7:30pm; FREE; (310) 443-7000; www.hammer.ucla.edu.
* * *



Read Don Heckman's jazz picks here and MoshKing's metal listings here. Read John Payne's plutonic Bluefat.com here.