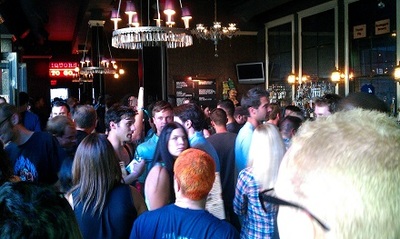 To encourage swilling oceans of craft beers -- why that, my lords, is an affront to common sense.
Craft beers aren't for quantity consumption; that remains the role of the workhorse Buds and Coronas of the alkie cosmos. When swill beers advertise, "When it's time to relax," or claim they're "less filling," it's obvious code for "You bought half a case, and you're not sharing." Which is right and lawful.
Craft beers are entertainments and status symbols. Although they often pack more alcohol than swill beers, the populist drunk tank is not their destination. You're supposed to sip one or two -- sniff them and evaluate them; they're supposed to make you feel/appear like the kind of gentleman who trims his pubes. Put a few India Pale Ales in the front of your refrigerator shelf to hide the ranks of Millers, and casual observers (women) may mistake you for a non-lout.
Still, when friend Paul D. offers the opportunity to taste many craft beers at multiple downtown taverns for five hours, will I decline? Not likely. Beer is beer.
We register at Casey's, where we're given a wristband, a map, a bag of pretzels (for palate cleansing and/or necklace making), and a small beer glass to hold the 4-ounce sample taps. Then we march from bar to bar until, you know, we can't. No, we're not driving home; that's why God made subways.
Below, please find my tastings and ratings (scale of 10) on whatever I could reach.
El Segundo Grand Hill IPA. Spicy and bitter, with a note of failure. 3.
Golden Road Heal the Bay. Like many crafts, it imitates fruity-spicy Sierra Nevada, but steeper. 3.
North Coast PranQster. Tart and super light. I could swill this all day. 6.
North Coast Brother Thelonious. More sugary than my favorite jazz pianist and less complex. 4.
TAPS Schwarzbier. Though dark, it's light and smooth, with a fast, hoppy finish. Cali-decadent. 7.
TAPS Seaward Pale Ale. Comes on like a gale and finishes like a lungful of brine. 3.
Wolf Creek Golden Eagle Ale. The weird tangy assault disappears quickly into a breezy cynicism. 4.
Wolf Creek Dogtown Dunkelweizen. Sweet and bland, like a nun librarian. 2.
New Belgium Yuzu Fruit Imperial Berliner. If I want lemonade, I'll drink lemonade. 3.
The Bruery Sour in the Rye w/Kumquats. The raw mustard onslaught literally gags me, then I have a twisted impulse to pour it over vanilla ice cream. For taste: 1. For sheer balls:10.
Noble Ale Works Rosalita. Can a beer be mild, bitter and hibiscus-tinged all at once? Apparently so, but why? 3.
Noble Ale Works Pistola. The threat of extortion, backed by a Serrano-chile kick. 3.
Smog City Groundwork. Too strong for swilling, but tastes like beer. 5.
Smog City Coffee Porter. I don't drink coffee, but I'd drink this. Would a few pints make me nervous? 5.
Strand 24th Street Pale. Mild and smooth, with a shaded finish. Mail-order me a sixer. 7.
Strand Atticus IPA. Almost black, subtle evaporation but a raunchy afterbite. Makes me want to mock a killingbird. 5.
Lagunitas Lucky 13. Crisp & easy, best competition for the Mexican swills I usually quaff, from a muy consistent brewery. 8.
Speakeasy Prohibition Ale. Oak-table-thumpin' all-American felony. 5.
Cismontane 3rd Anniversary Ale. Another Sorta Nevada. 2.
Coronado Golden Pilsner. Crisp summer swill substitute with a disappearing middle and a piny aftertaste. Ain't dumping it. 5.
* * *
I didn't consume a full 4 ounces of all 20 beers above. At least I don't remember doing that. Sometimes just a sip.
Keep in mind that my taste in beer, like my taste in music, runs toward darkness and lightness (not liteness), and not much in the middle.
I liked all of the facilities -- dim and manly enough, very downtowny. The rum bar had great rum and good sandwiches. One place was crowded with young people having a good time, so I stayed outa there.
Music on the sound systems:
Casey's: Bad Co.
The Varnish: '50s Miles.
Los Perlas: Jacko.
Caña Rum Bar: Duran Duran & dub.
Cole's: Pistols & Dolls. Funny I never thought of Johnny Rotten bawling "God Save the Queen" as a pint-hoister till now.
Here's to craft. Please just don't make it art.
PHOTOS BY PAUL DECUIR (BAR) AND FUZZY BEERQ (BANANA).