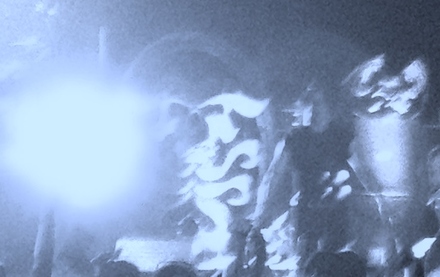 It's hard to get to hell. You have to try all the time. You have to squelch your best impulses. You have to be a complete moron.
Dark rocker Glenn Danzig is no moron. So when he bellows, "If you want to find hell with me, I can show you what it's like," it's a warning more than an invitation. It arrives in the same song as "Not about to see your light," the key word being "your."
This is the man who titled an album "I Luciferi," Lucifer being literally the angel who bears light. He's not about to see somebody else's light, because he's found "the god of light inside." Danzig lives in the light, the spotlight in fact, the light of clarity you might say. His poetic darkness opposes the fake light offered by religions and manipulators. Fake light leads to real darkness -- that is, ignorance. Which is hell.
So that's why I'm still listening to Danzig after 25 years. Had to think about it to explain my/our instinctive attraction to both darkness and light. As creatures who die, we're always pulled in both directions, and Danzig helps to keep that in view. Not obsessing over darkness and anger, but allowing them their natural and useful space. Day requires night.
I forgot this is a rock review. Let's get on with it.
Mr. D. called the Gibson Amphitheater (formerly the Universal Amphitheater) his favorite place to play in Los Angeles, and he had the honor of being the last rock act to hit its boards before it closes next week to be replaced by, ha-ha, a Harry Potter ride.
Despite pushing the three-quarters mark of the Danzig band's four-month 25th-anniversary tour, Danzig sounded lungworthy and charged around with bullish energy. Prong guitarist Tommy Victor, now sporting a Christlike beard, squealed the necessary pinch harmonics of the hard-chanting "Skincarver" and served up the blood-raw riff slabs of "Hammer of the Gods" to represent the 2004 and 2010 albums on which he soldiered, then fired off 1988's "Twist of Cain" and "Am I Demon?," as well as all the other early classics, with committed assurance.
Returning fron her second-band opening slot, ex-Runaways frontgal Cherie Currie played Nancy Sinatra to Danzig's Lee Hazlewood on the mythic 1967 hit "Some Velvet Morning" -- a nice piece of atmospheric theater to break up the fury, and a telling piece of the psychosexual Danzig jigsaw puzzle.
Barechested muscle giant Doyle stomped out to revisit his guitar stint behind Glenn in the prototypal horrorpunk outfit the Misfits, inspiring the night's most abandoned pit-slam on "Vampira," "I Turned Into a Martian," "Skulls," "Astro Zombies," "Bullet" and more. Gotta say, the songs hold up; not surprising that a large portion of audience T-shirts were stamped with the Misfits skull logo.
After Danzig sealed the deal with "Mother" and "She Rides," Doyle returned to shovel the last scoop of dirt on the Misfits' "Die, Die My Darling," familiar even to non-fans because of Metallica's '90s cover.
Glenn Danzig has solidified his status as a father of dark music, not only because of his longevity and his influence, but because of his authenticity. Although this is show biz, we always imagine that when the oppressors get driven out of the towers, he'll be right there with an ax.
Scar the Martyr took the slot before Danzig, impressing the crowd with their incredible loudness. An all-star project of Slipknot drummer Joey Jordison (owner of 20 drums and player of 3) and Nine Inch Nails keyboardist Chris Vrenna, StM spewed wildly fractured rhythms and a dense wall of industrial textures. On paper, that should have been my meat, but it came off as a mess. Front man Henry Derek Bonner kept demanding that we wake up and love them -- Dad always complained about our problem with authority.
We had to cheer for Cherie Currie's comeback, even if she didn't seem too sure what it's coming to. She's got the right to sing Runaways hits like "Queens of Noise" and "American Nights," and other glitter anthems like Nick Gilder's "Roxy Roller" and David Bowie's "Rebel Rebel," okay, but such teen stuff (especially "Cherry Bomb") vibed odd from the mouth of the 53-year-old Madame Currie, trim and tight though she looked. Better were the bluesrocky new "You Wreck Me" (with sax!) and the memory-charged lament "Rock N' Roll Oblivion," her most deeply felt moment. Her twin-guitar band was solid. Which one was her son? The one who plucked with his tongue? I thought this was the '70s.
I'd been looking forward to seeing Highland Park's Huntress, who opened. The band galloped & chugged in proficient Maiden/Priest power-metal fashion without denting our heads; album title cuts "Spell Eater" and "Starbound Beast" promised mystery and delivered competence. Skeletal little singer Jill Janus, wrapped in a vampire cape and gauze leggings, showed she could hold a scream for a really long time, the most distinctive feature of her well-trained vocalizing. The bit where she shrank down into her cape and crawled/bloomed to life again rang silly; Gollum she ain't. And when I heard yobs in the pissoir mimicking her "I Want to F*ck You to Death" (co-written with Lemmy), it was not a good sign. Much talent here, they just need some time on the rotisserie.
Walking down the hill to the subway, I felt satisfied and weedlessly paranoid. That combination might seem weird. But I've learned that a Danzig night is never standard entertainment.
PHOTOS BY FUZZY DARK.