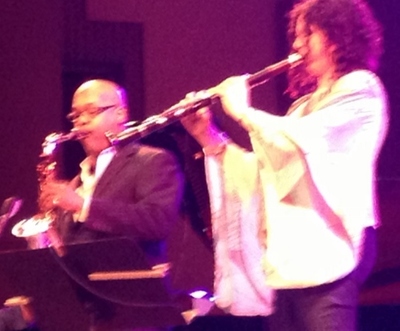 Pianist Richard Sears' youngish sextet model suits. Jazz patriarch Tootie Heath rocks pink shirt & mountie hat -- drummers don't conform, it's a tradition. Contrast? Yes, but tall skinny nerd Sears is going more for respect & clarity: He wants you to hear a wearable historical concision, even when three horns are oozin' commentary (love the color of Steve Lugerner's bass clarinet and his choked alto tone). Although sometimes taking off from Afro-bass riffs and Ornettish blues, the tunes leave an impression of suburban melancholy behind Sears' chimy, shiny delivery. With Heath stirring deep soup and splashing the cymbals, of course it swings, and his freedom balances well against the forceful stabs of bassist Garrett Lang. The generational meld ends up less simpatico than collaborative, yet still . . . fortuitous.
As the five young urbanites of Kneebody mature, their skill & knowledge bristle in every direction. Miles Davis lessons they've embraced: Be creative and use multiple musical forms. Miles lessons they emphasize less: Mold a central identity and leave space to let the music sink in. Whimsy, counterpoint and New Orleans rhythm all populate "Cha Cha," a typical example, from their impressive new "The Line," of the many ideas fighting inside Kneebody's ingenious heads, and the live setting inspires them to condense things even further. Shane Endsley brings his bippity/lyrical trumpet and a load of twisty compositions; Kaveh Rastegar shows no fear of the fuzz bass' lysergic implications; Nate Wood's quick wrists flick around the drums while his foot keeps up heavy grooves; Adam Benjamin's ghostly keys provide useful sauce. And on tenor, skinny-jeaned Ben Wendel achieves technical feats like tossing tough multiphonics into the midst of radical intervallic arpeggios -- the dude has gotten scary. Despite the band's funky gestures, titles like "Nerd Mountain" and "Trite" show an awareness of their distance from working-class booty halls. But modest popularity on their own terms is what they've worked for and gained.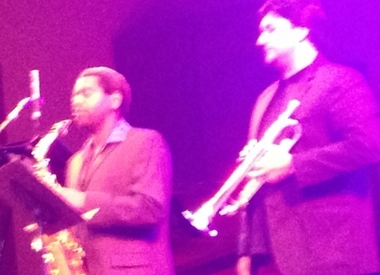 The Yosvany Terry Quintet start with an almost free-jazzy slosh, then pull together the most engaging set of the evening. Cuban alto man Terry and trumpeter Michael Rodriguez keep laughing at each other as if really toasted, and the music's rhythmic bounce keeps the mood. Terry breathes his high notes without straining, Rodriguez puts a loving original touch on bebop, and pianist Osmany Paredes nails a percussive Latin touch that makes his occasional dissonant choices go down easy; I dig the way bassist Matt Brewer frames digestible chunks of drummer Clarence Penn's flow. Yup, the set exudes swing, adventure AND sensuality while remaining modern, and if you can do that, you got something. Terry's master solo turn on chekeré (beads draped on a big gourd, shaken & slapped) completely rivets us, too.
Long an avatar of the avant, alto saxist Greg Osby has figured out how to get more festival work: Play a bunch of Duke and hire curly-headed wench Anat Cohen to lilt the clarinet tradition and flirt with the crowd. Yet the mainstreamery doesn't offend, as Osby and Cohen interweave naturally and stretch out into summer-friendly jams; you'd hardly know they're playing "Mack the Knife," "Nature Child," "In a Sentimental Mood" and "East St. Louis Toodle-oo." What a tone each has -- Osby polished & Trane-grained, Cohen vibrating the essence of ebony. A very accommodating quintet to cap the trip.
Between sets, two segments of producer John Comerford's ambitious and well-paced four-part "Icons Among Us" modern-jazz documentary series screen in a lower room, and the audience claps, even without knowing many of the documentees (several of whom play this year's festival). And that's the idea.
PHOTOS BY FUZZY BROK.