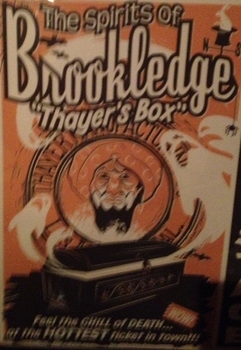 Technical and human issues have kept me lidded for a couple of weeks, but I wanna blow off some compression.
Although the ill fortune might have launched with Friday the 13th of September, it wasn't the fault of the Brookledge performances that night. Ex-Mump and evening's musical director Kristian Hoffman banged all night on a tinny old upright piano, the way vaudeville's sposed to be backed. Blond cutie Liberty Larsen sang "Everything Happens to Me." Witch-haired scarecrow Hillel danced inside of a big plastic bubble and wrote "HELP" on the wall of his self-imposed prison. Mini-vamp Selene Luna emceed, sang helium-style to Euro-disco, burlesqued to "The Stripper," and promoted the virtues of money, men & weed. Straitjacketed twitching maniac Brett Loudermilk swallowed impossibly long swords (and a balloon) to bloody effect. Big-haired big gal Abby Travis (playing bass with the Go-Go's these days) applied her virtuosic multiple octaves to a '50s pop waltz. Dana Daniels worked card miracles and made a parrot vanish. Meryl Shearer made jokes about the unjokable while twaddling her fiddle. Crimson-wigged Bonnie Morgan executed shocking contortions and stuffed herself into a vitrine box. Lofty Prince Poppycock, in full Louis XIV regalia, operaticized grand Hoffman ballads. I felt privileged to be invited to this bizarre cavalcade at the Larsen family's exotically landscaped and fantastically decorated central-L.A. home, a magical throwback to a time that maybe never existed. What struck deepest was the sheer innocence of the thing -- pure entertainment sans cynicism. (The ginger punch packed one, too.) Difficult to imagine that the long Brookledge tradition can bigtop this, even at upcoming Halloween.
Aeschylus' "Prometheus Bound" at the Getty Villa 9/28 left a number of surreal memories. The clean beauty of the Roman-style villa, empty before the drama, felt as though it had been hosed down following the slaughter of oil aristocrats in some symbolic slave uprising. The sight of Prometheus (Ron Cephas Jones) declaiming his pride while strapped Christlike to Efren Delgadillo Jr.'s 5-ton sculpture of concentric metal wheels kept the eyeballs riveted, as did the dozen comely sea nymphs who constituted the Chorus. But maybe best was the music -- Vinny Golia on winds and gongs, Chris Lopes on standup bass, the abstract sounds creeping unobtrusively around the speeches, even the jazzier improvs melding. Congrats to director Travis Preston, and thanks for the warning: Heeding Prometheus' punishment, I'll now suppress every impulse to advance useless mankind. Gods, you can have your fire back.
Sometimes I wake in the night and hear faint steady beeping. Beep. Beep. Beep. Beep. Can't locate the origin. Get up and it's gone. Lie back down and it returns. Got to be: 1) a click track for the music of the spheres, or 2) the sound of my batteries recharging. Scary at first, but after a while one realizes: It's good to be mechanical.