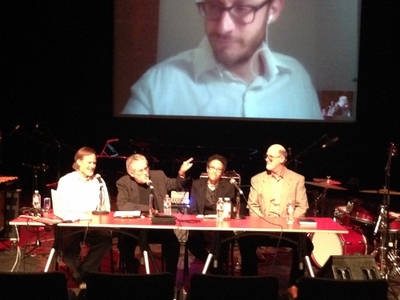 In 2013 and 2012, the Angel City Jazz Festival hosted kick-ass panel discussions featuring notable musicians, educators and writers. Now, thanks to the valuable public resource Archive.org, you can stick them in your ears.
2013: "New Technologies in Jazz and Jazz Journalism," co-sponsored by the Jazz Journalists Association. Topics included the challenges of long-distance interaction in "telematic" internet performances (musician-educator Nicole Mitchell), the survival of jazz musicians in the age of Facebook and electronics (educator and Kneebody keyboardist Adam Benjamin, appearing by Skype), the changes in jazz journalism as the influence of print media diminishes (writer Kirk Silsbee), and the future of jazz history via web archiving (John W. Comerford, producer of the "Icons Among Us" documentaries). Music journalist Greg Burk moderated. Listen here.
(Sean J. O'Connell covered the event in the online edition of DownBeat.)
2012: "Honoring and Breaking With Lineage." Topics included Ornette Coleman's break with traditional jazz and blues (musician-educator Bobby Bradford), the mission of bringing new jazz to the listening public (Jazz Bakery founder Ruth Price), the mutations of jazz brought about by Los Angeles' 1940s Central Avenue scene and Horace Tapscott's 1970s community movement (historian-educator Steven Isoardi), and younger musicians' quest to find their own voice (trumpeter Ambrose Akinmusire). Music journalist Greg Burk moderated. Listen here.
CANDID 2013 PANEL PHOTO (ABOVE) BY DIANA DIAZ. Left to right: John W. Comerford, Greg Burk, Nicole Mitchell, Kirk Silsbee. Above on the Skype screen: Adam Benjamin.
POSED 2013 FOUR-SHOT (ON HOME PAGE) BY DEBI DOORZ. Left to right: John W. Comerford, Nicole Mitchell, Greg Burk, Kirk Silsbee.