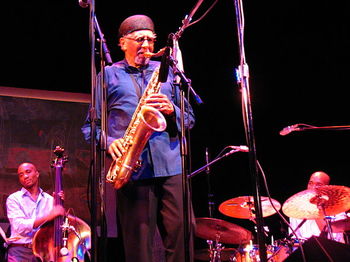 Fri. Nov. 15 -- Sax legend Charles Lloyd will still be 75 until March, so it's not too late to wish him happy landmark birthday. Lloyd's ethereal breath takes you to spiritual realms no one else can reach, abetted by longtime bandmates Reuben Rogers (bass) and Eric Harland (drums); although the ever-expanding pianist Jason Moran (whose exquisite duet with Lloyd, "Hagar's Song," came out this year) won't be on hand, snaky guitarist Bill Frisell represents an ideal foil -- Lloyd's past collaborations with six-stringers such as Gabor Szabo and John Abercrombie have generated special magic. Go online and snap up the bargain-priced limited-edition boxed set of Lloyd's first five ECM albums, which cemented his 1989 return to the public eye. A CAP presentation at UCLA's Royce Hall; 8pm; $30-$60; www.cap.ucla.edu.
Sat. Nov. 16 -- Heavy-grooving superdrummer Kenny Aronoff (Tony Iommi, Chickenfoot) rounds up some pals (Black Label Society/Megadeth bassist James LoMenzo, Big Ball Stars/Vince Neil guitarist Brent Woods, et al.) and a few o' those Special Guests you're always wondering about. At the Baked Potato, 3787 Cahuenga Blvd. West, Studio City 91604; 9:30 & 11:30pm; $20; (818) 980-1615; www.thebakedpotato.com.
Sun. Nov. 17 -- Last night after 30-some years I finally figured out where the band name Saccharine Trust came from: David Bowie's "The Bewlay Brothers." And I didn't even have to ask Saccharine/Mecolodiacs guitarist Joe Baiza, who's celebrating an exhibit of his visual art by playing some abstract music with The Hare's Breath Ensemble, featuring bassist Ralph Gorodetsky and trumpeter Dan Clucas. Ralph also opens in his homespun songwriting duo with singer Weba Garretson. At Cornelius Projects, 1417 S. Pacific Ave., San Pedro 90731, 3pm.
Thurs.-Fri. Nov. 21-22 -- Anthony Wilson is a warm and green SoCal jazz guitarist, dude, leading his malleable Curators ensemble. At the Blue Whale on the third level of Weller Court Plaza, south of East First Street between South Los Angeles Street and South San Pedro Street, Little Tokyo 90012; 9pm-midnight; $15; parking $5 underneath off Second Street at the sign of the P in a circle; (213) 620-0908; www.bluewhalemusic.com.
* * *
Read Don Heckman's jazz picks here and MoshKing's metal listings here. Read John Payne's plutonic Bluefat.com here.