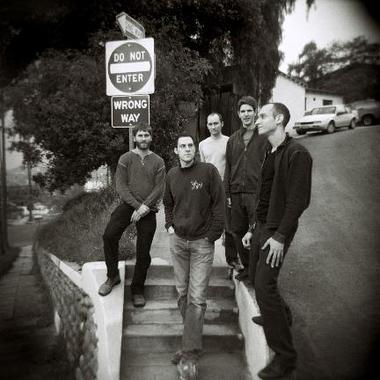 Fri.-Sun. Nov. 1-3 -- Kneebody have just unleashed a mighty wave of riffs, riddims and textures called"The Line," but o' course live is really the way to get swept up in the complex virtuosity of tenor man Ben Wendel, trumpeter Shane Endsley, keyboardist Adam Benjamin, bassist Kaveh Rastegar and drummer Nate Wood. Here's one of the few local jazz acts that can actually sell out three nights, so plan accordingly. At the Blue Whale on the third level of Weller Court Plaza, south of East First Street between South Los Angeles Street and South San Pedro Street, Little Tokyo 90012; 9pm-midnight; $20; parking $5 underneath off Second Street at the sign of the P in a circle; (213) 620-0908; www.bluewhalemusic.com.
Sat. Nov. 2 -- Spirit-tapping singer Dwight Trible and super bandmates Theo Saunders (piano), Trevor Ware (bass) and Paul Lagaspi (drums) help raise coin to benefit the invaluable historic South L.A. cultural institution the World Stage, which is in danger of getting slashed by the double-edged sword of urban development. At the World Stage, 4344 Degnan Blvd., Leimert Park 90008; 9 & 10:30pm (doors 8pm); $15 or whatever more you can kick in; if you can't show up, DONATE at www.theworldstage.org.
Sat. Nov. 2 -- Careful lest percussionist Erin Barnes (a world-music inspirer, Partch expert and veteran of microtonalist Kraig Grady's ensembles) corrupt your kids with the beauty of exotic tonalities. Come to think of it, Kraig's in town . . . "Soundspark," a SASSAS presentation at the Children's Theater in West Hollywood Library, 625 N. San Vicente Blvd., West Hollywood 90069; noon; FREE.
Sun. Nov. 3 -- Abstract guitar night: Sacramento six-stringer and L.A. drum mainstay Ross Hammond & Alex Cline team up for infinite shadings; East Coast guitarist Terrence McManus (John Zorn, Tim Berne et al.) cranks up the FX and applies novel techniques in a solo excursion. "Misty" will not be played. At Center for the Arts, 2225 Colorado Blvd., Eagle Rock 90041; 7pm; $10; (626) 795-4989.
Mon. Nov. 4 -- Guitar great Kenny Burrell and pals (Bobby Rodriguez, Charley Harrison & crew) are L.A. Jazz Orchestra Unlimited, exhibiting mature compositional adventures and seasoned chops on the first Monday of every month for a while now. At Catalina Bar & Grill, 6725 Sunset Blvd., Hollywood 90028; 8:30pm; $20; (323) 466-2210; www.catalinajazzclub.com.
Wed. Nov. 6 -- Sorry, the talk with Ozzy Osbourne & Geezer Butler hyping the undoubtedly excellent DVD of the recent Black Sabbath reunion tour (release date Nov. 26) is SOLD OUT. At the Grammy Museum, 800 W. Olympic Blvd., Suite A245, downtown 90015; 8pm; (213) 765-6800; www.grammymuseum.org.
Wed. Nov. 6 -- To check out the heavier, more rough-hewn side of Malian Tuareg sounds, try Terakraft; some of it sounds like a still darker "Darkness, Darkness." At El Rey Theater, 5515 Wilshire Blvd., L.A.; doors 8pm; $20; all ages; www.ticketmaster.com.
Wed. Nov. 6 -- Terrence McManus (see Sunday) drifts in at 10:30pm; Concrete Bedlam (atmo-axman Matt Piper, bassist Andrew Campbell, drummer Fabio Poian) kicks off at 9:30. At Grand Star Jazz Club 943 N. Broadway, Chinatown 90012; $10.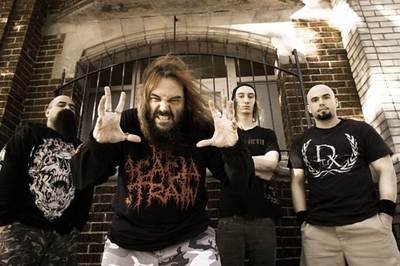 Thurs. Nov. 7 -- Though I've been a Soulfly fan ever since grunter-guitarist Max Cavalera split from Sepultura, and I have all nine of their records, I gotta say their just-released Nuclear Blast debut, "Savages," is the best. Lead guitarist Marc Rizzo in particular has stepped up with tightly carved medodic obbligatos and fierce solo shredding, while Terry Date's production blends Zyon Cavalera's thudding rhythms, dad Max's evil riffs and a whole jungle of ayahuasca atmospherics more sensually and satisfyingly than ever. I play the whole damned thing every time I put it on. (Photo by Charlene Tupper courtesy Nuclear Blast.) With Havok, Lody Kong. At the Viper Room, 8852 Sunset Blvd., West Hollywood 90069; 8pm; $30; (310) 652-7869; www.viperroom.com.
* * *
Read Don Heckman's jazz picks here and MoshKing's metal listings here. Read John Payne's plutonic Bluefat.com here.