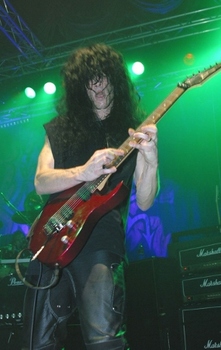 Fri. Nov. 29 -- Twisting Florida death shredder Trey Azagthoth and Morbid Angel celebrate the 20th anniversary of their hit 1993 "Covenant" album by clocking the whole damn slab, plus selected gems, which I hope include some from 2011's "Illud Divinum Insanus," an intriguing departure into dark post-industrial songcraft. Big event. With L.A. deathsters Abysmal Dawn, and Crypt Infection. At the Henry Fonda Music Box Theater, 6122 Hollywood Blvd., Hollywood 90028; 9pm; $25; (323) 464-0808; www.ticketmaster.com.
Fri. Nov. 29 -- L.A. thrashers Rattlehead flog a new album, supported by Kaustik, Exmortus, Harlequin. At Loaded Bar, 6377 Hollywood Blvd., Hollywood 90028; 8pm; $7; 21+; (323) 464-5623; www.loadedhollywood.com.
Sun. Dec. 1 -- Windman Peter Kuhn continues his avant-improvisational resurgence with the star SoCal quartet Dependent Origin, featuring drummer Alex Cline, cornetist Dan Clucas and bassist Scott Walton, all of whom you oughta know by now. Guitar shardmaster Tom McNalley's trio with Cline and McNalley opens. Another sure thing from Open Gate. At Center for the Arts, 2225 Colorado Blvd., Eagle Rock 90041; 7pm; $10; (626) 795-4989.
Wed. Dec. 4 -- Dig the dino-riffs and mystic melodies of North Carolina Relapse artists ASG, plus From Beyond. A Scion presentation at the Satellite, 1717 Silverlake Blvd., Silver Lake 90026; 9pm; free if you RSVP here.; (323) 662-7728; www.thesatellitela.com.
Thurs. Dec. 5 -- Crisp pianist and distinctive composer Richard Sears leads a trio. At the Blue Whale on the third level of Weller Court Plaza, south of East First Street between South Los Angeles Street and South San Pedro Street, Little Tokyo 90012; 9pm-midnight; $10; parking $5 underneath off Second Street at the sign of the P in a circle; (213) 620-0908; www.bluewhalemusic.com.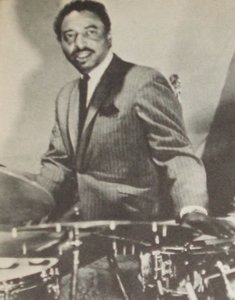 Last week while writing about Charles Lloyd, I was thinking about Chico Hamilton, who employed Lloyd, Gabor Szabo, Buddy Collette, Eric Dolphy and others in the extended Lloyd musical family. Maybe Lloyd was thinking about Hamilton too, as he performed a gently skipping tune or two from those days half a century removed. And now we discover that Hamilton died Monday, Nov. 25, receiving some of the recognition due to a drummer and bandleader whose influential "chamber jazz" tapped such a wide range of sources, from Japan to Ellington, and whose choice in cohorts helped shape the history of music. A beautiful and talented gentleman.
* * *
Read Don Heckman's jazz picks here and MoshKing's metal listings here. Read John Payne's plutonic Bluefat.com here.