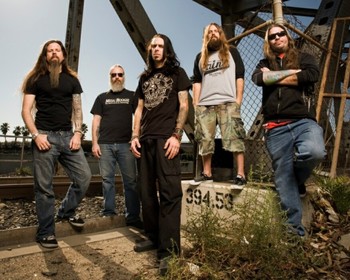 Fri. Nov. 8 -- Lamb of God drop down to remind us why their technical death thrash remains at the forefront of American metal. As I listen to Rolling Stone's stream of the new remix-remaster of LoG's 2003 classic "As the Palaces Burn," I'm jolted by how some of the riffs now remind me of Black Sabbath, and by the ways drummer Chris Adler expanded on the jazzy multiple accents and subliminal groove of Bill Ward. This band has figured out ways to let you HEAR the complexities of their music, a lesson many a modern outfit might absorb. Major bill, too, with Testament (whose '80s Oakland incursions provided another LoG template), popular metalcore survivors Killswitch Engage, and rising twin-guitar power metalers Huntress. At Hollywood Palladium, 6215 Sunset Blvd., Hollywood 90028; 6pm; $43 (surprisingly some tix are still available); www.ticketmaster.com; (323) 962-7600.
Fri. Nov. 8 -- Here's an unexpected but possibly brilliant reunion: baroque pianist Brian Haas (of Jacob Fred Jazz Odyssey) with bigfoot omnivorous drummer Scott Amendola. At the Blue Whale on the third level of Weller Court Plaza, south of East First Street between South Los Angeles Street and South San Pedro Street, Little Tokyo 90012; 9pm-midnight; $15; parking $5 underneath off Second Street at the sign of the P in a circle; (213) 620-0908; www.bluewhalemusic.com.
Fri. Nov. 8 -- Heavy yet shaded guitarist Jeff Kollman (Cosmosquad, Glenn Hughes) gathers fusiony conspirators Kevin Chown (bass), Jeff Marshall (guitar) and Drew Menga (drums). At the Baked Potato, 3787 Cahuenga Blvd. West, Studio City 91604; 9:30 & 11:30pm; $20; (818) 980-1615; www.thebakedpotato.com.
Sat. Nov. 9 -- Classic lineup: Souljazz pianist Les McCann, fusion drum king Alphonse Mouzon, pianist Llew Mathews, guitarist John Chiodini and bassist Damian Erskine wrestle singer-songwriter Lee Hartley. At Vitello's Restaurant, 4349 Tujunga Ave., Studio City 91604; 7:30 &10 pm; $20; (818) 769-0905; www.vitellosjazz.com.
Sat. Nov. 9 -- Otep loads an impressive cargo of her words, images and eclectic metallic history. Didn't know until I saw the poster with the crossed bats that she played baseball. Wait, the bats have spikes in 'em. Seven other bands support. At the Whisky, 8901 Sunset Blvd., West Hollywood 90069; doors 6pm; $20; www.whiskyagogo.com; (310) 652-4202.
Sat. Nov. 9 -- Time for the "Bass Player LIVE" award show and performance, where Sabbath plunker Geezer Butler crowds the low end with four-stringers from Ozzy, Anthrax, Slipknot, Megadeth, Pantera, et al. Dunno why Kerry King and Zakk Wylde are listed; maybe they'll be telling jokes about bass players. Clinics and exhibitors run at nearby SIR today and tomorrow. At the Henry Fonda Music Box Theater, 6122 Hollywood Blvd., Hollywood 90028; 7:30pm; $45; (323) 464-0808; www.ticketmaster.com; www.fondatheatre.com.
Sun. Nov. 10 -- The random musician sign-up and experimental jam that is Soundshoppe logs its last event of the year, this time hosted by that terrifying deacon of civility, Wild Don Lewis of Small Drone Orchestra. A SASSAS presentation at Center for the Arts, 2225 Colorado Blvd., Eagle Rock 90041; 1pm; free; (626) 795-4989.
Tues. Nov. 12 -- Synth forefather Morton Subotnick and video artist Lillevan get together for a post-postmodern update of Subotnick's 1967 groundbreaker "Silver Apples of the Moon." Read my review of one of these things last year here. At REDCAT, 631 W. Second St., downtown 90012; 8:30pm; $20 (students $16); www.redcat.org.
Tues. Nov. 12 -- Guitar tangler and edgy composer Tom McNalley serves in two abstract ensembles: The Michael Vlatkovich Quartet (the penetrating trombone structuralist/deconstructionist with bassist Dave Parlato and drummer Johnny Vatos, 8pm) and The Tom McNalley Trio (with bassist Jarad Lander and drummer Matt Baker, 9:30pm). Real good'un. At El Cid, 4212 Sunset Blvd., Silver Lake 90029; (323) 668-0318; cheaper.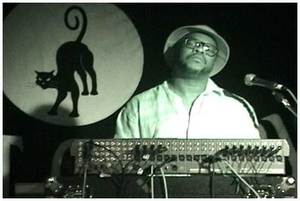 Wed. Nov. 13 -- Moderns may dub until they drop, but few reverberate like rootsman The Mad Professor, who's been laying down the groove since '83; he's got MCs General Levy and Joe Ariwa with him tonight. Putting this one over the top is seasoned S.F. spinner Dub Gabriel (a true creative force); Mr Williams & Green Lion also dig in. Live T-shirt silkscreening, the superheavy house DJs -- these Wednesdays are the downest. Dub Club at the EchoPlex, 1154 Glendale Blvd., Echo Park 90026; doors
* SPECIAL ALERT * Fri. Nov. 15 -- Heads-up for next week's most significant apparition: sax legend Charles Lloyd, celebrating his 75th anniversary year. Lloyd takes you to spirtual realms no one else can reach, abetted by longtime bandmates Reuben Rogers (bass) and Eric Harland (drums); although the wonderful Jason Moran won't be on hand, guitarist Bill Frisell represents an ideal foil -- Lloyd's past collaborations with six-stringers such as Gabor Szabo and John Abercrombie have generated special magic. Get tix now. A CAP presentation at UCLA's Royce Hall; 8pm; $30-$60; www.cap.ucla.edu.
* * *
Read Don Heckman's jazz picks here and MoshKing's metal listings here. Read John Payne's plutonic Bluefat.com here.