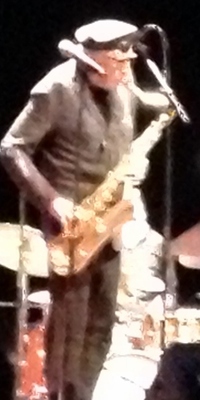 Angelic strings, folks. As his '60s work with Gabor Szabo and his 2000s partnership with John Abercrombie attest, sax avatar Charles Lloyd likes to tune in to the feel and space of a guitar. So no surprise tonight that when he teamed up with noted tone-and-flow co-devotee Bill Frisell, the result would be aaaah. And while he was at it, might as well add craggy Greg Leisz, a steel guitarist known for hitting the sweet spot. With longtime Lloyd allies Eric Harland (drums) and Reuben Rogers (bass) tacking up delicate frames, the whole picture was composed like a Renoir.
Lloyd searched his scrapbook for guitar-friendly tunes, emerging with gently bouncing numbers like "Island Blues" and "Lady Gabor" (both first essayed during his Szabo association) and the Balkanish "Zoltan" (which he used to play with Abercrombie); he'd previously embraced the gorgeously mournful "Voice in the Night" with each plucker. Shaking maracas behind Harland, twitching an understated shuffle-dance or blowing a sea breeze on alto flute, Lloyd (in beret and roughspun rural suit) regularly shifted the visual focus; he kept his poetic lip zipped to allow the music maximum breathing space.
Breath is a word that always arises in a Lloyd show to characterize the way he can play a thousand tenor notes and make it sound like a simple reminiscence; the casual way he tosses off multiphonic effects up and down the horn's range; and the way our lungs open when we hear him. Frisell, vigorously applauded by an audience presold on his merits, exploited his subtantial stage time to solo with spontaneity and grace, but made an even deeper impression with his ensemble work -- brushed chords and intuitive lines dreamwoven with Lloyd's gull swoops and Leisz's aching sustains. We could hear generations of commonality in the musicians' roots attachment on "Abide With Me," "Red River Valley" and the indomitable plaint "La Llorona." Except for a few expostulations, Harland and Rogers carried and varied the gliding ensemble sound almost invisibly yet with a complexity that could take you as far as you cared to listen.
We heard wild blues; we heard stone romance; we heard, I swear, the Grateful Dead, so we heard just about everything. A highlight of the half-hour double encore was "Somewhere," from "West Side Story" -- "There's a place for us," y'know? Sometimes we wonder about that, but Lloyd made us believe it.
PHOTO BY FUZZY DAZE.