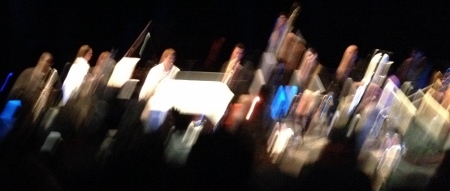 We like our heroes when they're old and frail, maybe even more than when they were young and slashing those heavy swords around. So we liked Charlie Haden a lot when at 76 he rose from his post-polio sickbed to remind us what his whole depth and freedom and lyricism and idealism thing was about. From hillbilly child singer to Ornette Coleman rebel to noir-music revivalist, Haden has carved out a career that looks like nobody else's, and many musicians from multiple genres would name him the acoustic bassist they'd most like to hear. In his weakened condition, would he pluck the big lumber along with his storied Liberation Music Orchestra? We would find out.
This concert burned many memories into our brains. A shriveled Haden edging out of the wings with a cane, broomstick wrists protruding from cuffs. Haden waving those wrists with supple sureness to conduct the 15-piece student ensemble. Haden wiping his wet eyes with paper towels after remembering long-deceased bass soul mate Scott La Faro. An ever more energized Haden, his vocal cords partly paralyzed, slurring (but communicating) as he dealt out tales, jokes and principles. Haden incredulously announcing the death of guitarist Jim Hall, a fellow melodic genius. Haden taking note of the world's horrors and saying, "I know there are reasons," even if he couldn't name any.
Associated with CalArts since 1982, Haden takes proper pride in his legacy as an educator, and his choice to center tonight's effort on youth proclaimed the passing of the torch loud and clear. The students played Carla Bley's twisting, softly jarring arrangements with varying levels of skill and a consistent level of commitment, leaving us feeling good about the future of abstract music. Brendan Black blew alto sax with a buttery glow and an Ornettish cry. Clifford Gilmore attacked his trumpet with fluid confidence. Alex Sill's guitar flights showed poise and bouncy imagination.
In tribute to Nelson Mandela, Haden began with a last-minute insertion: "Theme of the African National Congress," stately and hopeful. The often Spanish-inflected compositions by Haden, Bley and Coleman (with nods to "Lift Every Voice and Sing" and "Amazing Grace" in the course of an epic "America the Beautiful" suite) rose up strong and soulful; the inclusion of Dvořák's celestial "Going Home" would have made us cry even if the circumstances hadn't gotten us there already.
And then, after his warrior lament "Sandino" (which stood in for its cousin, Haden's landmark 1969 Liberation Music dirge "Song for Che"), Haden did indeed wrestle his bass off the floor for a spare rendition of the Miles Davis/Bill Evans standard "Blue in Green." Earlier he had exhorted bassist Marcus Buser to "play the story!" -- now, in classic fashion, he showed what he meant. He approached his tale slowly, enriching his big tone with a wide vibrato. He moved from note to note as if stepping up to a precipice to find the best vista. He absorbed the image he'd sought, and though he was facing toward his Orchestra, we knew from many previous encounters that he had squeezed his eyes closed, to hold the feeling inside. He let a gentle chord fade, turned around and told us that was the end. Funny, we can still hear him.
PHOTOS BY FUZZY B.