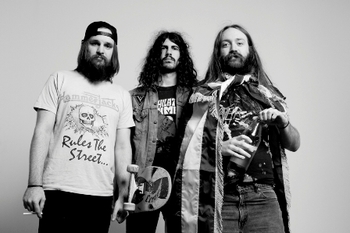 Fri. Jan. 10 -- Wayback Santa Cruz SST punkers Bl'ast head up a mixed-label bill with the howling density of Southern Lord's Nails, the poetic whisperscream and barebones rock of Relapse's 16, and the hairy stoner drive of Tee Pee's The Shrine (pictured). At the Echo, 1822 Sunset Blvd., Echo Park 90023; 8:30pm; $10; 18+; (213) 413-8200; www.attheecho.com.
Fri. Jan. 10 -- Trumpeter John Daversa's take on the big band is one of the few attempts to really modernize the form. At the Baked Potato, 3787 Cahuenga Blvd. West, Studio City 91604; 9:30 & 11:30pm; $25; (818) 980-1615; www.thebakedpotato.com.
Sat. Jan. 11 -- Saccharine Trust-Mecolodiacs-Universal Congress guitar original Joe Baiza celebrates his birthday with a buncha musical friends including Jeremiah Mountain (9pm), Hookah (10pm), Lofty Canaanites (featuring Baiza plus spoken word from Jack Brewer and S.A. Griffin, 11pm) and Cat Museum (midnight); Norton Wisdom does live paint accompaniment. At the Church of F.U.N., 4109 Melrose Ave., East Hollywood 90029; $5 suggested donation; BYO.
Sat. Jan. 11 -- I See Hawks in L.A. may have some unusual lyric themes, but they don't forget to throw a full-blown country-rock party, with all the rich three-part harmonies and guitar pyrotechnics (via Paul Lacques) you could desire. At Cinema Bar, 3967 Sepulveda Blvd., Culver City 90036; 9:30pm; no cover; (310) 390-1328; thecinemabar.com.
Sun. Jan. 12 -- '90s New Orleans sludgemasters Eyehategod surge back from the death of drummer Joey LaCaze; San Diego vegan death champs Cattle Decapitation remain some of the most ambitious and versatile extremists in modern metal. Plus Nausea, Obliterations, Strong Intention. At Club Los Globos, 3040 Sunset Blvd., Echo Park 90026; 8pm; $22; www.clublosglobos.com; (323) 207-6686.
Wed. Jan. 15 -- Beautiful balloons aside, I can't help responding to the over-the-top lyrics and passionate pianistics of Jimmy Webb, writer of '60s-'70s classics like "Galveston," "Wichita Lineman." and "The Moon Is a Harsh Mistress." Here Webb teams with singer Johnny Rivers, who signed him to an early publishing contract and covered his "By the Time I Get to Phoenix" (dig Isaac Hayes' version sometime), but I wouldn't be goggled if Rivers also cuts into others of his own hits like "Secret Agent Man" or "Poor Side of Town." Pondering the appropriateness of Webb's style for heavy-metal interpretation, I just did a quick search, and sho 'nuff, Iced Earth covered "The Highwayman" on their new "Plagues of Babylon." At the Saban Theater, 8440 Wilshire Blvd., Beverly Hills 90211; 8pm; $36-$90; www.ticketmaster.com.
* * *
Read Don Heckman's jazz picks here and MoshKing's metal listings here. Read John Payne's plutonic Bluefat.com here.