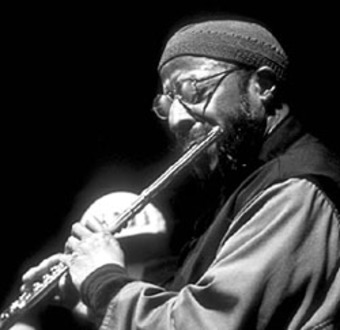 Twenty years ago. The voice at the other end of the line was stern, and I was knocked back. First, I couldn't believe that the great jazzman Yusef Lateef was calling me unsolicited at L.A. Weekly from Amherst, Massachusetts, where he taught. Second, I had to accept the fact that he was giving me a D in jazz criticism.
"Hello, brother Burk." (Everyone was a sibling to Dr. Lateef.) Was I aware that, in addition to his contributions on tenor sax, oboe and many African instruments, he was acknowledged as a very accomplished flutist? Uh, yes. Well then, why, in my review of his sprawling "The African American Epic Suite," had I written that he "hoots" on flute, as if it were the random cry of some forest fowl?
While I tried to explain that the word was a compliment on his tone and his energy, Dr. Lateef hinted at a broader context I sorted out later: In the wake of slavery, being compared to, named after or treated like an animal could be hard to see as praise. He took his role as an educator seriously, and took this and every opportunity to pull back and teach about the natural, psychological, historical and philosophical context of our lives.
Considering his stature, you'd think that Dr. Lateef's passing on December 23 would have drawn more attention, but I heard about it from his frequent musical collaborator Adam Rudolph well after the fact. True, Lateef was not one to prioritize his own profile; instead, he loaded his conversation with the names of musicians, teachers and religious figures who had guided him.
From his late-1940s dates with Dizzy Gillespie onward, Lateef showed a special feeling for the blues, even bending and slurring on the notoriously stiff oboe. His '60s and '70s Atlantic albums such as "Live at Pep's" and "The Gentle Giant" laid tracks that brought the soul-jazz groove into college dorms across the nation. His records were stocked in every record store; John Coltrane considered him an equal.
But Dr. Lateef was always looking to the horizon. Founding his own YAL label to allow complete freedom, he recorded in every group format, from duos to orchestras, offering opportunities to talented pupils such as keyboardist Alex J. Marcelo, less-known veterans such as windman Sayyd A. Al-Khabyyr, and attuned masters such as hand drummer Rudolph, who propagated Lateef's innovations in "world" music. In addition to the wonderful, passionate "Epic Suite," Lateef composed several symphonies, few of which have ever been staged; may that omission be corrected.
I experienced live Lateef performances a couple of times in his latter years, and was inspired by the way a musician in his 80s boiled down his thoughts and breath into "that which is permitted" -- spontaneous schematics that a listener could unpack into universes. He made a significant impact on the arrangement of our stars.
* * *


Read Adam Rudolph's recent words on Yusef Lateef in New Music Box here.
Read my 2003 L.A. Weekly interview with Dr. Lateef and Adam Rudolph here.