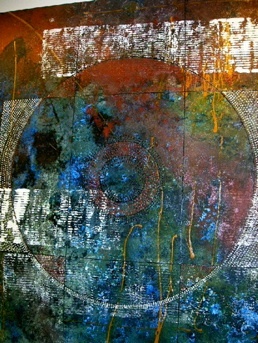 Minority art tends to get stuck between bus stops, Lyn Kienholz thinks. Inspired by L.A.'s 2011 "Dig This!" exhibition, the president of the California/International Arts Foundation started to wonder what might happen if attendees of the prestigious 2015 Venice Biennale could glom the often underexposed visuals produced hereabouts.
Beyond the better-known artists such as Betye Saar and John Outterbridge, what if curator Jill Moniz could toss in a few dozen others? And what if some musicians, filmmakers and poets could get onboard, too? Now, that might clue people worldwide that Los Angeles can claim some cred beyond the Watts Towers and the gang tags on my retaining wall.
Although my knowledge of art extends only inches beyond the labels of beer bottles, I was sucked right in by the examples in the slide show flashing behind the stage as students from the Fernando Pullum Community Art Center swung through some rich jazz across the room. The youths served as a reminder that L.A. public-school jazz programs once earned national renown, while today private organizations like this Leimert Park enterprise try to help carry the torch.
Steven Isoardi's books on Central Avenue and Horace Tapscott have gone a long way toward keeping that knowledge alive, so it was good to see Kienholz present him as curator of the "Black SoCal" music wing. Kienholz ran across him by way of his wife, Jeannette Lindsay, whose cinematic documentary on Leimert Park she was trying to track down for inclusion.
Isoardi said a few words about making Venice take notice from May to November 2015. Then tall, crop-skulled art curator Moniz observed that L.A. art evolution has paralleled the growth of the city itself; she looked out into the crowd sampling the steam table and sipping the quality wine & beer, and called attention to featured artists including Saar, Suzanne Jackson, Marvin Harden, Dominique Moody, Richard Wyatt Jr. and, visiting from the South of France, Tony Ramos. Oh, and World Stage poet pillar Kamau Da'aood, who never seems to get any older.
Stylish Quebecois gallerist/musician Yann Perreau hinted that Senegal and South Africa have expressed interest in picking up "Black SoCal" when it leaves Italy. Energetic Otis College president Samuel Hoi invited us to spread the word to all our generous corporate pals. Getty Foundation director Joan Weinstein rallied the troops.
And they all had good stuff to say about our host, the rather shy and obviously kind Lyn, who therefore was repeatedly forced to grimace and twist with embarrassment in her folding chair.
Everyone considered this Bienniale thing such a fine notion that I had to inquire sternly whether the ever-rising water level of the Venice canals might not endanger the idealistic enterprise. Kienholz readily parried that much of it would be staged on a barge.
A centrally located, newly renovated Venice palazzo site has already been rented; the transportation and disposition of art, artists and musicians must be arranged. Isoardi estimates the cost in the middle six figures. So it remains for you to spread the word, toss a few bucks into the pot and inform your many generous corporate pals.
More information on "Black SoCal" can be found here. Checks can be sent to C/IAF (California/International Arts Foundation), 2737 Outpost Drive, Los Angeles, CA 90068, or contact Lyn Kienholz at (323) 874-4107, lkienholz@netropolitan.org.
Read Matt Duersten's more detailed story in L.A. Weekly here.
THE IMAGE ON THE MAIN PAGE IS JOHN OUTTERBRIDGE'S "RAGGED BAR CODE." THE IMAGE ON THIS PAGE IS TONY RAMOS' "RAINFOREST."