Fri. March 14 -- Those who enjoy drum solos may enjoy all solo drums all the time in a release concert for "Working Hard To Make Your Life Easier!," a compliation featuring several avantitious percmen. Represented tonight are contributors Ted Byrnes (Torsten Muller, Smegma), Nathan Hubbard (Cosmologic, Trummerflora) and Colin Woodford (Wadada Leo Smith, Vinny Golia). At The Battery Books & Music, 1005B Mission St., South Pasadena 91030; 8pm; $3 donation; (626) 376-9913.
Fri.-Sat. March 14-15 -- The Michael Landau Group (drummer Gary Novak, bassist Jimmy Johnson) cranks the guitarist's very electric heavy fusion. At the Baked Potato, 3787 Cahuenga Blvd. West, Studio City 91604; 9:30 & 11:30pm; $20; (818) 980-1615; www.thebakedpotato.com.
Sun. March 16 -- Pianist Gerald Clayton and Hammond man Larry Goldings, both excellent semi-mainstream players, match Grammy nominations and collaborative keyboard skillz in a program of originals and standards. The Edye at the Broad Stage, 1310 11th St., Santa Monica 90401; 7:30pm; $25; www.thebroadstage.com.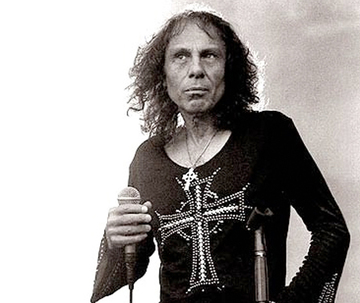 Mon. March 17 -- Wendy Dio has whipped up an all-star Ronnie James Dio tribute album (coming from Rhino April 1) called "This Is Your Life" to raise bux for cancer research in the wake of the great metal singer's cancer-related 2010 death. Tonight's the listening party, and though album contributors such as Metallica, Scorpions and fund honoree Rob Halford aren't on the list of live performers, Dio bandmate Jimmy Bain is, along with Corey Taylor (Slipknot), Roy Mayorga (Soulfly) and a lot more, including surprise guests. A féin non-saintly way to drive out the snakes. At Avalon, 1735 Vine St., Hollywood 90028; 6pm; ticket and sponsorship options from $25 to $395 and up are outlined here.
Tues. March 18 -- "Fire Keeper" is an apt name for The Daniel Rosenboom Quintet's new album, for which tonight is a release party. Saxist Gavin Templeton, guitarist Alexander Noice, extended bass freaker Kai Kurosawa and drummer Dan Schnelle launch the trumpeter into explorations of modern postfusional passion. At CAP Studio, 13752 Ventura Blvd., Sherman Oaks 91423; 8:30 & 10pm; $15; (818) 990-2001.
Wed. March 19 -- Arranger for a range from Count Basie to the Beach Boys, windman Roger Neumann teams with gently restless guitarist Larry Koonse and friends to spiel unabashed Cali jazz. At the Blue Whale on the third level of Weller Court Plaza, south of East First Street between South Los Angeles Street and South San Pedro Street, Little Tokyo 90012; 9pm-midnight; $15; parking $5 underneath off Second Street at the sign of the P in a circle; (213) 620-0908; www.bluewhalemusic.com.
* * *
Read Don Heckman's jazz picks here and MoshKing's metal listings here. Read John Payne's plutonic Bluefat.com here.